Topic RSS

HDD not recognized on DVR-LT16480MHD
July 18, 2013
5:11 pm

oesgsteve
Forum Posts: 1
Member Since:
July 18, 2013

Offline
After 7 months, the installed Seagate Barracuda 2TB HDD (model ST2000DM001) stopped recording and the DVR (model DVR-LT16480MHD) set an alarm.  DVR was rebooted, didn't recognize the attached HDD, so reformat wasn't an available option.  Replaced the drive with two (2) identical Seagate 2TB drives and even replaced the data cable....DVR will not recognize the HDD.  Any options to get the system back up and running?
August 14, 2013
7:15 pm

bfaridnia
Forum Posts: 6
Member Since:
August 14, 2013

Offline
I have a similar problem.
I have a elite mini hd 8 channel dvr with a HDD installed by security camera king (SCK) at purchase. The dvr is 2.5 yrs old. recently when the unit turned on the error came up that there was no hard drive available for recording. A quick check at the hard disk management window in the settings shows no disk detected. I changed the data cable and replaced the hard drive and received the same error. The drive is not spinning up. I am unable to change the power adapter cable as I do not have a extra one and the ones used for the other DVRs I have from SCK use a different connector on the mainboard.
All other functions of the DVR work normally. There are no other errors on the system.
Any troubleshooting steps to take? This unit is still under warranty so I may have to send it in. If so what is the process for that if I am unable to resolve locally.. thanks
August 14, 2013
8:12 pm

bfaridnia
Forum Posts: 6
Member Since:
August 14, 2013

Offline
Thanks. I suspected that however I dont know if the connector has much that can go wrong with it since only taking the power wires and distributing them.  I'll try to per the drive using a seperate power supply as well as check the female power terminals on the main board for successful +12v & +5v outputs
August 19, 2013
1:56 pm

bfaridnia
Forum Posts: 6
Member Since:
August 14, 2013

Offline
I tested the hard drive using a power cable connected to a separate computer and the data cable connected to the DVR and it spun up fine. I then tested the ouput of the HDD power on the Mainboard and found that the +5V rail was outputting +5V and the +12V rail was outputting +11.5V (see images). This drop in voltage is why the drive was unable to spin up. After troubleshooting with tech support from SCK, I tested the DVR using a different power supply that outputs 12V, 3A and the mainboard HDD power output read correctly at +12V and +5V. I then tried connecting the HDD to the mainboard and it spun up fine and was recognized.
TL:DR: Faulty Power Supply caused drop in HDD power voltage from mainboard. Replacing power supply brick resolved the issue.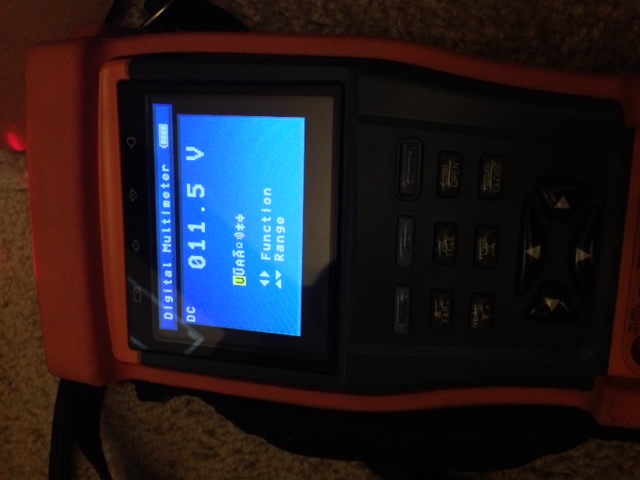 Forum Timezone:
America/New_York
Most Users Ever Online: 41
Currently Online:
7 Guest(s)
Currently Browsing this Page:
1 Guest(s)
Top Posters:
Daniel Ross: 287
shockwave199: 178
MrDeepFreeze: 98
tubac: 96
ShawnInFL: 50
night hawk: 46
smokey44: 40
West Coast Jones: 29
Craig: 23
BobS0327: 22
Member Stats:
Guest Posters: 4
Members: 691
Moderators: 8
Admins: 4
Forum Stats:
Groups: 5
Forums: 27
Topics: 562
Posts: 2689
Newest Members: Ken_M, soflavoice, GeorgeLawlor, Papasito, gilsandate, Shuzelle, scotjohnston@rocketmail.com, PBMGraphics, tnkeeper, RichBlade
Moderators: Matt Stetson: 17, Ryan Newkirk: 43, Jesus Ragusa: 283, Zeke Richey: 31, Gilberto: 133, Jose Malave: 240, javajeff: 3, mrkuchuk: 1
Administrators: Security Camera King: 9, Damon Delcoro: 8, Brad Besner: 200, Dro Simoes: 39