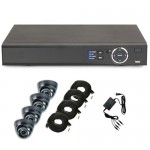 Closed circuit television security systems have been a staple of security systems for years. However, there are numerous advantages when it comes to the security systems of today and what used to be around years ago. As the technology changes and improves, so do the amount of capabilities that closed circuit televisions offer.
Video Security in Terms of IP Cameras
In today's society, the security cameras are able to use closed circuit television cameras along with IP technology. Internet protocol security systems have an amazing resolution when compared to an analog system, which will provide more ease of installation and the features are easy to use.