Description
Description
We added a great addition to our line of Sibell Network Video Recorders. The NVR-SB16M-16P can handle cameras that include 8MP / 5MP / 4MP / 3MP / 1080P / 960P / 720P. This recorder can handle 8mp cameras at 30fps (frames per second) and that is true 4K video resolution. It also has a true 4K HD video output built in to it and that means that this NVR will support 4K TVs and/or computer monitors. When your security camera system is using this amazing resolution, it makes identifying people and their activities a snap.
This NVR has 16 port of PoE built into it, which really simplifies the physical configuration. Instead of setting up a network of varying sizes, you simply run a CAT5 or CAT6 cable from the camera directly into the back of the NVR. This design also creates a private network for the cameras to send the video back to this NVR without adding a significant bandwidth load to your main network. When our Sibell IP cameras are connected to the PoE ports on this NVR then the cameras will automatically be recognized by the NVR. At that point, you will be able to easily modify each camera's settings in order to get them working with this NVR.
With this NVR you can utilize great functions like QR code connection, email notifications, DDNS input, PPPoE, and many others that help make connecting to the internet a breeze.
This NVR supports h.265 video compression as long as Sibell cameras are used, as well as still supporting H.264 video compression. Other types of cameras will work with this recorder as long as they are using the Onvif protocol version 2.4 or higher.
This supports a maximum 2 hard drives at up to 8TB each for a total of 16TB of storage space. You will also be able to simultaneously playback 16 Channels of recorded footage. This recorder is a true Pentaplexing machine, allowing you to preview, record, playback, backup and remote access simultaneously.
You will get Free US based tech support, free mobile apps and a 2 year warranty with the purchase of this product.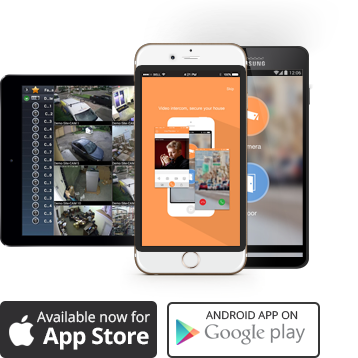 Free Remote Viewing Capability
All of our DVR's & NVR's have remote viewing capabilities. Free Apps & Software are for PC, Mac, iPhone, iPad, Android and Tablets
Specifications
Recorder
| | |
| --- | --- |
| Number Of Cameras | 16 |
| Number Of SATA Connections | 2 |
| Has Alarm Inputs / Outputs | Yes |
| Video Output Types | HDMI, VGA |
| Video Output Resolutions: | 4K, 1080P, 1.3MP, 1MP |
| Size | 1U |
| Resolutions Capable | 8MP, 5MP, 4MP, 3MP, 1080P, 960P, 720P |
| Max Bandwidth | 112Mbps |
| ONVIF Version | ONVIF S |
| Compression of Video | H.265, H.264 |
| Connection Apps | Super Live +, Sibell Mobile |
Downloads
NVR-SB16M-16P Document Downloads
Sibell Series DVR, NVR, IP Camera Downloads