Description
Description
This is the new 32 channel AI Network Video Recorder (NVR) from our Sibell series of security camera equipment. The unit can connect up to 32 cameras, all ranging from 1MP to 8MP (4K resolution). Utilizing the H.265 video compression standard, this unit significantly lowers the bandwidth required while still delivering high definition video. It also significantly reduces the storage space required for recorded footage. This unit also holds up to 8 hard drives, each of which can be up to 10 terabytes, enabling it to hold a significant amount of footage.
The embedded Linux operating system gives you a very user friendly Graphic User Interface (GUI) which you can access through the NVR, a computer or any mobile device. You can connect up to 10 remote users at the same time. Don't want to port forward? This unit has a simple P2P/QR code scanning feature allowing for remote access without the need for additional tech support.
Achieve simultaneous playback with 16 channels of recorded video with this recorder. Relevant footage is easier to find with the smart search feature. By highlighting different events with different colors to indicate the type of recording, the smart search feature makes sifting through footage a simple task. With Dual USB ports, this unit allows you to backup footage directly to a USB thumb drive for easy offloading to law enforcement.
This 32 channel unit supports face detection and comparison through a database that is built overtime for the installation environment. Search 240 pictures per minute to see the activity of a person. Photos can also be used to build a block and/or allow lists, also known as a black and white list. This gives you the ability to trigger an alarm if a face from the block/black list appears. The database can create up to 16 libraries and store up to 10000 pictures in each. Pie charts and bar graphs can be created with this information by day, week or quarter, as well as a customizable time period. The database can be managed from the APP, the Web interface, and a local computer. The ideal resolution for the image needs to be between (64 x 64) to ()1920 x 1080) with a size less than 200KB and in the jpg file format when adding an outside image to the database.
With the purchase of this unit, you get FREE US based tech support. As well as a 2 year warranty and FREE remote viewing apps and management software for both Apple and Android products.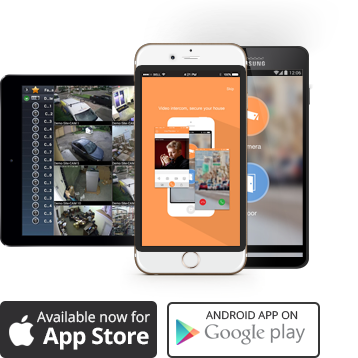 Free Remote Viewing Capability
All of our DVR's & NVR's have remote viewing capabilities. Free Apps & Software are for PC, Mac, iPhone, iPad, Android and Tablets
Specifications
Recorder
| | |
| --- | --- |
| Number Of Cameras | 32 |
| Number Of SATA Connections | 8 |
| Has Alarm Inputs / Outputs | Yes |
| Video Output Types | HDMIx2, VGA |
| Video Output Resolutions: | 4K × 2K / 1920 × 1080 / 1280 × 1024 |
| Size | 2U |
| Resolutions Capable | 8MP, 5MP, 4MP, 3MP, 1080P, 960P, 720P |
| Max Bandwidth | 256Mbps |
| Display Screen Split | 1 / 4 / 8 / 16 / 32 |
| Compression of Video | H.265 |
| Connection Apps | Super Live +, Sibell Mobile |
Downloads
NVR-SB32-AI Document Downloads
Sibell Series DVR, NVR, IP Camera Downloads