Description
Description
Sibell is our newest brand and is quickly becoming our most trusted. This 64 channel 4K NVR is the largest and most robust of its line. With the strongest processor in its class, it gives you the ability of recording up to 64 cameras simultaneously. The 64 channel Sibell NVR is capable of handling up to 320Mbps of data letting you use up to 8MP cameras and record them at the new H.265 compression rate.
This NVR supports multiple search tools including smart search, time slice, event, time and tag search! You can add and trigger events with its 8 channels of alarm inputs that can trigger snap shots, email or even an alarm out like a strobe or siren. Audio can be supported on every camera as long as the camera has an audio option. With a maximum simultaneous playback of up to 16 channels at a time, it's never been easier to sort through your recorded data!
This NVR also has dual Gigabit Ethernet ports, so you can stay connected to the network while keeping your cameras separated from it. This makes it easy for you to cut down on bandwidth usage from your surveillance system on the network without having to invest in a managed switch! The recorder also supports dual HDMI monitors, the first of which is even 4K compatible! Don't forget that these are plug and play and not just with Sibell, they are plug and play with any ONVIF compliant device.
With 8 SATA bays for hard drive storage and the ability to use up to 6TB drives in each bay, you can max this NVR out at 48TB of total space.If you prefer, one of those drive bays can be replaced with an optional DVD burner and between that and potential USB storage, your options for backing up data are virtually limitless!
Your purchase of this unit includes a 2 year FULL warranty, a lifetime of our US based FREE tech support, and FREE remote viewing software.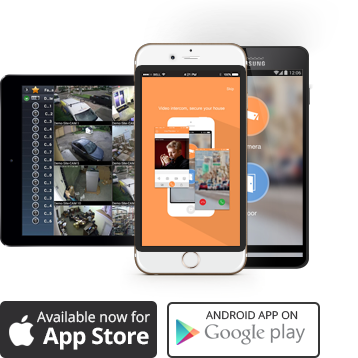 Free Remote Viewing Capability
All of our DVR's & NVR's have remote viewing capabilities. Free Apps & Software are for PC, Mac, iPhone, iPad, Android and Tablets
Specifications
Recorder
| | |
| --- | --- |
| Number Of Cameras | 64 |
| Number Of SATA Connections | 8 |
| Has Alarm Inputs / Outputs | Yes |
| Video Output Types | HDMIx2, VGA |
| Video Output Resolutions: | 4K, 4MP, 2MP, 1.3MP, 1MP |
| Size | 2U |
| Resolutions Capable | 8MP, 5MP, 4MP, 3MP, 1080P, 960P, 720P |
| Max Bandwidth | 256Mbps |
| Compression of Video | H.265 |
| Connection Apps | Super Live +, Sibell mobile |
Downloads
NVR-SB64 Document Downloads
Sibell Series DVR, NVR, IP Camera Downloads