Description
Description

This package includes:1 x 16 Channel Sibell 1U 1080P H.265+ TVI/CVI/AHD/IP – (PENDVR-SBE16M)
16 x 2MP 2.8mm 4-in-1 Bullet Security Camera – (HDOB-ELE2IR28)
OR
16 x 2MP Elite 2.8mm 4-in-1 Eyeball Dome Security Camera – (HDOD-ELE2IR28)
OR
8 x 2MP 2.8mm 4-in-1 Bullet Security Camera – (HDOB-ELE2IR28)
AND
8 x 2MP Elite 2.8mm 4-in-1 Eyeball Dome Security Camera – (HDOD-ELE2IR28)
16 x 100 FT BNC Plug and Play Cables – (BNC-100-HD)
OR
16 x 50 FT BNC Plug and Play for Analog & HD Cameras – (BNC-50-HD)
OR
8 x 100 FT BNC Plug and Play Cables – (BNC-100-HD)
AND
8 x 50 FT BNC Plug and Play for Analog & HD Cameras – (BNC-50-HD)
2 x 8 Channel Output Switching Power Supply – (PWR-MINI-8)
2 Year Warranty on the DVR
1 Year Warranty on the Cameras
---
Here's another one of our Sibell packages that we've put together with the average user in mind. We've made it easy for you and cut out any confusion so you can buy a preconfigured package and install it without having to worry about whether this works with that, etc, etc. Don't forget to choose the options while checking out and before adding this to your cart. You get to choose the style of camera, the size of the hard drive, and maybe even the length of the cable. We've included everything you need so it couldn't be much easier for you to just grab it and go. Maybe none of our packages are perfect for what you need and if that's the case, you can speak to one of our knowledgeable sales reps that can create a custom package based on what you need. You can easily reach them Monday-Friday from 9 AM to 8 PM EST by calling 1-866-573-8878 x2!
If you're shopping for your first security camera system or a replacement for an outdated, existing one, this 16 channel Sibell Series package could be just what you need. This system is useful in a wide variety of situations from residential to commercial including, offices, warehouses, parking garages, banks and anywhere else where quality cameras are needed. The heart of this system is the PENDVR-SBE16M Sibell DVR that delivers sharp, crisp 1080P over coax and up to 5MP IP. Features like an embedded Linux OS, H.265 compression format, a user-friendly GUI interface and the ability to remotely monitor your system with iOS or Android makes this a great everyday solution. This DVR can hold up to two 8TB hard drives and additionally there's an E-SATA interface when you need more storage. This package will come with 16 x 2MP cameras in your choice of dome, bullet, or dome and bullet combination. The indoor/outdoor HDOD-ELE2IR28 and HDOB-ELE2IR28 security cameras are the
perfect camera for many situations with their 2.8mm fixed lens, 98 feet of IR (infrared), an IP67 weather rating and most importantly, the ability to work with HD-CVI, HD-TVI, AHD, and CVBS (analog).
With dome and bullet camera options, we'll let you decide between 16 HDOD-ELE2IR28 domes or 16 HDOB-ELE2IR28 bullets or, 8 of each of those HD models. With 16 high definition cameras, you'll need to have room for storage so, you'll be able to choose how many hard drives and what size you need. There's room for up to 2 hard drives ranging in size from 1-8TB for a maximum of 16TB.
Add the hard drives and choose the cameras and you'll have everything you need to get your security camera system up and running. We've included everything you need including 2 x PWR-MINI-8 12V DC power supplies to provide power to your cameras. Additionally, we've included the option of 16 x BNC-100-HD 100 foot connectors or 16 x BNC-50-HD 50 foot connectors or 8 of each to connect the cameras to the DVR and power supply. Easily connect everything with a call to our support department, by joining our online chat, or reference our online video library and make it a DIY project.
We stand behind what we sell so beyond free US-based tech support, we include a 2-year warranty for the DVR and 1 year for the cameras, power supplies and cables.
See the complete specs by clicking on the product links and remember . . . if this package doesn't fit your needs, give us a call at 1-866-573-8878 x2 and we'll put together a package specific to you and your situation.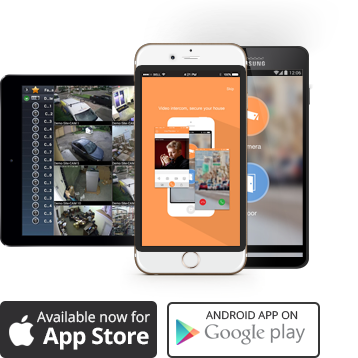 Free Remote Viewing Capability
All of our DVR's & NVR's have remote viewing capabilities. Free Apps & Software are for PC, Mac, iPhone, iPad, Android and Tablets
Specifications
PENDVR-SBE16M Specifications
Recording Speed:
5M-N@10fps, 4M-N/1080P@12fps(PAL)/15fps(NTSC), 1080P-N/720P/WD1@25fps(PAL)/30fps(NTSC)
Resolution:
5M-N/4M-N/1080P/1080P-N/720P/WD1
IP Input/Bandwidth:
IPC x 8 / 72Mbps
Drive Capacity:
2 SATA
Video Inputs:
16
Ethernet Ports:
1
Video Outputs:
VGA / BNC / HDMI
Audio Inputs:
4
Audio Outputs:
1
Internal DVD Burner Support:
No
Smart Phone Access/Push Notification:
Yes
Motion Activated Recording:
Yes
PTZ Control:
Yes
HDOB-ELE2IR28 Specifications
Megapixels:
2MP
Max Resolution:
1920×1080
Image Sensor:
1/2.7 inch progressive scan
Lens:
2.8mm Fixed Lens
Minimum Illumination:
0.02Lux/F1.85, 30IRE, 0Lux IR on
LEDs:
18
IR Distance:
98 feet
OSD
Yes
Operating Temperature:
-40° F ~ +140° F, Less than 95% RH
Dimension:
6.48in x 2.76in x 2.82in
Power:
12V DC ±30%
HDOD-ELE2IR28 Specifications
Megapixels:
2MP
Max Resolution:
1920×1080
Image Sensor:
1/2.7 inch CMOS
Lens:
2.8mm Fixed Lens
Minimum Illumination:
0.02Lux/F1.85, 30IRE, 0Lux IR on
LEDs:
12
IR Distance:
98 feet
OSD
Yes
Operating Temperature:
-40° F ~ +140° F, Less than 95% RH
Dimension:
3.68in x 3.68in x 3.13in
Power:
12V DC ±30%
HD Video Surveillance
Experience the quality of full HD video
Remote Viewing
Connect from anywhere
Fast, Free Shipping
On all orders of $100
Free Support
For the life of the product