Description
Description

This package includes:
1 x 4 Channel Sibell Mini 1U 4K NVR with 4 Ports PoE – (NVR-SB4ME-4P)
4 x 2MP 2.8mm Sibell H.265 IP Economy Bullet Camera – (IPOB-SBE2IR28-S2)
OR
4 x 2MP 2.8mm Sibell IP Eyeball Dome Camera – (IPOD-SBE2IR28-S2)
OR
2 x 2MP 2.8mm Sibell H.265 IP Economy Bullet Camera – (IPOB-SBE2IR28-S2)
AND
2 x 2MP 2.8mm Sibell IP Eyeball Dome Camera – (IPOD-SBE2IR28-S2)
4 x 100FT CAT5 Patch Cable – (CAT5-100FT)
2 Year Warranty on the NVR
2 Year Warranty on the Cameras
---
You get everything you need for a 4 camera surveillance system with the purchase of this package, except for a monitor. The Sibell series of equipment will give you four high definition 2 megapixel (1080p) cameras. The NVR doesn't come with a hard drive by default because you can put anything in it from a 1 TB to an 8 TB. You can select the drive you want from the drop down menu and we will install and test it before the equipment ships out.
This is a great camera system for smaller installs. It will work great in apartments, bodegas, kiosks, apartments, shops, homes and other similar locations of about the same size.
The Network Video Recorder (NVR) is the brains of this type of security camera system. It is the interface for the majority of your interactions with the system and its where the video is recorded. The embedded Linux based operating system helps this interface to be extremely user friendly.
We give you some options on the cameras that you get with this package. You can choose 4 cylindrical, bullet style cameras (IPOB-SBE2IR28-S2), 4 eyeball dome style cameras (IPOD-SBE2IR28-S2) or you can choose 2 of each. These cameras can even see in complete darkness with Infrared (IR) that is rated for 65 feet. Although these cameras are designed to be used indoors and out, you will still need to protect your connections from the elements. The related products section of this page(toward the bottom) has mounting options that can help with this.
There are other options for security camera systems that are not covered here like cameras that have adjustable zoom, handle challenging lighting conditions or that can move and zoom through motors. For help customizing this system, please call our sales team at 866-573-8878 ext 2.
You get unlimited US based tech support and FREE remote monitoring software with the purchase of this package. Everything comes with a 1 year warranty.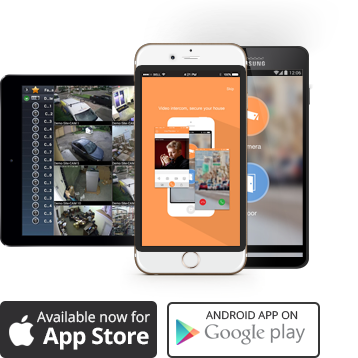 Free Remote Viewing Capability
All of our DVR's & NVR's have remote viewing capabilities. Free Apps & Software are for PC, Mac, iPhone, iPad, Android and Tablets
Specifications
NVR-SB4ME-4P Specifications
Recording Speed:
5MP / 4MP / 3MP / 1080P / 960P / 720P@25 / 30fps
Resolution:
5MP / 4MP / 3MP / 1080P / 960P / 720P
Bandwidth:
40Mbps
Drive Capacity:
1 SATA
Video Inputs:
4
Ethernet Ports:
1
Video Outputs:
VGA / HDMI
Audio Inputs:
1
Audio Outputs:
1
Internal DVD Burner Support:
No
Smart Phone Access/Push Notification:
Yes
Motion Activated Recording:
Yes
PTZ Control:
Yes
Simultaneous Remote Users:
10
IPOB-SB2IRE28-S2 Specifications
Megapixels:
2MP
Image Sensor:
1 / 2.9 inch CMOS Sensor
Lens:
2.8mm
Minimum Illumination:
0.03 lux@F2.5,AGC ON; 0 lux with IR
IR Distance:
32 ~ 65 feet
Protocol:
ONVIF
Operating Temperature:
-22°F to +140°F
Dimension:
6.13in x 2.75in x 2.75in
Power:
DC 12V / PoE
IPOD-SB2IRE28-S2 Specifications
Megapixels:
2MP
Image Sensor:
1 / 2.9 inch CMOS
Lens:
2.8mm
Minimum Illumination:
0.03 lux@F2.5,AGC ON; 0 lux with IR
IR Distance:
65 feet
Protocol:
ONVIF
Operating Temperature:
-22°F ~ 140°F, less than 95% humidity
Dimension:
4.25in x 3.59in x 3.59in
Power:
DC 12V / PoE
HD Video Surveillance
Experience the quality of full HD video
Remote Viewing
Connect from anywhere
Fast, Free Shipping
On all orders of $100
Free Support
For the life of the product