Description
Description
The PENDVR-EL8M4K-XI is an advanced 8 channel Pentabrid DVR which can work with HD-CVI, HD-TVI, AHD, analog and IP cameras. This Elite series DVR makes this more user friendly by auto detecting which signal is being used. It can work with up to 8 megapixel (3840 x 2160) HD-CVI cameras and up to 5 megapixel (2560 x 1920) with HD-TVI/AHD cameras. This recorder can work with up to 8 IP cameras in addition to 8 BNC based cameras for a total of 16 cameras.
This DVR uses H.265+/H.265 dual-stream video compression technology to help reduce the bandwidth used and storage needed by up to 90%. Any of the BNC based camera technologies are supported. ONLY Elite series IP cameras can take advantage of this compression, as long as the particular camera supports H.265+/H.265.
This unit uses Intelligent Video System (IVS) technology to add an additional level of customization to the way the DVR records video or notify's the user. This feature allows the DVR to analyze customized virtual tripwires and respond by triggering an alarm output, recording video or sending an email. IVS can also analyze objects in the camera's view to determine if they are missing or have been abandoned.
This recording device also offers some advanced features which make retrieving recorded footage quicker and easier. It has face detection technology that recognizes a face and records a snap shot of it. It also has the smart search feature which allows the user to swiftly search recorded video for the pertinent footage. This is accomplished by drawing a box on part of a camera's recorded view to focus the search on changes in that area.
The physical design of this DVR incorporates some very popular features. It has a spot output for a second monitor which has a customized camera views, which is independent of the main output. It also has smart fan design which reduces fan noise and extends the fans lifetime by only running the fan when the CPU temperature necessitates it.
You get a 2 year warranty, free mobile viewing apps and free tech support for the lifetime of the device when you purchase this product.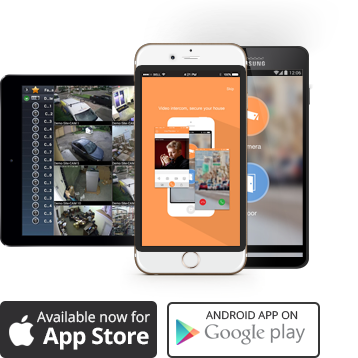 Free Remote Viewing Capability
All of our DVR's & NVR's have remote viewing capabilities. Free Aps & Software are for PC, Mac, iPhone, iPad, Android and Tablets
Specifications
Recorder
| | |
| --- | --- |
| Number Of Cameras | 8 |
| Number Of SATA Connections | 2 |
| Has Alarm Inputs / Outputs | Yes |
| Video Output Types | HDMI / VGA |
| Video Output Resolutions: | 3840×2160, 2560×1440, 1920×1080, 1280×1024, 1280×720 |
| Size | 1U |
| Resolutions Capable | 4K, 6MP, 5MP, 4MP, 3MP, 4M-N, 1080P, 720P, 960H, D1, CIF |
| Max Bandwidth | 64Mbps Incoming Bandwidth |
| ONVIF Version | ONVIF 16.12 |
| Display Screen Split | 1/4/9 |
| Matrix Available | When IP extension mode not enabled: 1/4/8/9 When IP extension mode enabled: 1/4/8/9/16 |
| Compression of Video | H.265+ |
| Connection Apps | Smart PSS, iDMSS, gDMSS |
Downloads
PENDVR-EL8M4K-XI Document Downloads
Elite Series DVR / NVR / IP Camera Remote Viewing Downloads
 Elite Series DVR / NVR / IP Camera Tools & Utilities