Your Washington Marijuana License is Approved!
This is what over 3,000 marijuana license applicants are hoping to hear. If you live in Washington and are one of those i-502 applicants then that means you. In this article I will be focusing on the Surveillance System requirements for the Washington Marijuana Law WAC 314-55-083 and how you can get your Marijuana License approved per those requirements. At SecurityCameraKing.com we have the most knowledgeable Security Camera Professionals and have been working with i-502 Marijuana Applicants since the application process has started. In fact, there have already been Washington Marijuana Growers that have had their applications approved with our security camera systems. And, just recently about 20 Retail Marijuana Stores in Washington have had their Marijuana License approved. Guess what? A few of those applicants purchased their Security camera System through us.
So, as you can see, we know the i-502 Security Camera Law.
There are a few parts of WAC 314-55-083 that we pay special attention to. The first is that the minimum camera resolution needs to be 640×470 pixels and the recording device needs to be IP protocol. This part of the law has been a matter of debate and there are many security camera dealers that are scaring applicants into buying expensive IP cameras. We have actually been on top of this issue and have proof from the Washington Liquor Control Board that you do not have to have IP cameras. IP protcol simply means that the device (in this case the recorder) needs to hook up to the Internet. Now, our low-cost affordable DVRs and analog cameras meet the requirements of the 640×470 pixels. Keep in mind that although our DVRs take care of the minimum resolution, if you wnat to really protect your investment and be able to zoom in on detail without distortion, then we do suggest going with High Resolution 1080p cameras and equipment, but it is not necessary to pass your marijuana application process.
Another part of WAC 314-55-083 that we pay close attention to is that all entrances and exits need to have surveillance as well as fence perimeters, windows, etc. The first thing we do to help Washington Marijuana Applicants is we ask for a site plan to help them with camera placement. Since we have had applicants who have passed their inspections you can be confident in our expertise. If you don't know how to create a layout, you can hand draw your site plan and email it to us. Below is an example I have created. This is not an actual customer's site plan because we believe in the privacy of all of our customers. I created this just as an example.
An i-502 Site Plan layout Example
In this layout you can plainly see this is a typical Marijuana Grower's site plan. There are multiple grow areas surrounded by a fence perimeter. There is a required compost area, processing area, quarantine area and office and all have cameras placed in the correct locations. When i-502 inspections first came about, the 4 camera on each corner of the fence were not required. Because we follow what the inspectors are requiring as time goes on, we know that they indeed are requiring this type of camera placement. Also, you will see that each door has surveillance on the outside of the door as well as the inside. Also, inside the grow areas, there are multiple cameras so that there is not one area which cannot be seen by the surveillance system. Also, inside the office you might have noticed an "X" on the left side. This is another important part of WAC 314-55-083, the fact that the recording device needs to be in a locked closet or another type of locking device.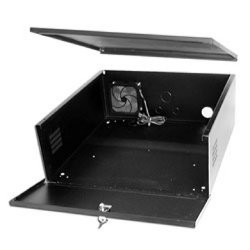 DVR Lockbox – a great way to secure your DVR
The DVR Lockbox is what we recommend to our i-502 applicants as it is a way to secure your DVR from theft and vandalism as well as gaining bonus points in the inspection process. This can be mounted to the wall using DVR lockbox brackets and it even comes with a fan to keep your DVR or NVR cool.
Another important point of the WA Marijuana Security Camera Law is that all cameras need to record 24 hours per day and the recording device needs to be able to record for 45 days. We have a fantastic Hard Drive Calculator to determine how much hard drive you will need for your security camera setup.
Hard Drive Requirements for 32 Analog Cameras at D1 Resolution
15 frames per second
Hard Drive Requirements for 32 IP Cameras at 1.3 megapixel Resolution
15 frames per second
As you can see I have the calculations at 15 frames per second on both examples. The minimum frame rate requirements per law is 10 frames per second and we recommend 15 frames per second minimum for a better recording. The more frames per second you record, the smoother the video will be. We have hard drives from 1TB to 4TB and our full size DVRS and NVRS will hold up to 8 hard drives. The great thing about buying your hard drive from us when you buy your recorder is that we will install your hard drives for free and make sure they are formatted correctly. That way when you receive your DVR or NVR it will be immediately ready to go as soon as you plug it in and connect a monitor to it.
Other important items for your camera system of course will be power and cables (although the law doesn't state the requirements for these, they are indeed necessary to run your equipment.) We will include these when we work up your quote based on your site plan that you provide to us.
Also, if you ever need help configuring your security equipment, we provide free tech support for the life of your products. We will walk you through every step of the way from programming your cameras to record 24/7 to viewing your security camera system remotely from any computer or smart devices.
So, just to sum things up, we have become experts in helping i-502 Marijuana Applicants pass their surveillance requirements. All of the applicants we have designed systems for and purchased from us have been approved. If you want to see what what our system costs for your specific needs, send us your site plan to support@securitycameraking.com. Make sure you provide your name, telephone number, zipcode and any questions and our 1-502 specialists will work up a quote right away.