The Starlight network IP camera is one of the most advanced security cameras thanks to its innovative night vision technologies and network IP connectivity. Far exceeding the capabilities of day and night security cameras of the past as well as more outdated analog CCTV technology, Starlight security cameras are quickly becoming the go-to solution in modern surveillance systems.
Network IP security cameras themselves are well-known to outperform their analog CCTV counterparts due to the progressive changes associated with internet protocol connectivity. This network IP-based connection in conjunction with state of the art night vision capabilities is what gives the Starlight network IP camera the ability to set itself a tier above the rest.
For these reasons and more, Security Camera King is proud to be the premier source to buy IP security cameras online, including Starlight security cameras. We pride ourselves on carrying some of the most innovative security devices on the market equipped with the latest in modern surveillance technologies.
Continue reading the following article to learn more information about what makes Starlight surveillance technologies such a popular choice for both residential and commercial applications. If you're wondering how to choose a security camera system or wish to speak with a security expert to put together a custom surveillance system suitable to your needs, contact our sales team today.
Understanding The Starlight Network IP Camera
Starlight technology is at the forefront of nighttime surveillance. Starlight cameras come equipped with special sensors that enable the camera to produce high-quality images in low light conditions.
The typical human eye is only able to clearly see in lighting conditions with an illumination of 20 Lux of above. By contrast, a Starlight security camera is capable of capturing and recording clear images in low light settings with as little as 0 Lux illumination.
In other words, Starlight technology allows a security camera to record usable footage in virtual darkness. This is in stark contrast to the grainy, dark, and undetailed images more commonly associated with night security cameras.
The way the Starlight technology works is by combining its groundbreaking sensors with noise suppression technology that make the camera much more sensitive to light. With a wider aperture, larger lens sizes, and reduced shutter speed, the limited amount of light available is utilized to transform a setting that would otherwise be seen as darkness.
Another unique feature to Starlight security cameras is the added ability to switch between black and white images to color images. Although black and white images are more capable of capturing details in low light settings, the color image setting is still able to outperform comparable IR night security cameras.
Watch the video provided below to view a demo comparing footage from a standard IR security camera with footage from a Starlight IR camera.
Featured Starlight IP Security Cameras
One of the things setting apart our online security camera store from our competitors is our diverse selection of innovative security devices equipped with Starlight technology. We carry a wide collection of Starlight cameras for sale suitable for most applications and budgets, all at competitive prices.
Take a look at some of our more popular featured Starlight IP security cameras below. Be sure to click on any of the images provided to learn more about that specific device.
Sibell 2MP Varifocal Starlight IP IR Dome Security Camera (IPOD-SBS2IRV)
Key Features & Specifications: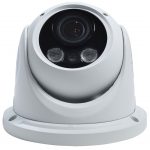 Megapixels: 2MP

Image Sensor: 1/2.8 inch CMOS

Lens: 2.8~12 mm @ F1.4-2.8

Minimum Illumination: Color : 0.002 lux @F1.2,AGC ON; B / W : 0.0002 lux @F1.2,AGC ON

LEDs: 2

IR Distance: 98

Operating Temperature: -4°F to +122°F, humidity 90% or less (non-condensing)

Dimension: 4.29in x 4.29n x 5.12in

Power: DC12V / PoE
Elite 12X Starlight 2MP Outdoor Ceiling Mount IP PTZ Security Camera with True WDR (IPPTZ-ELS2L12X-I)
Key Features & Specifications: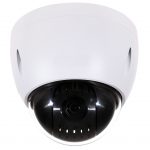 Megapixels: 2MP

Image Sensor: 1/2.8" STARVIS™ CMOS

Lens: 5.3mm~64mm

Minimum Illumination: Color: 0.005Lux@F1.6; B/W:0.0005Lux@F1.6

LEDs: N/A

IR Distance: N/A

Pan Rotation: 0° ~ 360° endless

Tilt: -2° ~ 90°,auto flip 180°

Touring: 5 Pattern, 8 Tour, Auto Pan, Auto Scan

Operating Temperature: -22°F to +140°F / Less than 95% RH

Dimension: 6.69in x 6.69in x 6.10in

Power:

AC 24V/1.5A(±10%), PoE+(802.3at)
Elite 6MP Motorized Starlight IP Eyeball Dome Camera W/ Audio and ePoE (IPOD-ELS6IRZA-EP)
Key Features & Specifications: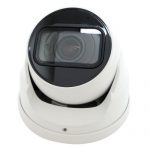 Megapixels: 6MP

Image Sensor:

1/2.9 inch 6MP progressive scan CMOS

Lens: 2.7-13.5mm Motorized Zoom Lens

Minimum Illumination: 0.03Lux/F1.4 (Color,1/3s,30IRE), 0Lux/F1.4(IR on)

LEDs: 2

IR Distance: 164 feet

Operating Temperature: -22° F ~ +140° F, Less than 95% RH

Dimension: 4.80in x 4.80in x 4.09in

Power: DC12V, PoE(802.3af)(Class 0)
Elite 2MP Starlight™ IP Eyeball Dome Security Camera w/IR & ePOE (IPOD-ELS2IR28A-EP)
Key Features & Specifications: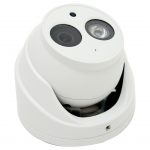 Megapixels: 2MP

Image Sensor: 1/2.8 inch 2MP progressive scan CMOS

Lens: 2.8mm Fixed Lens

Minimum Illumination

0.007Lux/F1.6( Color,1/3s,30IRE)

LEDs: 1

IR Distance: 164

Operating Temperature: -22°F ~ +140° F) / Less than 95% RH

Dimension: 4.17in x 4.17in x 3.69in

Power: DC12V, PoE(802.3af)(Class 0)
Elite 4K 8MP Starlight™ IP Vandal Dome Security Camera w/IR & ePOE (IPVD-ELS8IR28A-EP)
Key Features & Specifications: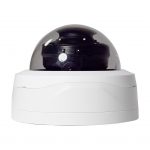 Megapixels: 8MP

Image Sensor: 1/2.5 inch 8MP progressive scan CMOS

Lens: 2.8mm Fixed Lens

Minimum Illumination: 0.06Lux/F1.6( Color,1/3s,30IRE)

LEDs: 18

IR Distance: 98

Operating Temperature: -22°F ~ +140° F) / Less than 95% RH

Dimension: 4.33in x 4.33in x 3.19in

Power: DC12V, PoE(802.3af)(Class 0)
6MP Elite Motorized 2.7-13.5mm Starlight IP Bullet Camera W/ Audio and ePoE (IPOB-ELS6IRZA-EP)
Key Features & Specifications: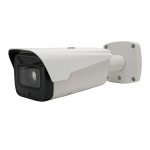 Megapixels: 6MP

Image Sensor: 1/2.9 inch 6MP progressive scan CMOS

Lens: 2.7~13.5mm Motorized Zoom Lens

Minimum Illumination: 0.03Lux/F1.4 (Color,1/3s,30IRE), 0Lux/F1.4(IR on)

LEDs: 4

IR Distance: 164 feet

Operating Temperature: -22° F ~ +140° F, Less than 95% RH

Dimension: 10.76in x 3.74in x 3.74in

Power: DC12V, PoE (802.3af)(Class 0)
Elite 2MP 3x Starlight IR Mini PTZ IP Network Camera (IPPTZ-ELS2IR3X-S)
Key Features & Specifications: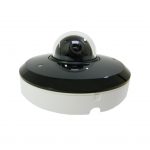 Megapixels: 2MP

Image Sensor: 1/2.8 inch STARVIS™ CMOS

Lens: 2.7-8.1mm Zoom Lens

Minimum Illumination: Color: 0.005Lux@F1.8; B/W: 0.0005Lux@F1.8; 0Lux@F1.8 (IR on)

LEDs: 3

IR Distance: 49.2 feet

Operating Temperature: -22° F ~ +140° F, Less than 95% RH

Dimension: 5.04in x 5.04in x 2.48in

Power: DC 12V/1.5A, PoE(802.3af)
Starlight Network IP Camera