Oregon Cannabis Security Systems for State Compliance
Video Surveillance for Marijuana Growers | Processors | Retailers | and Business Security Services
We help Oregon's cannabis entrepreneurs meet their personal and compliance goals when it comes to marijuana security. With our Free layout and planning services, our solutions are cost effective and professional. We have been designing compliant cannabis security systems since 2012, and have set up our cannabis security program to cater specifically for those in the Cannabis Industry. We are inviting Oregon's Marijuana entrepreneurs to get to know us. We have taken our experiences and compiled that information into this free Security compliance eBook to share with cannabis business owners, just like you. Let us help you save time and money with our Free Customized Layout and planning Services.
Call 800-901-2091 to speak to an expert about your Free compliance layout!
We have designed systems for marijuana dispensaries, processors, producers and business of all sizes.
Oregon Security Camera System equipment requirements
The basic components of surveillance system include the cameras and secondly the recording device (NVR/DVR). In addition to that surveillance equipment Oregon laws require, a printer capable of producing still photos, and that the equipment be set up with a failure notification system that alerts the business representative within 1 hour of failure. Oregon also, requires a sufficient battery backup system be installed to support at lease an 1 hour of recording time in the event of a power failure.
Record 24/7 for 90 days at 720p
For all entry and exit points and in all areas (to and from) where there are mature marijuana plants and usable marijuana products Oregon requires continuous recording for 24 hours a day with recordings held for at least 90 days. Cameras must be at least 720p resolution. Off-Site Backup is required in Oregon for all entry and exit points and limited access and secure areas where there is risk or usable marijuana products. Click Here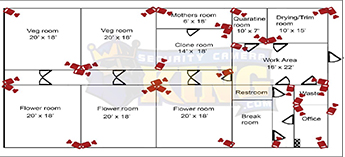 Site Planning: Oregon Requirements
Site and Layout planning is critical in designing a compliant OLCC security camera system. All entrances and exits to the facility must have proper camera coverage, where the camera are able to capture clear images of any activity occurring within 15 feet both inside and outside of the premises. All activity in sensitive and limited access areas must video recording. All points of sale and cash exchange areas must have coverage. The surveillance room where the surveillance equipment is secured must have a cameras placed in view of the equipment. Any area that the commission believes to present a public safety risk bases on the overall operation must have proper camera coverage. Our Oregon compliance specialist will be able to provide you with a unique system design based on your floor plan.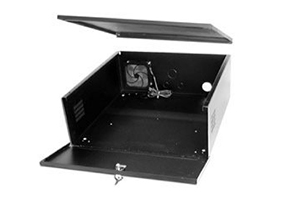 Securing the Equipment and Recordings
In the state of Oregon it is required that all video surveillance equipment meaning and recordings must be stored in a locked and secure area that is only accessible to the licensee, or authorized personnel. Securing the DVR/NVR inside security lock box made of reinforced steel will help keep your recorder safe. Click here to view our Lock Boxes
Take Our Customers Word For It

I went with SecurityCameraKing.com because they were the only ones who knew what they were talking about. They know i-502 and had spoken with inspectors during final inspections and could give me the complex configuration I wanted. I have and do recommended them for your I-502 and other video needs

I was Impressed with Security Camera Kings knowledge on on state rules on regulations. They were upbeat and friendly and always available to help. Working with them was a pleasure. I am happy with my equipment, Tech support have been a great help. The whole team was really great to work with

I wanted to thank Security Camera King for getting me the right cameras an assuring me that they would pass. My LCB field agent was happy to see everything was operating properly and I had a flawless inspection. I am now running my own Marijuana retail store! Thank you for all your help!