Don't look any further than Security Camera King for your surveillance needs.  Throughout the year we feature massive security camera sales.  If you want to save money and get a great deal with top-notch security camera products then check in periodically and find out when our security camera sales are taking place.  During major holidays we will offer huge discounts on security cameras and related surveillance products.  All of security camera king products come with free US-based tech support and longer than industry-standard warranties.  Check out website for Security Camera Sale dates and you can sign up to receive to coupons and discounts.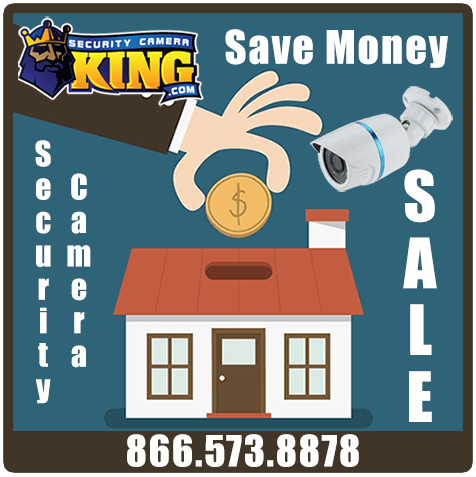 These security camera sales include all of their products from:  HD CVI security cameras, HD TV are security cameras, IP network security cameras, bullet security cameras, indoor security cameras, Vandal proof dome security cameras, pan tilt security cameras, license plate cameras, box security cameras, hidden security cameras, HD  SDI security cameras (although an outdated technology not much longer supported we still have components and supplies along with support).
Whether you need a DVR (digital video recorder), NVR (network video recorder) along with all the peripheral components we have you covered at a great discount.  This security camera sale is not only limited to surveillance cameras only but is site wide including DVRs or NVRs.  security camera king has a variety of video recorders available: HD-CVI recorder DVRs, HD-TVI recorder DVRs, IP Camera recorder NVRs, 4 channel security DVRs, 8 channel security DVRs, 16 channel security DVRs, 32 channel security DVRs, 4 channel security NVRs, 8 channel security NVRs, 16 channel security NVRs, 32 channel security NVRs, 64 channel security NVRs, 128 channel security NVRs.
Security Camera King also has a large selection of hybrid & tribrid DVR recorders along with NVR recorders.  If space is a concern then look into one of our Mini Tribrid HD-CVI/IP/CCTV available in a four channel, eight channel and 16 channel.  Security Camera King can also do custom built security camera systems.  With all of the legislation surrounding recreational marijuana we have carved quite a niche in the industry for compliance issues with I-502 and amendment 64.  With facilities located on the East Coast and West Coast next day shipping is never an issue.
If you need a complete security camera system, don't worry as we have bundled the highest quality surveillance products coupled with US-based tech support leaving nothing in doubt. From the time you order to taking out-of-the-box all the way through to setting it up and beyond we are there for you.  Security Camera King offers an unheard-of free US-based support for the lifetime of the product.  No matter how you prefer to communicate with us we are there whether you want to talk on the phone or chat.
Security Camera King has one of the largest online supplies of security camera accessories:  CCTV (closed circuit television) video storage, CCTV video transmission, security camera cable, security camera microphones, security camera surge protection, security system tools, surveillance camera connectors, surveillance camera mounting brackets, PTZ (pan tilt zoom) control, security camera lenses, security camera power supplies, DVR lockboxes, security camera monitors, networking, personal protection.
In addition to all of your security Surveillance camera related needs we have become an industry leader for security access control.  Access control panels, access control readers,  access control standalone readers, access control cards, access control door strikes, access control magnetic locks, access control request to exit buttons, access control gate locks, access control power supplies, access control converters, access control accessories, access control software.  If you have any questions concerning access control, you can call and speak with one of our security experts.  Our tech support staff is comprised of security experts consisting of security installation specialist and security guards with exceptional techie skills always willing to lend a hand with US based support.
We have security camera sales for most major holidays including New Year's Day, Memorial Day, Independence Day,  Labor Day, Black Friday Sale – Thanksgiving, Cyber Monday along with sporadic sales that pop up often, so check back often or sign up to receive special discounts on our homepage.
If you have any questions visit our website or give us a call. We also have an extensive CCTV learning Center that is packed with thousands of articles related to security surveillance and security surveillance tools.
Security Camera Sale