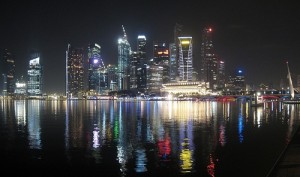 Some cities are more prone to crime than others. Whether it's due to drugs, poverty, or just luck of the draw, some cities make it difficult for the honest person to live a normal life. If you currently live in one of these U.S. cities, then you should consider a security system immediately.
10. Stockton, CA
Stockton is home to the most criminals per capita in all of California. When inmates leave the California prison system, they are often relocated to jobs and housing projects in and around Stockton. This makes the town increasingly dangerous for families. If you live in or near Stockton, then you need to amp up your home security in order to stay safe.
The most common problems in Stockton are burglaries and car jackings. You should have an infrared security camera system on your premises in order to catch the burglars at night. Due to the violent nature of Stockton's criminals, it is important that your cameras also have motion sensor capabilities. This will allow your system to activate only when there is a problem, and you can then immediately contact the police. By installing a security camera system now, you will be able to prevent burglaries and violent encounters with Stockton's worst.
9. Detroit, MI
Detroit has a wild reputation as one of the most dangerous cities in America. With rampant gang violence and increasing death tolls, it is no wonder many are leaving Detroit at the first chance they get. If you are in Detroit and near a dangerous area, then you must install a security camera system immediately.
While Detroit does have its fair share of burglaries, most crimes are gang related. The best way to protect your home is by installing visible security cameras around you premises. This will cause gangs to steer clear of your area and potentially leave you alone. An alarm system may also come in handy, as you will want the police to arrive immediately should a criminal enter your home.
8. Flint, MI
Flint has one of the nation's highest rates of arson. While your home may not be a target, it is best to take action now to avoid any potential problems. Install an infrared dome camera on your front porch to keep surveillance of your yard. Arson usually occurs at night, so it is crucial that your cameras are equipped with night vision capabilities.
You will also want a DVR lockbox should arson occur. While your DVR can also store footage on a cloud hard drive, keeping it in a durable lockbox will allow you more room for error should something occur. If your house is ever targeted for an attack, then you will have the means to bring the perpetrator to justice.
7. Oakland, CA
With more gangs than there are police, it is essential that you have a security camera system while living in Oakland. Oakland is home to numerous rival gangs that often compete in turf wars. These wars are fought in order to secure their main line of business: dealing weapons and narcotics to more gangs.
While there are many beautiful areas of Oakland, it is inevitable that crime will seep into unsuspecting neighborhoods. The best course of action is to install a visible security system around your yard. These criminals aren't looking to hurt you, as this would only draw further attention from the police. However, they will most likely keep away from your home should they see numerous security cameras. They will not want their faces, license plates, or deals to be caught on tape. Install a security camera system now in order to keep their business off of your street.
6. Miami, FL
With a high-immigration problem, a thriving drug cartel, and countless burglaries, it is no wonder that a security camera system is essential for living in Miami. When the tourist season ends and the beaches become empty, the drug trade returns in full force. The large amount of drugs in Miami attracts many unwanted guests like dealers, junkies, and those looking for a target to rob.
You should install cameras inside the main rooms of your house should a break-in occur. Many junkies, vandals, and burglars will try to enter through the windows, so make sure to have those covered as well. Having motion sensored cameras near every point of entry will ensure that your house is never left in the open.
When spring break rolls around, Miami is host to thousands of drunken revelers. These partiers will have no respect for your personal property, and you must take the proper action now to protect your assets. You can get plastic casings for your security cameras in order to protect against any acts of drunken vandalism. These casings will also protect your system from rain and wind.
To further secure your system, you can also get mounting brackets to help protect against vandalism and weather. These brackets will keep your cameras steady and sturdy against any external force. Don't allow your security system to be compromised; invest in protective equipment today!
5. Chicago, IL
Even with less guns on the street, Chicago is home to many violent and crime-ridden areas. If you live in Chicago, then invest in a new home security system in order to prevent burglars from entering your home. These burglars will often look for easy targets, and they will not wish to risk the attention should your home be properly secured. You can help by installing bullet security cameras in your yard. This alerts criminals that your home is protected, and they will most likely not enter.
You should always be prepared in case they do decide to enter, which is why you should invest in dome security cameras to place throughout your home. You can place these on the corners of your wall to guarantee complete coverage of each room. You can also place them near windows and doors to catch any intruder.
4. Palo Alto, CA
While Palo Alto is not known for its crime rate, this thriving technological city has become a prime target for hardened criminals. East Palo Alto is a very violent and dangerous city, and its many problems have quickly entered into the Silicon Valley area. With burglaries on the rise, it is crucial that you install a security camera system around your Palo Alto home.
Most burglars in Palo Alto are looking for money, valuables, and electronics. Apple products are also a prime target for theft. You can supply your home with motion sensor security cameras in order to prevent burglars from getting away.
In affluent neighborhoods, theft becomes the main priority for those in need. You should be wary of babysitters and maids, as they will often take advantage of you when you least expect it. Install a miniature spy cam in your room in order to prevent them from stealing valuable electronics. You can place an alarm clock spy cam on your drawer to record every move they make. Should a guest take anything of value, you will have all of the footage necessary in order to press charges. Don't think that it can't happen to you; install a spy cam today to protect your belongings!
3. Camden, NJ
Camden is consistently rated as one of the most violent cities in America. With a thriving drug trade and incidents of theft, you need to stay protected while living in Camden. By installing a home surveillance system around your premises, you will be able to secure your assets and safety.
Burglaries can often happen when you least expect it. Investing in a DVR device allows you to stay on guard whether you are at work, on vacation, or simply running errands. When your motion sensored camera activates, you will be alerted via text or email a live stream of the footage. You can then call the police in order to prevent further damage. Due to Camden's rate of violence, you should also install an alarm system to help beef up your security.
2. Washington, DC
As the nation's capital, you'd expect Washington to be free from crime and violence. However, a crack epidemic and rising rates of burglary help to make Washington a very dangerous city. If you live in Washington, then you should install the best home security system that you can in order to guarantee your safety.
Have infrared security cameras installed on your property to catch any nighttime crimes. Many criminals will try and steal valuable from your car at night, so you need a security system that can catch them in the act. If you want to keep your valuables protected, then call for infrared security camera installation today!
1. Baton Rouge, LA
With amazing food, lively music, and bright aesthetics, you would expect Baton Rouge to be a perfectly safe city. Unfortunately, Baton Rouge has increasing rates of burglaries and gang-related violence. To keep your family safe, install a home security system today to prevent burglaries and acts of violence.
If you live in an apartment, then install a dome security camera in your entryway to help keep crime down. Burglars will most likely turn away at the sight of your security system. Should they still try to rob you, have cameras installed in your hallway to record all of the action. If you dislike the sight of cameras in your apartment, then install a clock spy cam to stay protected.
If you live in one of these cities, then you should call for home security camera system installation today. Once your new system is installed, you will be able to keep your family and assets safe from burglars. For the best prices and selection, visit SecurityCameraKing.com today to get started!