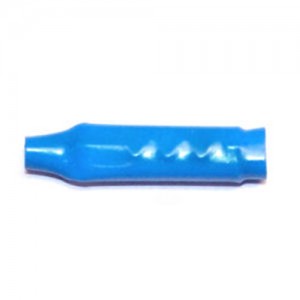 When it comes to splicing wire together or separately, the beanie wire connector is an old standby that is tried and true.  The "B" connectors as they are often called can be used to join or splice almost any wire that ranges from about 18 to 30 gauge.  However, these are not the only wire connectors available so in this article we'll take a look at some of the more common methods used for joining wire/cable.
Security Camera King's premium quality Beanie wire connectors are made from the highest quality material.  The connectors have sharp, insulation piercing teeth that in most cases are able to be crimped by just using your fingers.  The connector itself contains a rubbery outer protective coating and the inside of the connector is filled with a corrosion preventative silicon gel.
These connectors are excellent for use on non-coaxial wiring components of a digital video security camera system.  For example, after running our Siamese cable with 18/2 power supply wire beanie wire connectors can be used to connect the power lead plugs to both the camera and the Digital Video Recorder or DVR end.
However, these Beanie wire connectors are not restricted to power supply wire use only.  These connectors can be used for a variety of devices requiring external wiring.  In fact, there are many applications even outside of digital video security systems where these connectors prove themselves to be easy to use yet rugged enough to last a lifetime.
The following list demonstrates what type of wire the Beanie wire connectors can be used for and the capacities (in number of wires) that each gauge  can handle.
#24 AWG (Insulated Wires) up to 4 wires;
#22 AWG (Insulated Wires) up to 4 wires;
#20 AWG (Insulated Wires) up to 3 wires;
#18 AWG (Insulated Wires) up to 3 wires; and,
#16 AWG (Stripped Wires) up to 3 wires
In addition to the beanie wire connectors, Security Camera King also has coaxial cable connectors for almost every king of cabling job.
For example we also have 2 piece crimp-on BNC connectors, Product# BNC-CRIMP100.  These feature both a male and matching female crimp-on connector for use with RG-49 coaxial cable.  If you need to convert a male BNC connection to a female RCA connection try using our Product# BNC-M_RCA-F.  Another convenient connector is our BNC Three-Way F/F/F.  This connector allows you to split one line into two; for example using this connector you could run a line from your camera to the DVR and another to a spot monitor.
We also have BNC Twist-on connectors. Our Product# BNC-TWIST100 are also included in our system package deals with bulk wire.  These are simple to use.  Strip the coaxial cable, twist on the connector and you're ready to go!
One of our favorite connectors is the BNC Compression Type Connector Product# BNC-COMP100.  You'll need our Product# COMP-TOOL, adjustable Push and Lock Crimp Tool for F, BNC, and RCA connectors.  This has got to be on of the toughest long lasting connector types available.  Once the compression tool has set the fitting, you'll find that it takes quite a bit of force to try to remove the fitting from the cable.
Finally, we also offer a BNC female to BNC Female barrel type connector, our Product# BNC-BARREL.
Remember that coaxial connectors cannot be used on average two pair wire and beanie wire connectors cannot be used on coaxial cable.  However, Security Camera king sells just about every possible combination of BNC/coaxial cable connector so you shouldn't ever have a problem of not being able to connect a cable with a connector.
If you have any addition questions or concerns about the beanie wire connectors or any of the coaxial cable connectors, please fee free to contact one of your live security experts using on-line "Live Chat" or by calling us at 866-573-8878 Monday through Friday between the hours of 9am to 6pm EST and we'll be glad to answer any of your questions and/or place your order.