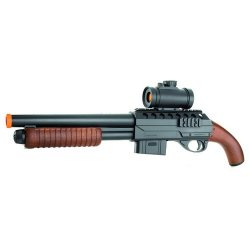 What are electric airsoft rifles?
"Airsoft" is a general classification for any type of gun that uses plastic or biodegradable type BBs larger than the common steel, copper or other metal BB sold in many sporting goods stores. Common metal BBs are usually sold as a .177 caliber (4.5mm) size. Airsoft BBs are 6 mm caliber but are sold according to the weight of the BB. The most common weight airsoft BB is .12 grams, but heavier BBs are available in at least two other sizes, .20 and .23 grams. They can also shoot small paint balls in addition to the more common plastic pellets.
Unlike older metal BB guns, electric airsoft rifles feel, look, and act like their real counterparts. They not only appear like the real thing, but these guns are usually the same weight and size as the real weapon. This is advantageous because electric airsoft rifles can be used for training or simulations without the fear of serious injury. Local police departments, state and federal law enforcement agencies, and the U.S. Department of Defense are just some of the entities that utilize airsoft guns for this purpose.
Are their different types of electric airsoft rifles?
Electric airsoft rifles can be classified into three different types based on the power output of the rifle and the mechanism used to shoot the rifle as well as the material used to manufacture them. These types are the Low Powered Electric Rifles or LPEG (Low Powered Electric Gun), Middle Electric Powered Rifle or MPEG (Middle Powered Electric Gun), and the Automatic Electric Gun or AEG.
LPEG Rifles
These guns are commonly referred to as the "Entry Level" electric airsoft rifle. Unlike the other two airsoft electric rifle types that use the .20 gram BBs, this rifle type uses the .12 gram BB commonly used for airsoft guns. These rifles have a lower powered shot due to the fact that they utilize a plastic gear box (as opposed to metal). Average muzzle velocity is about 200 Feet Per Second (FPS) with a range of approximately 30 to 50 feet. Magazine capacity ranges from 20 to 350 rounds depending on the rifle model.
MPEG Rifles
Middle Powered Electric Rifles are usually full size replicas of their real counterparts. Unlike the plastic gear box used in the LPEG types, these electric airsoft rifles have a metal gear box. They are often referred to as MPEG rifles because their muzzle velocity and range are greater than the LPEG types. MPEG electric airsoft rifles typically have a muzzle velocity range of about 330 to 380 FPS and a range of 130 to 210 feet. MPEG rifles use the .20 gram weight BBs with magazine capacities ranging from about 300 to 600 rounds depending on the rifle model.
AEG Rifles
These airsoft rifles or Automatic Electric Guns really look and feel like the real thing. They normally have a metal gear box and a full metal body. They are usually referred to as the type for serious airsoft players. These rifles have a muzzle velocity that ranges from about 320 to 410 FPS with range of 180 to 200 feet. AEGs use the .20 gram BBs and have magazine capacities of 230 to 400 rounds depending on the model.
There are a variety of electric airsoft rifle accessories that include target practice goggles, targets, and apparel. Security Camera King offers a variety or electric airsoft rifle accessories including .12 gram 6 mm plastic BBs and 6 mm paintballs in various colors, portable BB mesh trap targets, and sticky airsoft gun targets.
If you have any additional questions concerning airsoft electric rifles or are interested in purchasing any airsoft products, contact one of our security experts today either by clicking on the "Live Chat" button at the top of the web page or by telephoning us at 866-573-8878 Monday through Friday from 9AM to 6PM EST.