Security Camera King has the latest Fisheye IP Cameras to hit the market.  These powerful cameras will enable you a 360° view giving you all around security surveillance coverage. A 360 security camera will permit a much greater coverage area than any other single security surveillance camera.  Having a fisheye IP camera is akin to having eyes in the back of your head.  A Fisheye security camera works great in larger environments like a warehouse type setting or larger residential homes.  They can also be used in a one story setting (residential or small business) just as effectively.  Keep in mind that the higher up the fisheye ip camera is mounted the more area that it will cover.
In this blog article I will be covering two different impressive options from each end of the Fisheye IP Camera spectrum.  These are only a few of the options that Security Camera King has to offer from their wide ranging security surveillance catalog.  Both of these Fisheye IP Cameras (4MP Network Fisheye IP Camera Vandal Dome Camera and the 12MP IR Network Fisheye IP Camera Vandal Dome Camera) work perfectly for any type of location that requires security surveillance cameras.  The key difference in these 360 security cameras is that they have different MP (Megapixel) resolution.  One has a formidable 4MP rating while the other 12MP Fisheye IP camera holds one of the most powerful megapixel resolution gradings for any type of digital device.  They both produce crystal clear high definition video with the 4MP feel as if you were at the security surveillance location physically while the 12mp is surreal with a mind blown type effect.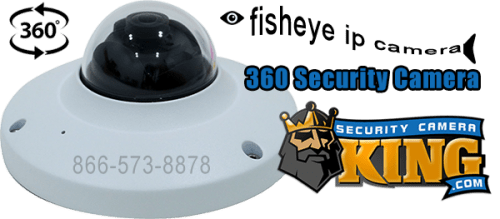 The most important aspect of any Security Camera King product is that they come with much longer than average warranties.  What really sets them apart from other security surveillance camera manufacturers is their industry leading US Backed Support.  They offer comprehensive technical support throughout the whole process.  From the moment you take any security camera out of the box to technical help while setting it up to your desired surveillance needs for the life of the product.  If you have any technical questions before you decide to make a purchase give our experienced security experts a call.  They can answer any questions you have about our security surveillance equipment.
If you decide to purchase a fisheye security camera from Security Camera King it works best with one of our IP Network Recorders an NVR (Network Video Recorder).  4 Channel IP Network Recorders, 8 Channel IP Network Recorders, 16 Channel IP Network Recorders, 32 Channel IP Network Recorders, 64 Channel IP Network Recorders, 128 Channel IP Network Recorders.  The scope of your project can easily be satisfied no matter how large or small.  All of our security surveillance products have been heavily bench and field tested to ensure they operate at optimum conditions.  Our Fisheye IP Cameras operate on the ONVIF (Open Network Video Interface Forum) platform and can be used on any IP Network Recorder that accepts this format.  We don't recommend this practice as we only test our equipment with like products manufactured by us.
No matter what you are looking for Security Camera King has many other options which will easily satisfy your security surveillance requirements too.
Video Recorders (HD CVI DVR, HD TVI DVR, Network IP Recorders – NVR, Complete Security Camera Systems, HD-CVI Packages, HD-TVI Packages, Network IP Packages, Cannabis Security, I-502 and Amendment 64 Compliant Security Packages)
Security Cameras (HD-CVI Security Cameras, HD-TVI Security Cameras, Network IP Security Cameras, Bullet Security Cameras, Indoor Dome Security Cameras, Vandal Dome Security Cameras, Pan Tilt Security Cameras, License Plate Cameras, Box Security Cameras, Hidden Security Cameras)
Security Camera Accessories (CCTV Video Storage, CCTV Video Transmission, Security Camera Cable,  Microphones, Surge Protection, Security System Tools, Camera Connectors, Camera Mounting Brackets,  PTZ Control, Security Camera Lenses, Power Supplies, DVR Lockboxes, Surveillance Camera Monitors, Networking, Personal Protection)
866-573-8878
Fisheye IP Camera