Many customers have tried to figure out ways to integrate an IP camera with something different than an NVR. Sometimes they use a computer with enough storage to record footage from a camera, but is there another way to do it without the hassle of logging in to the camera interface and pressing the record button?
The answer is YES! Technology nowadays offers many software interface solutions with the ability to stream video from an IP camera and allow it to be recorded to an internal Hard Drive, but is there a cheaper solution utilizing a 3rd Part Device to record footage? Again, the answer is YES!
This device is called a NAS (Network Attached Storage). There are so many of them in the market offering the ability to connect to cameras and utilize downloadable software from their market place. In this article I will be using one of my favorite NAS devices (Sinology).
This little box offers a lot of features beside the ability to use it as an NVR. It also can be used to host other services. Surveillance Station is a software that can be downloaded to most Sinology NAS devices and interconnects your IP cameras to it.
It also allows you to Monitor real time video of all your IP cameras. It is accessible from almost any computer, including Mac and PC. This great device also offers a free app to watch your cameras.
This software supports our EL Series IP cameras and the setup is very simple. You could also use any ONVIF camera but it will be very limited in features.
How to get the software and how to install it?
To get the software simply login to your Sinology NAS and download Surveillance Station from the Package Center. Make sure your NAS have the latest and greatest Software Updates.
After the installation, proceed to open up the software by going to the Main Menu icon and look for click on Surveillance Station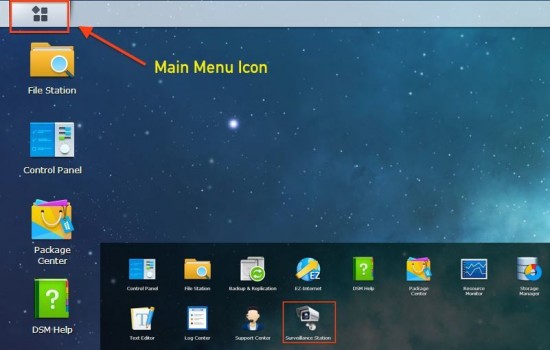 After you fire up the software, it will be necessary to install a plugin in your PC in order to get the interface of the software. Click on the download link and follow the steps to download the file. The interface will look like this: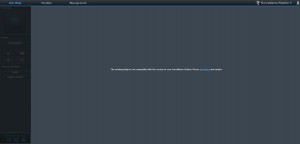 The Next step will be adding your IP cameras. In this demonstration I will be using our IPOB-EL1MPIR50 and our IPOB-TP2MPIR50 (Onvif Camera). Notice that our camera will not displayed as a camera option under camera brand. Make sure for our EL Series you use "Dahua" as the manufacturer. After you type the IP address of the camera, the Model should Auto populate in the field.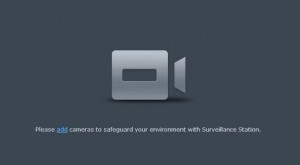 A welcome screen will appear after clicking Add. Choose any mode you will like to proceed and add the cameras. Click Next to Add the camera information.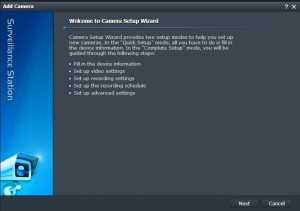 You can see here that the camera has been added successfully after typing the IP address and Brand. Also you should assign an intuitive name so is easy to search for footage later on.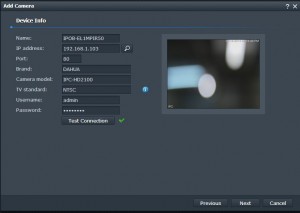 The next option will be configuring your video settings and recording schedule. I will recommend to set the format of the cameras as H.264; this is better for streaming and compression of the file. Adjust the resolution, bitrate control and kbps on the camera accordingly.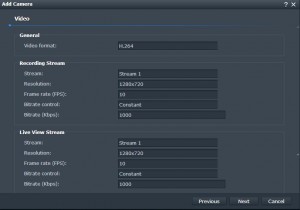 Adjust how often your NAS will save Video. Also adjust how many seconds the unit will pre-record and post-record. Lastly setup how the files will be handle when the archive threshold is reached.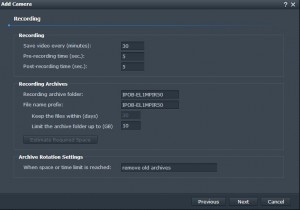 Surveillance Station can record based on a continuous manner, Motion and alarm or when motion is activated.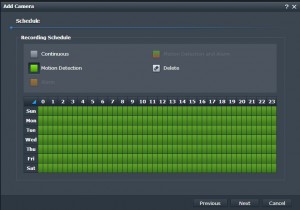 You can also utilize any other camera brand including ONVIF. Here is a link https://www.synology.com/en-us/support/camera#camera that will show you all of the compatible cameras that work with this unit.
If you want to use ONVIF cameras it is absolutely the same steps but the Onvif Port differs from a standard camera. For this example I used an IPOB-TP2MPIR50 which is purely Onvif protocol.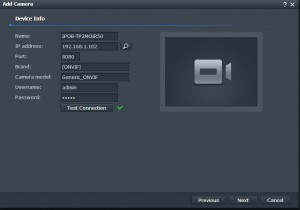 You will noticed that the port is 8080 instead. The last thing after adding the cameras is setting up your camera layout. Surveillance Station offers a variety of layouts up to 64-channel view. Also you can configure camera grouping and camera sequence. For more info you can visit this link https://www.synology.com/en-us/surveillance/index to learn more.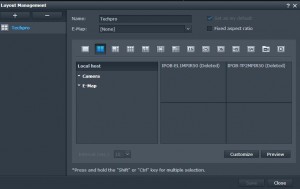 After setting up your layout of your cameras you can go to live view to view your newly added cameras.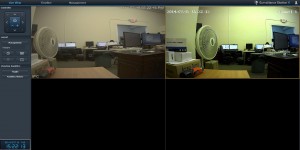 There are many options you can play with while viewing the cameras live. If you go to the left bottom corner you can click the gear icon to see more options. You can click on the + to zoom in at close and utilize the scroll in your mouse to zoom in and out.
Lastly, access your recording at any time by going to the Management Tab and all your recording will show up in the list. Pick the camera you want to review footage and a window will open with a time line.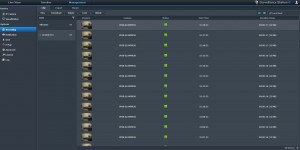 Although this is a great device to be use as a Storage Device for your IP cameras it can be very expensive when it comes to adding more cameras. Each camera requires a license that is not free. Your unit (depending of the model) will come with a license preloaded in the system. If you need to add more cameras then you will need more licenses per cameras. We recommend to use a stand-alone NVR such as our ELT series NVR. They are excellent for a simple installation, supporting up to 1080p resolution for recording and no licenses are required.
NOTE: Sinology is not a Techpro Security product equipment. If you need any support or help configuring the software after the cameras are added, you will need to go to https://www.synology.com/en-us/support/knowledge_base for more information.