If you've ever tried retrieving CCTV video and playing it back on a standard video player, you've probably had the harrowing experience of trying to open these tricky little .DAV files in your everyday, run of the mill video player and… Rats! It just won't play. Why is that? Because for super-secret-safety reasons that would take hours and endless bar graphs to explain.. these files are usually encoded thus unplayable in your regular old player but there are Options for Converting and Decrypting your CCTV video.
Sadly… you'll now have to spend an extra few hundred seconds more of your life to decipher them. I know, it's a drag.. but we're here to help walk you through it.
Now, depending on the type of camera (whether it be Analog, HD-CVI, HD-TVI, or Network IP) and the DVR, some converters will need more than one pass as conversion to fully decrypt the video. Some might only need one conversion but almost 98 percent of the time (from my own experience) it's two. Most of the time.. you'll only need 2 pieces of software to do this, but depending on how often you need to do this, and how many cameras and DVRs you're dealing with.. having a backup converter comes in handy, just in case (kinda like a fire axe in the glass case . . .  you'll probably never need it, but you feel fuzzy inside knowing it's there). Luckily, there are several freeware options for making sure your video is fully converted, decrypted, and useful.
First, you'll have to scan through your video and find the relevant sections you want to convert, leaving yourself about 30 seconds extra space before and after for safety. This can be done through the DVR user interlace, or via your computer or smart device if you're dealing with an Network Video Recorder. Once you've selected the file, you may have to locate where the file has been sent to… which could be in several different locations, but it's usually in the C drive directory, where it's usually stored in a folder "RecordDownload".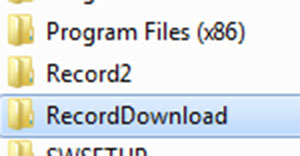 But it may be in your "Users" folder.. in which case, look in Users/Username/Web/Recordfiles. But if you still can't find it, just look in your DVR settings for the save / write directory.
Ok, so you've located the files… now comes the fun part (ok, not really). Start by going Here and scrolling down to near the bottom of the page to where it says "Video Player and Converter Downloads", and select download, then run the install file.

It's a program simply called "Player" (such a creative name. And yes, I'm being very sarcastic), but it it's also a handy little file converter that can handle converting your DAV files to AVI video files.


To get a video ready to convert, click the "Open file" icon on the left side (the up arrow button), and select a file to upload. Scrub thourhg it to make sure the video is correct, then click on the "AVI" button.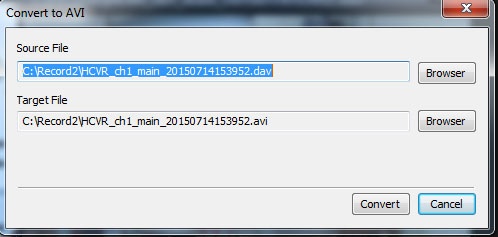 Select where you want to save your file, then click Convert. Step one is over, but odds are, you'll have to put it through one more conversion to be able to use it in a a standard video player. Even though it's now an AVI file, it's still encrypted. Even some well known video converters, such as Adobe's Media Encoder can have issues reading these kinds of files. So . . . what are the options from here?
1) Xilisoft Video Converter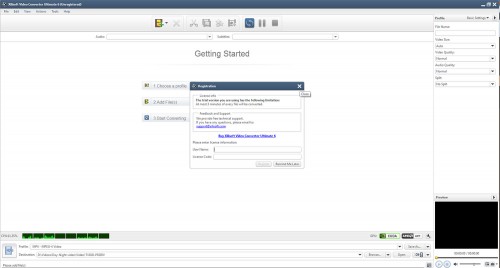 Xilisoft is quite a robust video converter.. sort of a Swiss Army Knife (wielded by MacGuyver) for video, but unfortunately it's not freeware.. so sadly you may have to purchase it (which is a good thing as it helps keep the economy going strong). Otherwise, it will only convert up to 3 minutes of your videos. However, if you're okay with this, and the sections of video you're converting are shorter than that (and really… who wants to watch more than 3 minutes of security video these days), then this software should work just fine. The advantage Xilisoft offers is the sheer number of formats and options that can be utilized. But generally you'll want to stick with the standard video export formats like AVI and MP4.
2) Any Video Converter (A.V.C.)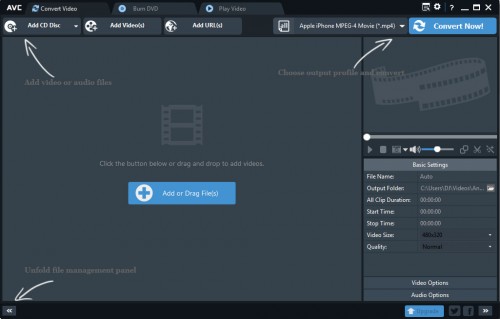 No, not literally "Any video converter".. that's actually what it's called. Sometimes, there are issues converting some types of videos on one converter.. so it pays to have a backup.
That's how we discovered this piece of software.. a newer camera format (which shall remain nameless to protect the innocent) started producing video files that would sometimes cause Xilisoft to hang and then crash… or they would only convert a few seconds of video, rather than the entire recording.. so, obviously.. this would not do. We needed an alternative and we needed it fast. So.. after a blistering 90 seconds of searching on the inter-webs, we found this handy little program. And much to our delight, unlike Xilisoft's Video Converter, this one is freeware. While it's not quite as feature packed as that converter, it allows you to even burn video DVDs of the files from right within the program itself, which can definitely come in handy and expedite the process of producing a hard copy of a video if it's necessary.
3) FREEMAKE VIDEO CONVERTER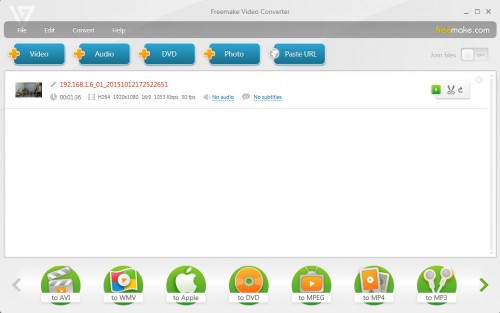 Here's another freeware video converter that's has a user interface that's even more visually simplified than "Any Video Converter" (mentioned above).
But the simplicity of it's interface is deceptive because it too outputs to dozens of video formats (mentioned above) but it also happens to handle a wide variety of files that may cause other converters to crash. Another thing it shares with AVC is the ability to burn a DVD right from the software, and even add a simple DVD menu if necessary.
—
And that folks, is about all there is to it. Here's the simplified Cliff Notes version..
1) use the "Player" software to convert the .DAV file to AVI,
2) The another converter to take out that nasty encryption.
And it just so happens.. we have a handy play by play video on how to do that…