Homeowners and businesses both have the same concerns when it comes to security.   Are you troubled and anxious about what could be prowling around when you are home or away from your house or business?  Stressing about your family's safety is natural.  Installation of security cameras in and around your property will not only give you a better peace of mind, but the added layers of security are undeniably effective.  Not only are Security Cameras a great deterrent for stopping a crime before it happens but they are also the number one culprit for apprehending those responsible.
Choosing the right IP Security Camera can be a bit overwhelming if you are not exactly sure what you need or what the IP cameras can do.  IP Cameras have a multitude of features and price ranges from which to choose.  The main objective of this blog article series is to educate you about the best security camera options while highlighting the crucial aspects of each model.  While we offer complete Security Systems for any type of surveillance solution, this security camera review strictly covers IP cameras.
Security Camera King surveyed thousands of security dealers nationwide about IP Cameras.  Two names kept popping up again and again during this intensive security surveillance study.  Sibell Technology & Dahua Technology have easily established themselves as the frontrunners when it comes to IP Network Cameras.
Below is a complete list of IP Cameras from Dahua and Sibell.  Both manufacturers have network cameras that can accommodate all budgets and specifications.  From high-end security surveillance solutions for banks and casinos to small businesses and everyday residential use.  Both manufacturers incorporate common surveillance technologies that are laden with extra bells and whistles.  During the survey, two major points were mentioned again and again that slightly tipped the scales in favor of Sibell Technology.
PRICE & SUPPORT
Dahua is an awesome security surveillance product but Sibell undoubtedly out distances themselves from any competition when it comes to pricing and support.  Sibell Technology has a devoted staff of US-based security experts who give support for the lifetime of all Sibell Products.  With both manufacturers offering similar IP camera technologies, Sibell is the clear cut favorite of industry experts (Dealers, Installers, and Security Personnel) worldwide.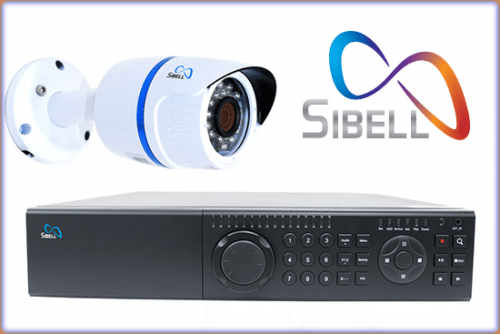 3MP IP NETWORK PTZ WEATHERPROOF WITH IR & 20X ZOOM
4MP IP VANDAL-PROOF DOME WEATHERPROOF WITH IR
4MP IP BULLET CAMERA MOTORIZED ZOOM WEATHERPROOF WITH IR
4MP IP BULLET SECURITY CAMERA WITH 2.8MM LENS
4MP IP DOME SECURITY CAMERA WITH 2.8MM LENS
4MP IP EYEBALL DOME WEATHERPROOF WITH IR & MOTORIZED ZOOM LENS
4MP IP MOTORIZED ZOOM VANDAL-PROOF DOME WEATHERPROOF WITH IR
4MP IP NETWORK DOME CAMERA WEATHERPROOF WITH IR
5MP IP NETWORK VANDAL-PROOF DOME WEATHERPROOF WITH IR
5MP IP NETWORK VARIFOCIAL LENS BULLET WEATHERPROOF WITH IR
Starlight Security Cameras
3MP IP NETWORK PTZ WEATHERPROOF WITH IR & 20X ZOOM
5MP IP NETWORK VANDAL-PROOF DOME WEATHERPROOF WITH IR
5MP IP NETWORK VARIFOCIAL LENS BULLET WEATHERPROOF WITH IR
2 Megapixel Cameras IP Network Security
2MP ECONOMY IP BULLET CAMERA WEATHERPROOF WITH IR
2MP IP NETWORK EYEBALL DOME SECURITY CAMERA
2MP IP NETWORK EYEBALL DOME WEATHERPROOF WITH IR
3 Megapixel Cameras IP Network Security
3MP IP NETWORK BULLET CAMERA WEATHERPROOF WITH IR
3MP IP NETWORK EYEBALL DOME CAMERA WEATHERPROOF WITH IR
3MP IP NETWORK PTZ WEATHERPROOF WITH IR & 20X ZOOM
4 Megapixel Cameras IP Network Security
4MP IP VANDAL-PROOF DOME WEATHERPROOF WITH IR
4MP IP BULLET CAMERA MOTORIZED ZOOM WEATHERPROOF WITH IR
4MP IP BULLET SECURITY CAMERA WITH 2.8MM LENS
4MP IP DOME SECURITY CAMERA WITH 2.8MM LENS
4MP IP EYEBALL DOME WEATHERPROOF WITH IR & MOTORIZED ZOOM LENS
4MP IP MOTORIZED ZOOM VANDAL-PROOF DOME WEATHERPROOF WITH IR
4MP IP NETWORK DOME CAMERA WEATHERPROOF WITH IR
5 Megapixel Cameras IP Network Security
5MP IP NETWORK VANDAL-PROOF DOME WEATHERPROOF WITH IR
5MP IP NETWORK VARIFOCIAL LENS BULLET WEATHERPROOF WITH IR
Bullet Security Cameras IP Network Security
2MP ECONOMY IP BULLET CAMERA WEATHERPROOF WITH IR
3MP IP NETWORK BULLET CAMERA WEATHERPROOF WITH IR
4MP IP BULLET CAMERA MOTORIZED ZOOM WEATHERPROOF WITH IR
4MP IP BULLET SECURITY CAMERA WITH 2.8MM LENS
5MP IP NETWORK VARIFOCIAL LENS BULLET WEATHERPROOF WITH IR
Dome Security Cameras IP Network Security
2MP IP NETWORK EYEBALL DOME SECURITY CAMERA
2MP IP NETWORK EYEBALL DOME WEATHERPROOF WITH IR
3MP IP NETWORK EYEBALL DOME CAMERA WEATHERPROOF WITH IR
4MP IP VANDAL-PROOF DOME WEATHERPROOF WITH IR
4MP IP DOME SECURITY CAMERA WITH 2.8MM LENS
4MP IP EYEBALL DOME WEATHERPROOF WITH IR & MOTORIZED ZOOM LENS
4MP IP NETWORK DOME CAMERA WEATHERPROOF WITH IR
5MP IP NETWORK VANDAL-PROOF DOME WEATHERPROOF WITH IR
Vandal Dome Security Cameras IP Network Security
4MP IP VANDAL-PROOF DOME WEATHERPROOF WITH IR
4MP IP MOTORIZED ZOOM VANDAL-PROOF DOME WEATHERPROOF WITH IR
5MP IP NETWORK VANDAL-PROOF DOME WEATHERPROOF WITH IR
PTZ Security Cameras IP Network Security
3MP IP NETWORK PTZ WEATHERPROOF WITH IR & 20X ZOOM
Fixed Lens IP Security Cameras
2MP ECONOMY IP BULLET CAMERA WEATHERPROOF WITH IR
2MP IP NETWORK EYEBALL DOME SECURITY CAMERA
2MP IP NETWORK EYEBALL DOME WEATHERPROOF WITH IR
4MP IP BULLET SECURITY CAMERA WITH 2.8MM LENS
4MP IP DOME SECURITY CAMERA WITH 2.8MM LENS
4MP IP NETWORK DOME CAMERA WEATHERPROOF WITH IR
Varifocal Lens IP Cameras
3MP IP NETWORK BULLET CAMERA WEATHERPROOF WITH IR
3MP IP NETWORK EYEBALL DOME CAMERA WEATHERPROOF WITH IR
4MP IP VANDAL-PROOF DOME WEATHERPROOF WITH IR
4MP IP BULLET CAMERA MOTORIZED ZOOM WEATHERPROOF WITH IR
4MP IP MOTORIZED ZOOM VANDAL-PROOF DOME WEATHERPROOF WITH IR
5MP IP NETWORK VANDAL-PROOF DOME WEATHERPROOF WITH IR
5MP IP NETWORK VARIFOCIAL LENS BULLET WEATHERPROOF WITH IR
Motorized Zoom IP Cameras
3MP IP NETWORK PTZ WEATHERPROOF WITH IR & 20X ZOOM
4MP IP BULLET CAMERA MOTORIZED ZOOM WEATHERPROOF WITH IR
4MP IP EYEBALL DOME WEATHERPROOF WITH IR & MOTORIZED ZOOM LENS
4MP IP MOTORIZED ZOOM VANDAL-PROOF DOME WEATHERPROOF WITH IR
Dahua Technology
Lite Series
N42AC3Z
Dahua 4 MP WDR IR Varifocal Bullet Network Camera
N42AH3Z
Dahua 4 MP WDR IR Varifocal Eyeball Network Camera
N42AM3Z
Dahua 4 MP WDR IR Varifocal Dome Network Camera
DH-IPC-HDBW11A0EN
Dahua 1.3MP IR Fixed MiniDome Network Camera
DH-IPC-HDW11A0SN
Dahua 1.3MP IR Fixed Eyeball Network Camera
DH-IPC-HFW11A0SN
Dahua 1.3MP IR Fixed Compact Bullet Network Camera
DH-IPC-HFW21A0RN-ZS
Dahua 1.3MP IR Vari-focal Network Bullet Camera
DH-IPC-HDBW13A0EN
Dahua 3MP IR Fixed MiniDome Network Camera
DH-IPC-HDBW21A0RN-ZS
Dahua 1.3MP IR Vari-focal Network Dome Camera
DH-IPC-HDBW23A0RN-ZS
Dahua 3MP IR Vari-focal MiniDome Network Camera
DH-IPC-HDW13A0SN
Dahua 3MP IR Fixed Eyeball Network Camera
DH-IPC-HDW23A0RN-ZS
Dahua 3MP IR Vari-focal Compact Eyeball Network Camera
DH-IPC-HFW13A0SN
Dahua 3MP IR Fixed Compact Bullet Network Camera
DH-IPC-HFW23A0RN-ZS
Dahua 3MP IR Vari-focal Network Bullet Camera
Pro Series
N25BA5
Dahua 2 MP WDR Box Network Camera
N45BA5
Dahua 4 MP WDR Box Network Camera
N24BG52 / N24BG53
Dahua 2 MP WDR Ifixed R Eyeball Network Camera
N24BL52 / N24BL53
Dahua 2 MP Fixed IR Mini Dome Network Camera
N24BN52 / N24BN53
Dahua 2 MP Fixed IR Wedge Network Camera
N44BB33
Dahua 4 MP WDR Fixed IR Mini Bullet Network Camera
N44BG52 / N44BG53
Dahua 4 MP Fixed IR Eyeball Network Camera
N44BL52 / N44BL53
Dahua 4 MP Fixed IR Mini Dome Network Camera
N44BN52 / N44BN53
Dahua 4 MP Fixed IR Wedge Network Camera
N24BB33
Dahua 2 MP WDR Fixed IR Mini Bullet Network Camera
DH-IPC-HDBW42A1EN-AS
Dahua 2MP IR Fixed MiniDome Network Camera
DH-IPC-HDBW42A1FN-AS
Dahua 2MP IR Fixed MiniDome Network Camera
DH-IPC-HDBW44A1EN-AS
Dahua 4MP IR Fixed MiniDome Network Camera
DH-IPC-HDBW44A1FN-AS
Dahua 4MP IR Fixed MiniDome Network Camera
DH-IPC-HDBW52A1EN-Z
Dahua 2MP IR Vari-focal Dome Network Camera
DH-IPC-HDBW54A1EN-Z
Dahua 4MP IR Vari-focal Dome Network Camera
DH-IPC-HDW42A1EN
Dahua 2MP IR Fixed Compact Eyeball Network Camera
DH-IPC-HDW44A1EN
Dahua 4MP IR Fixed EyeBall Network Camera
DH-IPC-HDW44A1MN
Dahua 4MP IR Eyeball Network Camera
DH-IPC-HFW42A1EN
Dahua 2MP IR Fixed Compact Bullet Camera
DH-IPC-HFW42A1SN
Dahua 2MP IR Fixed Compact Bullet Camera
DH-IPC-HFW44A1EN
Dahua 4MP IR Fixed Compact Bullet Camera
DH-IPC-HFW44A1SN
Dahua 4MP IR Fixed Compact Bullet Camera
DH-IPC-HFW52A1EN-Z
Dahua 2MP IR Vari-focal Bullet Camera
DH-IPC-HFW54A1EN-Z
Dahua 4MP IR Vari-focal Bullet Camera
N25BB5Z
Dahua 2 MP WDR IR Vari-focal Bullet Network Camera
N25BL5Z
Dahua 2 MP WDR IR Vari-focal Dome Network Camera
N45BB5Z
Dahua 4 MP WDR IR Vari-focal Bullet Network Camera
N45BL5Z
Dahua 4 MP WDR IR Vari-focal Dome Network Camera
Ultra Series
NK8BA4
Dahua 12 MP DWDR Day/Night Box Network Camera
NK8BB7Z
Dahua 12 MP IR Varifocal Bullet Network Camera
NK8BL7Z
Dahua 12 MP IR Varifocal Dome Network Camera
N68BB7Z
Dahua 6 MP IR Varifocal Bullet Network Camera
N68BL7Z
Dahua 6 MP IR Varifocal Dome Network Camera
N84BB14
Dahua 4K / 8 MP IR Fixed Mini Bullet Network Camera
N84BG44
Dahua 4K / 8 MP IR Fixed Eyeball Network Camera
N84BL44
Dahua 4K / 8 MP IR Fixed Mini Dome Network Camera
DH-IPC-HDBW82A1EN-Z
Dahua 2MP IR Varifocal Network MiniDome Camera
DH-IPC-HDBW83A1EN-Z
Dahua 3MP IR Vari-focal Network MiniDome Camera
DH-IPC-HF812A0EN
Dahua 12 MP Fixed Box Network Camera
DH-IPC-HFW82A1EN-Z
Dahua 2MP Starlight IR Vari-focal Network Bullet Camera
DH-IPC-HFW83A1EN-Z
Dahua 3MP Starlight IR Vari-focal Bullet Network Camera
Wi-Fi Series
DH-IPC-HFW13A0SN-W
Dahua 3 MP IR WiFi Fixed Mini-Bullet Camera
DH-IPC-HDBW11A0EN-W
Dahua 1.3 MP IR WiFi Fixed MiniDome Camera
DH-IPC-HDBW13A0EN-W
Dahua 3 MP IR WiFi Fixed MiniDome Camera
DH-IPC-HFW11A0SN-W
Dahua 1.3 MP IR WiFi Fixed Mini-Bullet Camera
DH-SD22A204TN-GN-W
Dahua 2 MP WiFi 4x Mini PTZ Dome Camera
Multi-sensor
PSD81602-A360
Dahua 8 x 2 MP Multi-sensor 360° Panoramic with 2 MP Integrated PTZ Network Camera
DH-IPC-PFW8601N-H-A180
Dahua 3 x 2 MP Multi-Sensor Panoramic Network IR Bullet Camera
Related Blog Articles
Dahua NVR Review

Dahua IP Camera Review

Dahua Camera Review

Dahua DVR Reviews

Dahua CCTV Review
Security Camera Reviews