The following article will show you how to view your cameras and save custom views using Smart PSS software for PC. For this example, my current NVR system has already been added to my smart PSS software.
Okay, first you want to go ahead and go to Live View. From there, we will select a few cameras from the 64 channel and video recorder. Click the expand arrow next to the name of your video recorder on the left side menu. This will allow you to see all of the cameras you have on your device.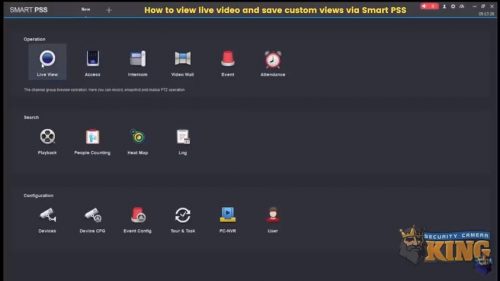 Down at the bottom right-hand corner, you have your grids. You can actually do up to 64 different cameras on one display. Click on it and you can customize it at your discretion. For the purpose of this article, I am going to drop it down to just a 4 channel grid. I will select the 4 channel grid, then select 4 different cameras in the left side menu.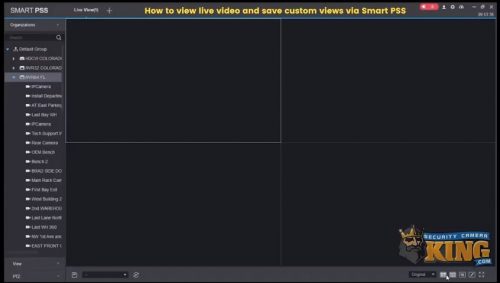 Once I've selected 4 cameras, I will show you have to save that view and then show you how to load that view. To select a camera, simply left click inside the black space of an empty grid. Then, select the camera that you want to be in that place. After selecting the four cameras you want, go down to the bottom left-hand part of the page. Here you will find the place to save. Select the Save icon. This lets you save your view. It will give you the option to name it. So, go ahead and name it what you want, then select Okay.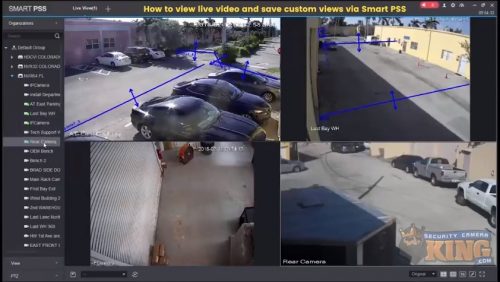 Here it will take you back to the Main Menu. Go back up to the Live View at the top right-hand corner and select it. Left click on view in the menu found on the left. Next, click on the name Default Group. Once you have selected Default Group, double left-click on Test.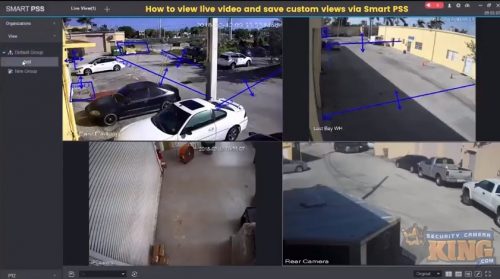 Now you will see that your custom view is loaded in the Playback option on the Main Menu. You can go ahead and create as many as you'd like. It is a great way to organize your cameras a little bit better. For example, if you have indoor and outdoor cameras, you can organize them with this process.
And that concludes our tutorial on how to view live video via Smart PSS software. We hope this was helpful and that it answered all of the questions you might have had if you were having any difficulties with viewing live video feed. You can also watch the attached video covering the same material below.

Smart PSS Software | Supporting Partners
Security Camera King also partners with other companies involved in the surveillance and security industry. By doing so, we are enabled to answer any security related questions our clients might have and point them in the direction of a company we trust if it is not a service we provide. There are a number of different security and surveillance related services that are now commonly sought after. You can read more about some of these modern services below.
Remote Monitoring Surveillance Service
Digital Security Guard is a private security agency that monitors both residential and commercial properties. They utilize the latest in remote technology. As such, they are capable of viewing or watching over your property from their central location in Boca Raton, FL. Their certified team of licensed security guards creates a custom protection schedule that works for you and protects your property at an affordable fee. By working with local law enforcement and emergency services, they provide a proactive security solution and can even watch over your property 24/7, 365 days a year.
Alarm & Surveillance System Installation
TechPro Security is a South Florida installation team that assists clients in setting up or upgrading alarm systems, access control equipment, security cameras, surveillance equipment, and more. They are located in Boca Raton, FL and help clients to fully realize their current or new security system.
CCTV Manufacturer & Supplier
eLine Technology is one of the nation's top manufacturers and suppliers of security cameras, surveillance equipment, and network solutions. Located in Wheat Ridge, CO, they offer us and other security equipment distributors the ability to obtain products in bulk. This permits distributors like ourselves to sell our collection to buyers for exceptionally low, wholesale prices.
Technical & Customer Support
USA Support Team is an award-winning group that provides our clients with exceptional customer and technical support. They have a thorough knowledge of all the products that we sell and are happy to help make any recommendations or assist in troubleshooting if you have an issue. They are 100% US-based and continue to look for more and more ways to improve their support services.
Smart PSS Software | About Us
Security Camera King is an online distributor of security cameras, surveillance products, CCTV equipment, and other industry-related services. We have a facility and warehouse in both Boca Raton, FL and Wheat Ridge, CO. These separate locations give us the ability to take care of all security equipment needs throughout the country. We guarantee each of the products that we distribute and offer everything from the most innovative cutting-edge security cameras to low-cost, economical CCTV systems. Be sure to visit our website to check out our entire collection here: Security Camera King. And CONTACT US if you have any additional questions.
You can also view more helpful How-To tutorial videos here: Security Videos.
Facebook | Twitter | Google+ | YouTube
Smart PSS Software