The purpose of this article is to provide a tutorial showing how to enable HDMI 2 on an ELITE 4K NVR CCTV system. You can find ELITE network video recorders, security cameras, and other products in the ELITE series anytime on our website. We carry an extensive collection of a variety of different surveillance equipment in our store in addition to the ELITE 4K NVR CCTV system and offer our CCTV products at wholesale prices. Be sure to visit our website regularly to find new and updated featured promotions that provide increasingly impressive deals. To access our website, just click the following link provided here: Security Camera King.
NVR CCTV System | Tutorial
Let's get started with the tutorial for enabling HDMI 2 on an ELITE or S1 4K Series NVR CCTV system. The first step is to right-click and go to the Main Menu. Next, click on System in the right-hand corner.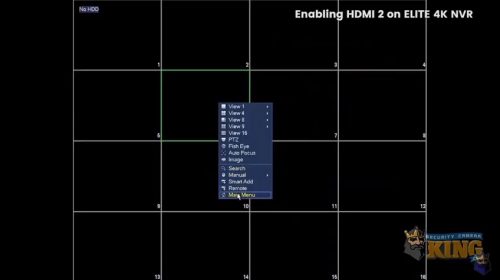 Once you are in System, you should be within the General category. In the General category, remain in the first General tab. The second from the bottom will be a selection for Navigation Bar. Click to enable that. Then press Apply in the bottom right-hand corner.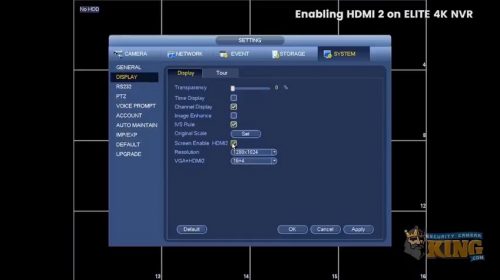 Once you hit Apply, go back into System. Click the Display category, found in the side menu. There you will see Screen Enable HDMI 2 with a box to select towards the bottom. Click on the box to enable it. Then once again select Apply in the bottom right-hand corner.
After you hit Apply, right-click to exit the Main Menu. Next, go to the bottom of your screen and left-click. At this point, your navigation should appear at the bottom.
Within the navigation bar, you will see a Home button option in the bottom-left corner. Next to that will be an arrow. Clicking the box next to that will provide you with the option for Screen 1 and Screen 2.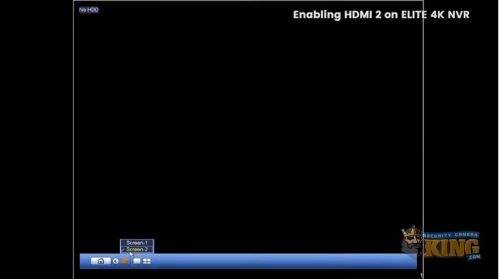 Selecting Screen 2 will reveal two options next to it. Here you will see the HDMI and HDMI 2 selections. You can either do a 1 screen display or a 4 screen display on HDMI 2. This is where you would make those choices.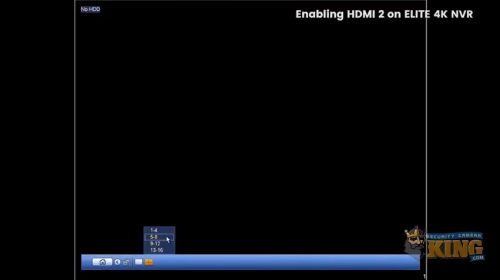 And that concludes the tutorial for enabling HDMI 2 on an ELITE 4K NVR CCTV system. I hope this was helpful and answered any of the questions you had. If you would like more information about the ELITE or S1 4K Series NVR CCTV system or wish to view any of our CCTV security cameras, surveillance equipment, or other related ELITE Series products, visit our website.

NVR CCTV System | Other Security Services
Security Camera King takes pride in being able to assist our clients with any and all services they might need that are security related. This is why we reached out and partnered up with other companies involved in the security industry. Take a moment and read about the wide selection of services our partners provide to supplement all of our CCTV security cameras and surveillance equipment.
Remote Video Monitoring
Digital Security Guard is a private security agency that provides a commercial and residential monitoring service. Utilizing remote technology, they access live camera feeds and protect various properties across the country from their facility in Boca Raton. By working alongside local law enforcement agencies and emergency services, they are able to act proactively in the event of a break-in, vandalism, or other criminal acts at a considerably lower fee than traditional security agencies.
Installation for Alarms & CCTV System
TechPro Security is a professional installation team located in South Florida. They regularly install access control equipment, alarm systems, and full CCTV surveillance systems. Additionally, they provide expert advice for customers in regards to camera placement, feature options, and other tips so that clients can get the most out of their security setup.
Manufacturer & Supplier
eLine Technology is a security camera and surveillance equipment supplier responsible for designing, manufacturing, and distributing cutting-edge technology. They provide innovative products and solutions that continually pave the way and alter the future of the security industry. Their relationship with CCTV distributors permits us to provide our surveillance at low, wholesale prices.
Technical Support
USA Support Team is a nationally based support team that provides technical support to our clients for every one of our products. They are 100% US-based and hold an exceptional understanding and expert knowledge of our entire catalog. This support is one of the primary things that sets us apart from our distributors due to their hours and award-winning customer service.
NVR CCTV System | About Us
Security Camera King is a wholesale distributor of security cameras, CCTV equipment, and related surveillance products. We have two locations, one in Boca Raton, FL and one in Wheat Ridge, CO. This enables us to adequately serve the entire nation and distribute our products quickly, including overnight options. We regularly promote new and featured products and have equipment for any size location, CCTV setup, and security budget. If you have any additional questions about our products or something else discussed in this article, please CONTACT US.
Facebook | Twitter | Google+ | YouTube
NVR CCTV System