From theft prevention to employee monitoring, security camera systems have endless uses. This is probably why you can find a new security camera system in just about any building currently in use. Much like the alarm systems of the 90's, security camera systems are standard and almost a necessity in today's society. Fortunately, there are more great choices than ever before in regards to the different products available on the security camera market. In fact, the most difficult question people might be asking themselves now isn't whether or not they should have a wireless security camera system, but what sort of system suits their surveillance needs.
The purpose of this article is to share our expertise in security cameras and associated surveillance equipment when choosing you the best wireless security camera system in 2018. Additionally, you can find some of the highest rated products we have available listed below, along with a few key features and specifications that set them apart from other products. To find out more about who we are, or to view our entire selection of wireless IP security cameras, network video recorders (NVR), and other surveillance accessories visit our website. You can access it by following the link provided here: Security Camera King.
Best Wireless Security Camera System in 2018 | How To Choose
Let's begin by accounting for the various choices you should consider before you purchase your next wireless security camera system. Each and every product is designed with a few key things in mind, such as recording in dark settings, camera movement, remote accessibility, and overall distance. These are all important aspects that make each IP security camera different and can drastically change the overall price of every product.
I've done my best to compile a fairly concise list of things to consider when you begin choosing products for your wireless security camera system. Take a minute to go over each one in regards to the location you need to protect. This will make it easier to choose the best security camera or NVR later on.
Camera Design (Dimensions, Functionality, Shape, etc.)

Location (Property Size, Indoor / Outdoor Environment)

Features (Night Vision, Motion Detection, Remote Access, Movement, etc.)

Resolution

Single or Multi-Camera System
By answering each of these, you can drastically reduce the number of products you have to choose from. For example, anyone looking for a camera that can scan a property with motion detection features can eliminate a huge portion of available products. Similarly, there is no need to look into a camera capable of zooming in on license plates if you are simply recording a cash register that is 10 feet away.
For the purpose of this article, I am taking for granted that the reader has already decided to go with a wireless security camera system and understand what benefits that an IP camera has. However, if you are unfamiliar with, or still on the fence regarding making the change to a wireless security system, let me give you one of the most obvious reasons people are making the change. Simply put, the resolution of an IP security camera is by far superior to HD security cameras. Even the poorest performing IP security camera produces a higher quality footage than the top-of-the-line HD security camera. You can watch a side-by-side comparison of the two in our video below:

Best Wireless Security Camera System 2018 | Features
The biggest improvement seen in the wireless security camera market has more to do with their added features than anything else. Read about some of the most popular features our customers look for in IP security cameras listed below:
Motion Detection
With the motion detection feature enabled, your IP security camera can be triggered to send you immediate alerts if it detects something coming on your property. This feature is advanced enough to only detect larger objects and won't send you false alerts due to something like moving branches.
Missing Object
With the missing object feature enabled, your IP security camera can send you an alert if a specific object goes missing. For example, if you are at home sleeping and suddenly your car goes missing, you will get an alert sent to you via call, text, or email.
Remote Access
With remote access functionality, you can access your live security camera feed and potentially move its focused point or zoom in/ out on a specific area. This can also be useful if you choose to have an outside company survey and protect your company from a central, remote location.
Night Vision
Night vision technology has come a long way since it was first introduced. Where once black and white, spotty footage was the norm for surveillance in low-light settings, security cameras equipped with Starlight Technology can see hundreds of feet in almost complete darkness and produce a clear picture that still makes identifying potential criminals possible. Take a look at one of our IP security cameras equipped with Starlight Technology compared to one without below:

Remote Access | Products
2MP Sibell Varifocal Starlight IP IR Bullet Security Camera (IPOB-SBS2IRV)
Megapixels: 2MP

Lens: 2.8-12mm @ F1.4-2.8

LEDs: 2

IR Distance: 98

Dimension: 8.62in x 3.43in x 3.43in
4MP Sibell IP IR Motorized Zoom Vandal Dome Camera (IPVD-SB4IRZA)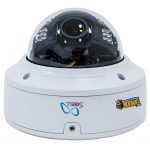 Megapixels: 4MP

Lens: 3.3-12mm

LEDs: 24

IR Distance: 65 feet

Dimension: 5in x 5in x 4in
3MP 20x Zoom Starlight Sibell PTZ w/ IR & TVI/AHD (IPPTZ-SBS3IR20XHD2)
Megapixels: 3MP

Max Resolution: 2048 x 1536

Lens: 5.5-110mm zoom

Pan Rotation: 360° endless rotation

Dimension: 12.48in x 8.2in x 8.2in
4MP Sibell IP IR Motorized Zoom License Plate Camera (IPLP-SB4IRZ)
Megapixels: 4MP

Lens: 9-22mm @ F1.4, angle of view: 29.5°-16.2°

LEDs: 4

IR Distance: 328 feet

Dimension: 14.17in x 4.29in x 4.29in

IP66 Weather-Resistant Rating
8 Channel Sibell 4K 1U NVR with 8 PoE Ports (NVR-SB8ME)
Max. Res/FrameRate: 8MP / 5MP / 3MP / 1080p / 960p / 720p | Max 50Mbps

Processor: Dual Core

Max. Drive Capacity: 2 SATA

Recordable Audio: Yes

Alarm Input/Output: No

Internal DVD Burner Support: No

Video Outputs: VGA / HDMI
16 Channel 4K Mini 1U Sibell NVR (NVR-SB16ME)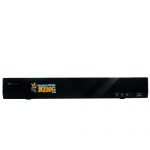 Max. Res/FrameRate: 8MP@30fps

Max. Drive Capacity: 1 SATA

Recordable Audio: Yes

Alarm Input/Output: Yes

Internal DVD Burner Support: No

Video Outputs: HDMI
Wireless Security Camera System | About SCK
Security Camera King is an online distributor of wholesale security cameras, video recorders, and other related surveillance equipment. All of our products are backed up by USA Support Team, a technical support group based solely out of the US. Their expert advice and award-winning staff are here to help advise any of our clients in need of technical support and help to assist with all questions you might have in regards to your new or current surveillance products. We have offices in Boca Raton, FL and Wheat Ridge, CO, and ship products worldwide with excellent warranties and a satisfaction guarantee. Please CONTACT US or visit our website for more information.
Facebook | Twitter | Google+ | YouTube
Wireless Security Camera System