The purpose of this article is to provide a walk-through in setting up voice prompts on ELITE video recorders. I will be showing you a few easy steps how to set up these voice prompts on the local interface of ELITE video recorders. You can also find a video embedded in this article that provides a visual representation covering the same material below.
Our company exclusively distributes a large variety of various high-tech security cameras, digital and network video recorders (DVR/ NVR), and other associated surveillance equipment. We provide our products at wholesale prices and offer international shipping for any clients interested in upgrading or purchasing a new security system. You can view all of the products on our website. The link to our website is provided here: Security Camera King.
ELITE Video Recorders | Walkthrough
Let's begin the walk-through for setting up voice prompts on ELITE video recorders. The very first step you need to do is right click and select Main Menu in your local interface. Once you have selected Main Menu, proceed to your system settings found in the bottom right-hand corner.
From there, you will see Voice as an option located in the list on the left side of your screen. Then, select Add on the bottom right part of the Menu after selecting Voice.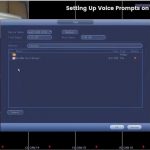 As an illustrative example, I will be using an mp3 attached to a flash drive. Keep in mind that this file must be kept under 10 megabytes. Once the file has been selected, next you have to import it. So, click Import at the bottom right corner.
Next, you will want to right click and go to Event. Here, you should be in the Video Detect tab. Here you should see Enable Voice Prompts at the bottom of the different options within the Video Detect tab.
Once you have selected to enable Voice Prompts, click the drop-down menu to select your file. This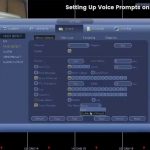 is where you should see your file name. Select your file name, then select Apply at the bottom right corner.
Similarly, you are able to do the same thing for you Alarm inputs and Abnormality settings. Once you select either the Alarm or Abnormality tab on the left menu, go down to Voice Prompts. Next, enable Voice Prompts again. Then, select the drop-down menu next to File Name. Select your file name, and hit apply in the right-hand corner. If the Voice Prompts option is already enabled in either of these, remember to still click the drop-down menu next to File Name and select your file and once again select Apply.
That completes the tutorial in setting up voice prompts on ELITE video recorders in the local interface. If you have any questions or wish to watch a visual representation of these steps, please watch the video provided below.

ELITE Video Recorders | Additional Security Videos
We hope this video was helpful and ask you to watch more of our security videos if you need help with other difficulties you might be having with your security cameras, ELITE video recorders, network options, or other surveillance equipment. I have provided a list of some other related video options for ELITE video recorders below.

ELITE Video Recorders | Security Partners
In addition to our services, Security Camera King partners with other security companies that address every facet of the surveillance and security industry. Our hope is to be able to advise our customers on any of their security needs and point them towards a company we trust for services outside of ours.
Digital Security Guard is a private security agency for both commercial and residential surveillance solutions. They use remote video monitoring to their advantage and create custom protection schedules to digitally monitor your property from their South Florida location.
USA Support Team is our award-winning technical support staff. They are based solely in the United States and provide expert technical advice for anyone encountering difficulties with products found on our website.
TechPro Security is a professional installation team located in Boca Raton, FL. They help people fully realize current and security systems by advising the best camera placement and or/ alarm setups for your property. They also regularly set up new security systems or install upgrades to current systems and ensure everything operates smoothly.
ELITE Video Recorders | About Us
Security Camera King is located in Boca Raton, FL and distributes wholesale security equipment worldwide. Our extensive catalog carries products for every size security and surveillance need and has both economical and cutting-edge, top of the line products available. If you have any questions about the videos in this article or seek additional information about us, please CONTACT US at the link provided.
Facebook | Twitter | Google+ | YouTube
ELITE Video Recorders