Medical Marijuana and Recreational Marijuana has gained moderate legal traction in recent years.  Currently 25 states now have laws pertaining to legalized marijuana.  Washington, Colorado, Oregon & Alaska already have laws approving recreational marijuana.  These states have seen many different types of businesses thrive after implementation of these newer marijuana laws.  There are many peripheral laws related to starting a marijuana business and they must be closely adhered too.  There is one common thread between all of these different states and their marijuana laws.  Security Camera Surveillance is a predominate factor and must be followed precisely.  High Quality security surveillance equipment is mandatory!  
If you are seriously entertaining the idea of starting a marijuana business consult Security Camera King.  Security Camera King has designed hundreds of complete video surveillance systems according to each different states laws.  Don't use an unproven source or buy your system from some big box store.  Buying from Security Camera King ensures you will have full support from the moment you decide to purchase all the way through the life of your security surveillance products.  Did I mention that our FREE technical support is US  based.  Our support staff is made up of security experts from installers to computer gurus.  We will help you get your cameras up and going and networked without a hitch.  The staffs at most big box stores, even the ones specializing in electronics have undoubtedly never installed or even operated a security camera system.  
The Cannabis Security and Compliance Professionals at Security Camera King will design your security system FREE of charge.  If you are starting a marijuana business give us a call now for your free Consultation.  Our security planning services are best implemented in the beginning phases when you first start to break ground when starting a marijuana business.  Don't get entangled in the notorious red tape of cannabis compliance when starting a marijuana business.  Getting ahead of the eight ball will help you expedite the cannabis compliance process since having a powerful security camera system is at the forefront of all recreational marijuana laws.  You can rest assured knowing that Security Camera King has 100's of complete security camera systems installed at marijuana dispensaries and marijuana cultivation facilities nationwide including tier grow operations.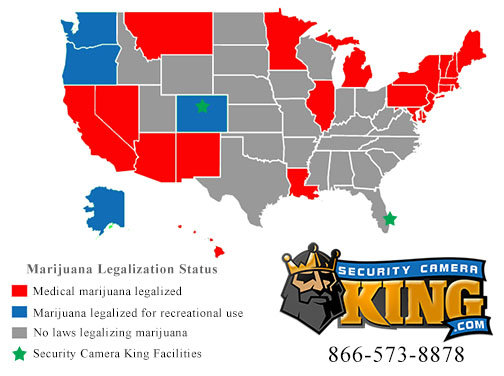 There are 21 other states which have approved medical marijuana.  (Montana, California, Nevada, Arizona, New Mexico, Louisiana, Minnesota, Illinois, Michigan, Pennsylvania, Maryland, Delaware, Rhode Island, Connecticut, Massachusetts, New York, Vermont, Maine, New Hamshire, Hawaii, New Jersey).
I-502 Washington, Amendment 64 Colorado, Alaska Measure 2, OLCC (Oregon Liquor Control Commission) regulates the laws pertaining to the recreational marijuana industry in Oregon.
The ground swell of momentum is rapidly growing in all directions around current marijuana legislation.  When starting a marijuana business or any other business it is wise to protect your investment with a stout security camera system.  A marijuana business requires having the highest quality security camera system.  Using a system by Security Camera King assures that you won't get caught unprepared.  Having FREE US based support ensures that you won't get hit with any penalties concerning down time.  Our superior security equipment comes with warranties that are double the standard 1 year warranties commonly associated with most electronic products.
Remember that having High Definition Security Cameras with a compatible DVR (Digital Video Recorder) or NVR (Network Video Recorder) will help you avoid any sticky situations concerning compliance for your security system. Making an attempt to do your security camera compliance on your own is a noble thought but a sure fire way to get caught up in the bureaucracy of cannabis compliance.  Security Camera King has fully staffed facilities ready to serve both east coast and west coast customers.
Call Security Camera King if you have any questions when you are starting a marijuana business.  866-573-8878
Starting a Marijuana Business