What you need to know about security camera systems when starting a cannabis business.  Marijuana businesses have started sprouting up like wildfire in states that have passed laws relating to cannabis.  Decriminalization of marijuana possession and legislation of medical marijuana and recreational marijuana use is the driving force behind this movement.  If you are planning on starting a cannabis business you should make yourself familiar with the marijuana laws in each state.
States with laws allowing Recreational Marijuana
Oregon Marijuana Law Measure 91
OLCC application Security and Procedure Plan has detailed specifications on security camera system requirements.
Alaska's Marijuana Initiative Measure 2
Alaska Statutes Chapter 17.38.100 Marijuana Establishment Registrations
I-502 Washington a.k.a. Initiative 502
WSLCB (Washington State Liquor and Cannabis Board) has very specific guidelines that deal with security camera systems.  The WSLCB has adopted a multi agency taskforce that drafted guidelines (Regulatory Guidance for Cannabis Operations) for marijuana businesses.
Amendment 64 Colorado
Information regarding security camera systems can be found in Colorado Revised Statutes (C.R.S.) The Medical Marijuana Code is covered in C.R.S. 12-43.3-101 et. seq. and the Retail Marijuana Code is covered in C.R.S. 12-43.4-101 et. seq.
Massachusetts Marijuana Legalization Initiative, otherwise known as Question 4
Massachusetts EOHHS (Executive Office of Health and Human Services) has all of the application process deadlines and highlights security camera system specs.
California Proposition 64, the California Marijuana Legalization Initiative
The recreational marijuana use law is commonly referred to as 'Adult Use of Marijuana Act'.
The Bureau of Medical Cannabis Regulation was changed direction and was named the Bureau of Marijuana Control thus becoming the sole agency in charge of regulating and licensing marijuana businesses.
Nevada Marijuana Legalization Initiative, also known as Question 2
This measure allows for recreational marijuana use and the operation of marijuana businesses (retail and grow).
Maine Marijuana Legalization Measure, also known as Question 1
Maine Division of Public Health Systems
The resounding theme for all of these states is that although they are lax on recreational marijuana – they are absolutely diehard strict about enforcing security measures at any marijuana business and related collective or cooperative.   Starting a cannabis business requires having the best security camera systems available.  High quality imaging and durability are key factors.  Security Camera King are your cannabis security and compliance professionals from the beginning to the end.  Start now with a free consultation on cannabis security.  We are confident we can help you pass inspection for your security camera systems the first time around.  We have a 100% success rate for passing inspection on the first go around.  Not passing only gets your marijuana business red flagged marking you for extra scrutiny (Think IRS Audit) throughout the duration of your marijuana business.
Starting a cannabis business means that you will have to deliver the ultimate level of security procedures that are equivalent to a bank.  Customers and the surrounding community must have safeguards in place along with deterrents that discourage criminal activities.  Highly visible security camera systems have always been at the forefront of crime prevention.  Be wise and prepared by starting your cannabis security measures upfront.
States with laws allowing Medical Marijuana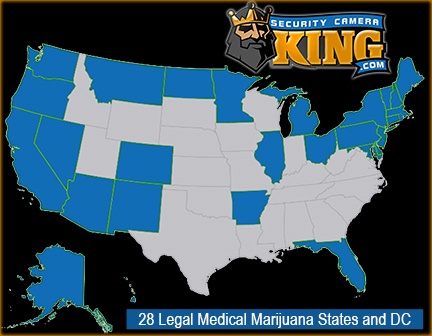 Alaska – Ballot Measure 8

Arizona – Proposition 203

Arkansas – Ballot Measure 206

California – Proposition 215

Colorado – Ballot Amendment 20

Connecticut – House Bill 5389

Delaware – Senate Bill 17

Florida – Ballot Amendment 2*

Hawaii – Senate Bill 862

Illinois – House Bill 1

Maine – Ballot Question 2

Maryland – House Bill 881

Massachusetts – Ballot Question 3

Michigan – Proposal 1

Minnesota – Senate Bill 2470

Montana – Initiative 148

Nevada – Ballot Question 9

New Hampshire – House Bill 573

New Jersey – Senate Bill 119

New Mexico – Senate Bill 523

New York – Assembly Bill 6357

North Dakota – Ballot Measure 5

Ohio – House Bill 523

Oregon – Ballot Measure 67

Pennsylvania – Senate Bill 3

Rhode Island – Senate Bill 0710

Vermont – Senate Bill 76

Washington – Initiative 692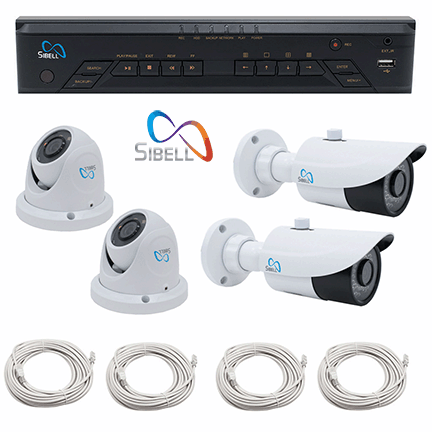 Security Camera King will ensure that you are in compliance with all state laws and regulations pertaining to security camera systems.  FREE planning and consultation services for the layout of your security camera system. FREE remote viewing apps for smart devices.  All marijuana businesses that purchase a security camera system from Security Camera King will receive preferential client status and lifetime priority US based technical support.  Rest as ease knowing our 100 percent success rate for cannabis security camera systems will let permit you to put your efforts elsewhere.
If you are planning on starting a cannabis business / marijuana business – Call 800-901-2091 to speak to a marijuana business / cannabis security expert.
*2016 Florida Statute 381.986 Section 6 directly relates to security cameras and how and where they are to be used.
Starting a Cannabis Business