Medical marijuana in Florida is now a budding industry gaining strength daily. The Green Health Revolution is, in fact, here to stay. Recent changes in Florida marijuana laws only further prove that this progressive change is on the move.
For instance, a significant court ruling in June 2018 sparked new life into the local marijuana dispensaries (officially known as Medical Marijuana Treatment Centers) hoping to cash in on the multi-billion dollar cannabis industry. Specifically, this court ruling altered the legality of smokable marijuana products.
With that amendment, a marijuana business can now legally grow, sell, and distribute cannabis for qualifying patients equipped with the proper credentials. However, some key Florida marijuana laws often overlooked cover important security factors regarding cannabis compliance.
Security & Surveillance Compliance
The state legislature has made one thing very clear about Florida marijuana laws – it will be strictly regulated and monitored. The compliance laws for security and surveillance have been in effect since 2016 and will only become more detailed once the Amendment 2 implementation in 2018 is finalized.
Currently, there are some critical points of interest found in Florida marijuana laws that specifically cover security and surveillance for all cannabis-related businesses in the state.
Florida Statute 381.986, Section 6 states the following:
(f) To ensure the safety and security of premises where the cultivation, processing, storing, or dispensing of marijuana occurs, and to maintain adequate controls against the diversion, theft, and loss of marijuana or marijuana delivery devices, a medical marijuana treatment center shall:
1.a. Maintain a fully operational security alarm system that secures all entry points and perimeter windows and is equipped with motion detectors; pressure switches; and duress, panic, and hold-up alarms; or
(b). Maintain a video surveillance system that records continuously 24 hours each day and meets the following criteria:
(I) Cameras are fixed in a place that allows for the clear identification of persons and activities in controlled areas of the premises. Controlled areas include grow rooms, processing rooms, storage rooms, disposal rooms or areas, and point-of-sale rooms;
(II) Cameras are fixed in entrances and exits to the premises, which shall record from both indoor and outdoor, or ingress and egress, vantage points;
(III) Recorded images must clearly and accurately display the time and date.
(IV) Retain video surveillance recordings for a minimum of 45 days or longer upon the request of a law enforcement agency.
These are all being still being amended to reflect the new changes, which were to be finalized by October 3, 2018. The changes to Florida marijuana laws available to the public have not been officially released as the language is still being finalized.
However, after comparing the changes to what Amendment 2 detailed in 2016, it becomes clear that security and surveillance will be strictly enforced for all medical marijuana treatment centers. As evidence, here is one last addition required of Florida dispensaries:
(6.) Require at least two of its employees, or two employees of a security agency with who it contracts, to be on the premises at all times where cultivation, processing, or storing marijuana occurs.
Getting Legal Marijuana In Florida
The Sunshine State has recently joined the majority of other states permitting legal use of medicinal marijuana. Locals seeking cannabis cards in Florida should take note, however, of certain criteria that need to be met before being prescribed medicinal marijuana for health conditions. Below are the steps for getting prescribed cannabis following the latest Florida marijuana laws.
How it works, according to the Florida Department of Health:
A physician diagnoses a patient with a qualifying condition for a low-THC cannabis or medical marijuana.

The physician obtains voluntary, written, informed consent for the patient.

The physician enters the order into the Medical Marijuana Use Registry.  

The patient must apply for a Medical Marijuana Use Registry Identification card.

The patient may fill the order at any approved Medical Marijuana Treatment Center.
Note: (If the patient is younger than 18 or terminal, a second physician must concur and this determination must be reflected in the patient's medical records.)
The Role Of Physicians
Approved physicians must fulfill certain responsibilities in order to diagnose a patient with a qualifying condition for a low-THC cannabis or medical marijuana. The physician must obtain voluntary, written and informed consent from the patient. Patients younger than eighteen years old must obtain consent from a legal guardian.
After obtaining consent from a patient or legal guardian, the attending physician is then responsible for entering an order or prescription for the named patient into the state's Marijuana Use Registry; a list of patients with cannabis cards in Florida. He or she must also update the patient's information in the registry within seven days of any changes.
What Qualifies Patients For Medical Marijuana
Any Florida residents seeking low-THC cannabis or medical marijuana must meet specific criteria. Specifically, a patient must be diagnosed by an approved physician with a qualifying condition. He or she must then obtain a Medical Marijuana Use Registry Identification Card.
This card identifies the individual as a legally approved patient of medicinal marijuana. Physicians then submit new cannabis recommendations into the official registry, which a dispensary confirms before dispensing any medicinal products.
Most Common Qualifying Conditions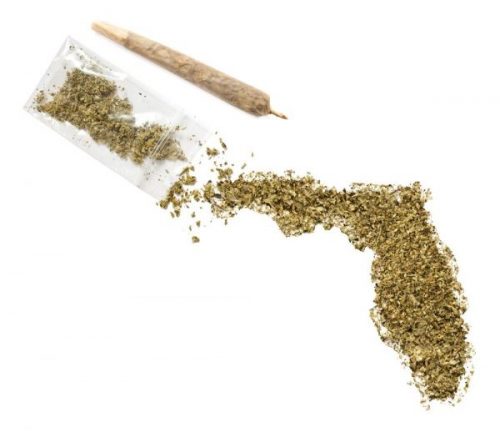 Glaucoma

HIV/AIDS

Multiple sclerosis (MS)

Cancer

Epilepsy

Crohn's Disease

Parkinson's Disease

Amyotrophic lateral sclerosis (ALS)

Post-traumatic stress disorder (PTSD)

Certain chronic nonmalignant pains

A terminal condition requiring diagnosis from two separate physicians
Criminal Penalties
The compassionate Florida marijuana laws only protect patients legally using cannabis for medicinal purposes. Criminal penalties are still very real and easy to receive. Even patients that do have Florida Medical ID Cards must adhere to specific rules and regulations for using medicinal products.
For example, possession of a medical product without the receipt from the dispensary is still illegal. There are also important laws to prevent impaired driving. Some of the criminal penalties for marijuana possession and sales are pretty steep, so remember that just because the medical herb is legal doesn't mean it's 4/20 every day.
To be clear, according to Florida marijuana laws, recreational use remains illegal.
About Us
Security Camera King has been an instrumental part of helping local dispensaries open their doors in both Florida and Colorado. Our experience in the security and surveillance industry combined with our innovative, affordable security equipment has permitted us to hold a unique position in both local communities. Contact a security expert to learn more about how we can help you achieve true marijuana security compliance in Florida.
Facebook | Twitter | Google+ | YouTube
Florida Marijuana Laws