Fisheye security cameras are useful for their 360-degree monitoring capabilities. The software for these cameras provides users with a variety of different viewing options. This article will cover how to dewarp fisheye video footage for our CVIVD-EL4F Fisheye Surveillance Camera. If you have any trouble with the instructions you can follow along in the video provided below the text for more assistance.
Guite to Dewarp Fisheye Camera
Here are the steps to dewarp fisheye images for the CVIVD-EL4F camera via the local interface of a supported Fisheye Elite Series DVR and Smart PSS.
While on the local interface – right-click and select Fisheye. You will need to enter your login information if you haven't logged in yet. From here there are two options:
Fit Mode (ceiling, wall, and ground options)
Show Mode (7 different single and split-screen viewing options)
The 9-Split View (in the bottom row) has nine separate views on one screen. Each of the outer 8 squares is found as a specific color located in the middle of the screen. You are able to sort these and arrange them differently. Simply click the center inside any of the squares and drag it to change the viewing direction.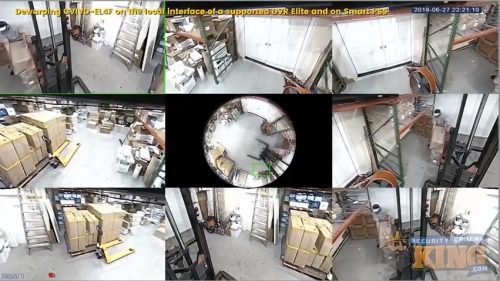 To change views, right click on the interface and click on the Fisheye menu option.
View #2
View #3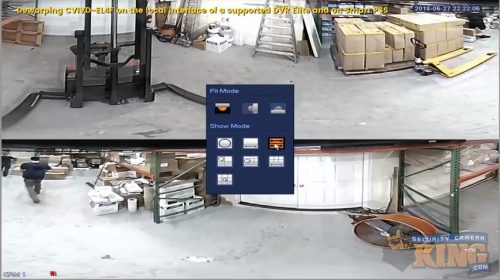 View #4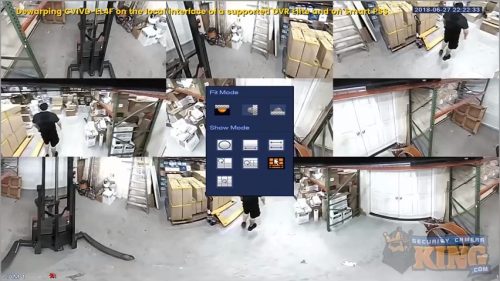 View #5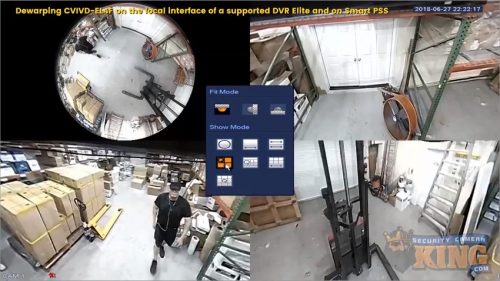 View #6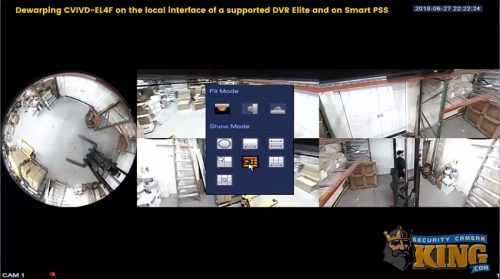 That is how to dewarp fisheye surveillance cameras from a fisheye supported Elite Series DVR.
Next, let's switch to Smart PSS and show you how to use the multi-screen track. Pull the fisheye camera up on the recorder and put it in a single channel view.
Right-click on the interface and select Multi-Screen Track. Three options will then come up in the menu.
#1: Normal Mode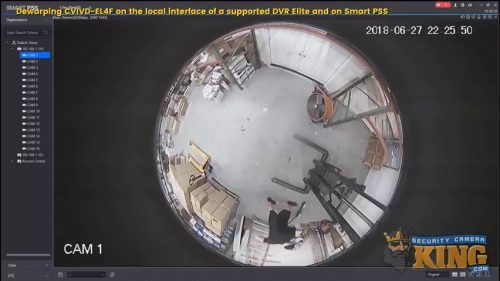 #2: 1 + 3 Mode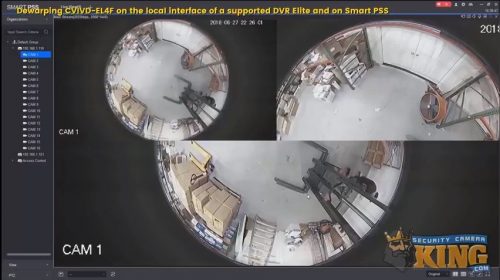 #3: 1 + 5 Mode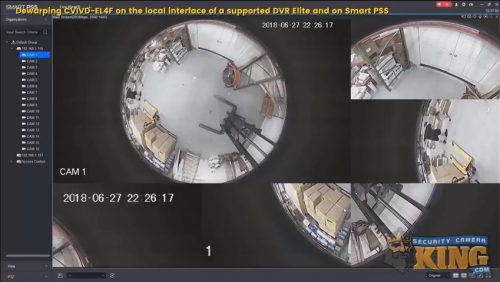 Once inside each of the multi-screen mode options; click and drag inside the box to change the view inside fisheye single view, 1 + 3 Mode, and 1 + 5 Mode.
And that is how to use the multi-screen track using Smart PSS and how to dewarp fisheye video footage through a fisheye-supported Elite Series DVR. Please watch the video below if you are having any difficulty.
Featured Product: 4MP Fisheye Security Camera
The 4MP Fisheye CVI Vandal Dome Security Camera with True WDR (CVIVD-EL4F) is a perfect fisheye surveillance camera for indoor and outdoor use. It connects using an HD-CVI coaxial cable.
The fisheye lens is capable of achieving 180-degree panoramic views when mounted on the wall and full 360-degree surround views when mounted on the ceiling or floor. This coverage makes it a perfect fit for open area locations that need a widespread coverage across a vast distance.
The IK-10 Rating makes it resistant against high impacts and attempts to vandalize the camera. True WDR technology achieves clear, crisp views in both bright and dark lighting settings and the on-screen display comes with multiple options to improve video clarity.
Key Features & Specifications: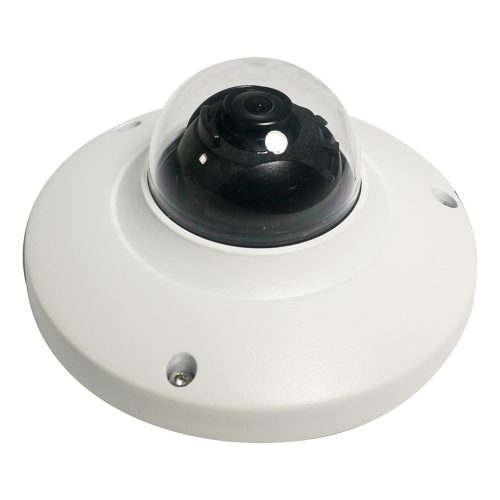 Megapixels: 4MP
Max Resolution: 2560×1440
Image Sensor: 1/3 inch CMOS
Lens: 1.18mm
BLC Mode: True WDR(120dB)
Frame Rate: 25fps@4MP
Minimum Illumination: 0.01Lux/F2.0 (Color), 0.001lux/F2.0(B/W)
Dimension: 4.3in x 4.3in x 2.2in
Price: $159.95
We recommend using Elite Series DVRs to get the most out of the 4MP Fisheye Camera (CVIVD-EL4F). Visit Security Camera King to shop for fisheye-compatible DVRs online.
View our product review video for the CVIVD-EL4F below for more information.
Check out our previous article to learn more about fisheye surveillance cameras and don't miss out on the brand new 12MP Fisheye Security Camera (IPVD-EL12FW). 
Contact our team for more assistance or call Security Camera King at 866-573-8878.
Facebook | Twitter | Google+ | YouTube
Dewarp Fisheye Video