Topic RSS

Cat5 with Baluns
I had a customer ask me today how do you use cat5 cable with analogue cameras?  There are several different ways that this can be done, either with passive or active baluns.  With passive baluns there are different versions, either just video, power and video, and power video and audio.  With active baluns you are only transmitting video and locally powering the cameras, this is typically used on video transmission over 1000'.
With passive video only baluns there are individual video baluns and balun hubs.  With individual video baluns you use one pair of the cat5 cable to transmit the video signal over, or if you want you can double the wires and use 2 of the pairs to transmit the video signal depending on what you are going to use the other pairs for.  For instance if I am connecting a basic 12V PTZ, I can use 1 cat5 cable to transmit video, power, and control.  When I am doing this I am using 1 pair (blue and white/blue stripe) for video, 2 pairs (orange and white/orange stripe for positive and green and white/green stripe for negative) for power, and 1 pair (brown and white/brown stripe) for control.  There are several other ways you can utilize the different pairs of the cable depending on the application you need.
With a passive balun hub, you can run your cameras with siamese cable to the hub and power them locally from the hub location.  Terminate the siamese just as if you are at the DVR and connect the BNC's to the hub and the 18/2 portion of the cable to the power supplies.  The hub will then convert those 4 cameras into 1 cat5 cable that can be ran up to 1000' of just video to another hub at the DVR location.  At the DVR location the cat5 cable will be connected to the hub and you will need small BNC patch cables to get the video to the DVR.  This can be done for a multitude of different reasons, first is that you have to long of runs that powering locally is the only way to eliminate power drop.  Second is that you don't want to run multiple siamese or coaxial cable through the building back to the DVR.  Third is that you are in a multi-building environment and you do not want to have conduit so large to fit all of the coaxial cable in, with running 4 video feeds on 1 cable that is smaller in diameter than 1 coaxial cable you can use conduit that is a fraction of the size.  More cameras on less cables for the transmission.  This is a cleaner approach to larger cabling jobs, still offering high quality video to further areas.
If you are using the passive power and video baluns you will still use 1 cat5 cable to transmit your power and video over 1 cable, but you are prepping your installation for upgradability to IP cameras down the road.  You will terminate both ends of the connection to match each other.  I personally alway use the 568B termination, so that way everything is always consistant.  You will then plug the cable into the balun, the balun will then connect either to the camera or the DVR and correlating power supply.  You will do the same setup when using the passive power, video, and audio balun.  The difference will be at the camera end you will need a power splitter connecting cable like the PT-6.  This will take and split the single incoming power source to be used by the camera and microphone, at the DVR end you will still just connect the video, audio, and power to there correlating connections. 
If you have an unusually long video run you will want to use active video baluns, these are generally used in transmission over 1000'.  There are single channel and 4 channel units available, and they will be used similar to the passive hubs, you will just need to have power available for the balun.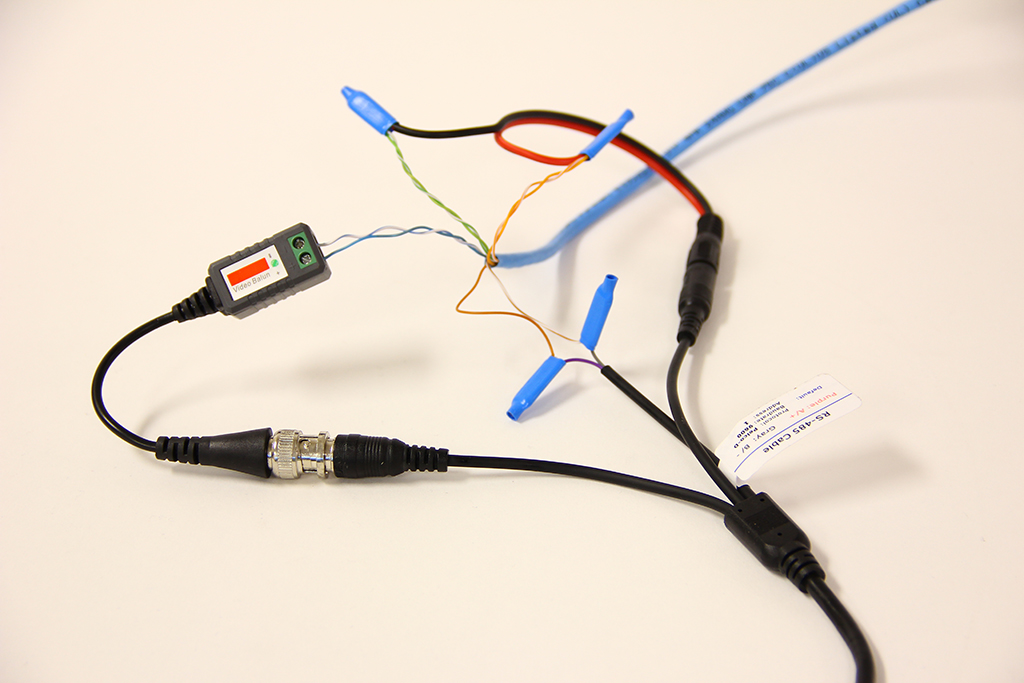 Forum Timezone:
America/New_York
Most Users Ever Online: 41
Currently Online:
7 Guest(s)
Currently Browsing this Page:
1 Guest(s)
Top Posters:
shockwave199: 33
BobS0327: 15
ShawnInFL: 13
ljjhouser: 13
ccWinfree: 11
night hawk: 11
Craig: 9
icecoldtexan: 9
2325: 8
deatoninc: 8
Member Stats:
Guest Posters: 0
Members: 236
Moderators: 5
Admins: 5
Forum Stats:
Groups: 4
Forums: 16
Topics: 157
Posts: 636
Newest Members: securitycom, rji1124, Brad, gmedia, mazdak, JMMadrigal, mldz1066, mp1, MCO32789, ray c.
Moderators: Daniel Ross (50), Matt Stetson (17), Ryan Newkirk (18), Jesus Ragusa (127), Zeke Richey (14)
Administrators: Security Camera King (9), Damon Delcoro (8), Jose (0), Brad Besner (93), Dro Simoes (16)