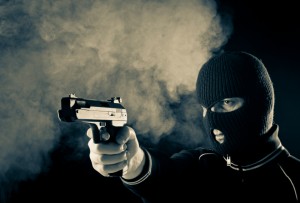 The United States Census office puts out a report each year that features crime rate statistics by state and type of crime in North America. These figures are per 100,000 residents. These are serious crimes that have been reported to local law enforcement agencies. There are other agencies that put out their own list of crime statistics. You can find this information going going to the Census Department's website. These crimes include violent crime such as murder, forcible rape and aggravated assaults. They also feature statistics for property crime that includes vehicle thefts, larceny and burglaries.
Review your state's crime rate to determine the amount of crime found in your area. You can research further by checking other sources such as the FBI's statistical information. There are some states in the nation where crime has risen or dropped as compared to previous years. Overall, the crime rate in the United States has risen dramatically. It is important that you develop a home security plan that includes all family members.
Importance of Surveillance Cameras
Surveillance cameras are the best way to reduce your chance of becoming a victim of crime. Home invasions happen in every neighborhood whether good or bad. The presence of surveillance cameras can deter crime. Most criminals do not want to be videotaped committing their crimes. These cameras are used in other places such as parking garages, banks and shopping malls. It is not expensive to buy a complete home surveillance system. You will find a variety of manufacturers who distribute high-quality cameras at reasonable prices. The importance of keeping your family safe will offset the initial costs. Determine how many surveillance cameras it will take to provide enough security coverage for the outdoor area of your home.
You will need a system that can accommodate these cameras. Home surveillance cameras typically use four to six cameras. Research the surveillance camera manufacturers to determine which manufacturer you believe has the right system for you. You can also talk to a security adviser found at your local home security retail store. The installation of surveillance equipment is not easy. If you don't have experience installing technical equipment, you should hire a professional. Make sure your security cameras are installed high enough to prevent them from being tampered with or stolen.
You can choose from cameras that only record when it senses movement to cameras that will record even when there is no light available. Monitoring your security system is the next decision you must make. Do you want to monitor your system on your own? Choose a system that can be monitored from any computer that is connected to the Internet. You can also have a security system that is monitored by your smartphone. Choose the system that makes you feel more comfortable.
Professional Security Alarm Companies
A professional security alarm company can monitor your entire security system for a low monthly price. They can supply you with their security equipment or you can use your own. The advantage of using this service is the fact that your system is monitored all the time. You may not have time to monitor your home every minute of the day. A professional security company will also take care of installation for a low price. If you contact them while they are having a promotion, you will likely get the installation for free. The drawback to this method is the delay in response time. When your alarm goes off, the security company must verify a password from you or another designated person. If the correct password is not provided, then the police are called.
This is a delay that may be problematic if your alarm is not a false alarm. Police departments often get false alarms and you may experience a slower response time depending on the agency. The best part of monitoring the system yourself is the fact that you will see images in real-time. If your alarm goes off, the system will send you text message, email or phone call depending on the type of system you choose. The good news is that you can determine when you are notified. Text messages are a popular way that lots of people get notified when their alarm goes off. The decision should be made according to your home security plans.
Home Safety Tips
Keeping everyone in your family safe is the goal of every home security plan. Install smoke, fire or sprinkler systems in your home. Fire causes many deaths each year. You should have a warning system and a plan for evacuation in case of fire. Rehearse these fire drills with your family members once each month. Everyone should meet at a specific location outside of your home. Show your family members the best escape routes from their rooms. This will save valuable time that could mean the difference between life and death.
Make sure your family members don't try to find you during a fire emergency. Everyone should meet outside to be safe. Don't call 911 until you are safely outside. Teach your kids not to open the door if the fire alarm goes off. They should exit their window if they are on the lowest floor. Of course, if you have a two-story home, your evacuation plan will differ. The important thing is to practice your fire drills.
There are other emergencies that you should go over with family members. In case of a severe weather emergency, your family members should know what to do. Tornadoes can touch down anywhere in the nation. Determine the safest part of your home during a tornado. Your family members must know what to do if the tornado sirens go off. If you live in a rural area, you may not have sirens at all. You need a weather radio that can run on batteries during a weather emergency. Experts recommend you go to a basement or storm shelter. If you don't have this available, you should find an interior closet or bathroom without windows.
The most dangerous part of a Tornado is the damaging winds. Even if it is not a strong tornado, it can blow your windows out and harm you and your family. Flying debris is the number one cause of injuries during tornadoes. Don't open your windows during a tornado watch or warning. Opening your windows to relieve the pressure in your home is a myth, according to weather experts. Never try to outrun a tornado. They can and do frequently change directions. Follow the advice of your local emergency planning advisers. Hurricanes and tropical storms can do the same type of damage seen from a tornado. Flooding is a common concern during these weather events.
Flash flooding kills more people during a hurricane or tropical storm than the winds typically do. It is important that you take the advice of your local emergency planners. If they advise you to evacuate, find your evacuation routes and evacuate immediately. You should have an emergency preparedness kit ready to go. Fill your emergency kit with bottled water and canned goods. Add cash and a credit card along with your important papers. Keep these items in a plastic bag in case they get wet.
Home Security Plans
A home security plan is a plan that you create with your entire family. This includes going over emergency scenarios and devising a plan of action. Review your family emergency plan often. Let your family members make suggestions on how to improve your home security plan. Preparation will go a long way in keeping your family safe from harm. Consult with a security professional if you have issues drawing up your plan. You may want to consider having a home security auditor come out and show you where to make improvements. You should take home security seriously and follow recommended guidelines. Whether you have your alarm system monitored or not depends on your unique situation. A home security plan is just the beginning to a well-thought out plan for home safety. You can modify the plan as you go according to your family's needs. A good home security system should combine with other security elements to reduce your risk of theft, weather-related emergencies and robberies. Robberies can occur at anytime at any location and preparation is the key to surviving an incident. Follow safety rules can reduce your chance of home invasion.
Social Media
The introduction of social media has a few pros and cons. The pros include staying in touch with family members and friends. Sharing photos, stories and good times is the goal of social media sites. However, they can also be a source for potential security problems. For example, if you go on a family vacation and you send photos to your social media site, then these photos lets everyone know your vacation plans. This can spell a great opportunity for a thief looking for opportunity. All you have to do is wait until you get home to share your vacation photos. The problem with social media sites is the fact that you can't be sure exactly how many people you don't know can view your feed. Even with privacy settings, social media presents a few problems with security issues.
In The Home
When you are at home it is especially important that you keep the doors and windows locked as well as the alarm turned on. Many people simply walk in the door and shut off their alarms without another thought. This is a bad idea if you want to stay safe. If you have surveillance cameras, they are working all the time. But if you don't, then you must take the same security precautions even when you are at home. Never open the door when the bell rings unless you look through the peep hole. If you recognize the person, you can open the door. However, don't be intimidated by strangers at your door. Speak through the door and let them know you are not interested. This lets the stranger know that someone is at home. Security experts say that often a burglar will knock on a door to see if someone is home before they break in.
Surprising an intruder is never a good idea. It is best that you speak through the door especially if there are strangers standing there. Make it a habit to check the locks on the windows before you go to bed. Many people have a habit to lock the doors but forget about the windows. If you have window sensors, they will alert the keypad if the windows are opened. Make sure you install quality locks on your windows. The only way for an intruder to get inside your home is through doors and windows. Research your local law enforcement's website for security tips and advice. Many agencies also have programs that educate homeowners about crime fighting strategies. You should be aware of your surroundings especially when working in the yard. If you are working in the backyard, you may not hear the front doorbell.
Don't listen to music with earphones while working on your yard. This prevents you from having the ability to hear. Some people install chimes in their backyard to alert them of the presence of company. If you have patio doors, you should buy a device that keeps them from being picked up and taken off track. There are security devices that use pins to keep the sliding glass door from moving. If you live upstairs, take the same precautions on entry doors as you do the lower floor. Don't leave your windows open at night for some fresh air. Keep them closed and turn on a fan if you need air to circulate. Make sure there are no large trees around your home that would allow an intruder to gain entry into your home or attic. Home security involves taking precautions to reduce your chance of being a victim. This is the best way to stay safe.
Contact us for more information on making your home or business safer with a security camera system.