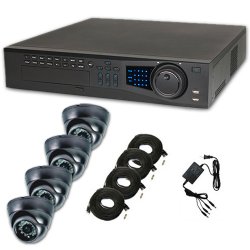 Whether you are a homeowner or a business owner, you know important your property and your valuable belongings are to you. Many homeowners and business owners are taking a big risk by not taking the right steps toward proper security. You never know when something will happen, so it is important to begin planning today; whether something happens next week or several years from now, you will have the protection that you need.
Many people disagree on what the perfect security system entails, but having proper security is actually a multi-step process. Installing motion lights and getting a good guard dog can help to improve the security of your home, but these methods simply are not enough in the event that something happens. Instead, you need to get the best protection with a security system camera.
Are Burglar Alarms Enough?
Many people feel safe because they have a burglar alarm, but burglar alarms simply do not provide the level of protection that security cameras do. Although a burglar alarm can alert you if someone has entered your home, it cannot capture video footage that will help the police to capture and convict the burglar, and a crafty and quick thief can often clear out all of your valuable belongings in a matter of a few short minutes.
Should I Purchase a Security System Camera?
Any homeowner or business owner could benefit from a security system camera. Although many people think that they do not have to worry about a surveillance camera because they live in a safe area or because their business is located in a shopping center or mall that is known to be secure and relatively free of crime. This is a myth, however, and any homeowner or business owner that does not take proper security precautions is taking a big risk.
Because security cameras and DVR systems can be purchased affordable from many online retailers, there is really no reason not to have one. If you make this purchase, you will have hard evidence in the event that something happens.
This does not mean that you should get rid of your existing burglar alarm, however. These security systems can be highly effective and should also be incorporated into most security plans for both homes and businesses, but you will be better off if you get the best protection with a security system camera as well.
If you have any questions or looking for further information, please do not hesitate to contact us. It is our pleasure to help you.