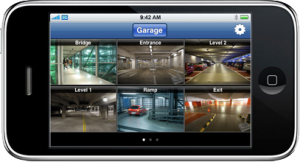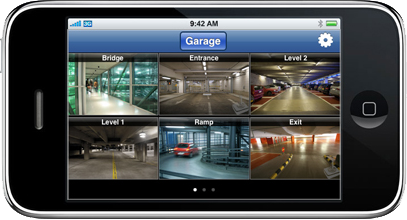 Today's technology allows you the ability to monitor your home with an Android or iPhone application. Mobile smartphone apps make it convenient to check on your home from almost anywhere in the world. You can download the apps from your home security provider. Home security cameras are available in a variety of styles. Your cellular system does not require a land line in order to work properly. Wireless security systems are equipped with sensors that you can place anywhere in your home. Install them on windows, doors or anywhere else in your home that is vulnerable to intrusion.
How To Monitor Your Home With Your Smartphone
Whether you have an Android or iPhone, you should be able to download an app that will allow you to activate your security system, lock and unlock your doors or deactivate your system with the push of a button. Some security systems even allows you to control the temperature of your home with your smartphone. The features you have available to you will depend on which professional home security system you choose. Monitoring your home with your smartphone is convenient because you can do this from almost anywhere in the world.
How To Choose A Security Company
The decision to have your home monitored by a security company is an important one. Even though you can monitor your home with your smartphone, using a security company has its advantages. A security company can connect fire and medical emergency sensors directly to your local fire department or medical emergency service. This can save valuable time during an emergency. Research the security companies that are available in your area by going on the Internet. Compare their installation services and costs. Choose a company that offers cellular technology so you can monitor your home with your cellphone. These companies offer interactive features that will send you an email or text if they receive a signal from your home's control panel.
Security Cameras
Surveillance cameras should be located in enough areas of your home to cover the entry points into your home and the exterior. You will need wireless IP cameras in order to monitor these cameras with your smartphone. If you use an alarm company, you won't have to worry about installation. Choose a camera system that produces quality images even in low-light conditions. Make sure they are located in outdoor areas where they can't be disarmed. They should be installed high enough to prevent vandalism. Security cameras are inexpensive, and if you want to install your own security system, consult a professional home security company for advice.
Safety and Security Tips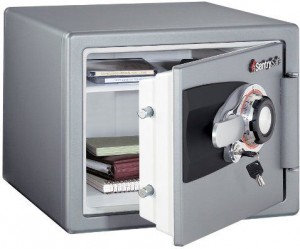 Keeping your family safe with a high level of security in your home can give you peace of mind. It is impossible to prevent all forms of crime, but there are many things you can do to improve your family's safety and security. Keep valuables out of sight from strangers. This includes closing blinds and curtains at night. Don't advertise the fact that you just bought new electronics by throwing the boxes away at your curb. Instead, you should put them in the car and dispose of them somewhere else. Many intruders look for signs of new purchases by checking out the trash found in front of homes. This can also give them an indication of other valuables that may be hidden inside.
Place your valuables such as jewelry and cash inside a secure safe. Hide the safe in case an intruder decides to carry it out with other valuables. You can also rent a safe deposit box from your bank. If you have guns in the home, you should make sure these are locked up. Guns, jewelry and cash are hot items for burglars. They are looking for items they can sell on the open market. Be sure you don't make it easy for them by leaving valuables in plain sight. Your home should have fire and carbon monoxide monitors located throughout your home. If you are monitoring your system with your smartphone, then you will receive a text message if your sensors are triggered.
Some home security companies also offer flood sensors that are placed in areas prone to flooding. These include bathrooms, basements and kitchens. You never know when a home appliance or water heater may decide to leak. Some home security systems also offer you the ability to shut the water off from your smartphone. Technology has improved the way you check on your home and given you many convenient security options. When you leave your home for an extended time, be sure to make your home look lived in. You can ask a neighbor or friend to stay in your home while you are away. This is a convenient option, especially if you have pets.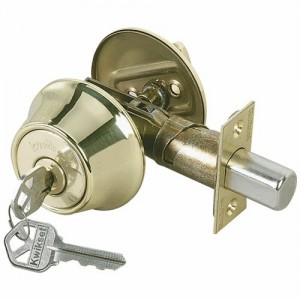 Securing The Outside Of Your Home
Preventing intrusion is the best way to avoid becoming a victim of crime. Install high-quality doors and locks on your entry doors and windows. Make it a habit to check the locks before you leave. The best prevention is to use your alarm system whether you are home or away. Intruders do not want to break into a home that has a number of security devices in place. If you make your home hard to break into, you can reduce your chance of becoming a victim of crime. The outdoor area of your home should have quality lights installed. You can buy motion detecting lights that will save money on your utility bills. These lights will only come on when they detect motion.
You can also buy high-quality solar lights that won't use any additional energy. A well-lit home is a home that is avoided by intruders. Make sure your garage is secure before you leave your home. You can buy garage door locks that lock from the inside and prevent your garage door from being opened while you are away. If your garage door has windows, keep them covered to prevent an intruder from looking inside. Make sure the entry door from the garage into your home has quality locks. Don't forget about the backdoor of your home. This is a favorite way to gain entry into your home because it is often hidden from neighbors with a privacy fence.
All entry doors leading into your home should have deadbolt locks installed. Deadbolt locks prevent your doors from simply being kicked in. Kicking the doors in is the number one way an intruder enters your home. Most intruders say they can enter a home within three to five minutes. Make it very difficult for someone to break into your home. If you have teenage children that enter and leave your home often, make sure they know how to use the security system. They should know how to arm and disarm the system as well as how to monitor it with their smartphone. Security experts recommend that you get to know your surrounding neighbors.
This is a great way for neighbors to look out for each other. Local law enforcement agencies depend on the eyes and ears of citizens to help prevent crime. Find out if your community has a local crime watch organization. Volunteer to start a new organization if there is not one in your neighborhood. When you are going to be away from your home for an extended time, ask one of your neighbors to park their car in front of your home. Most intruders look for homes that do not appear occupied. You can also ask your local law enforcement office for crime statistics in your neighborhood. If there is a problem in your area, you can alert your neighbors. Being aware is the best way to prevent crime.
If you live in an apartment, it is especially important to know your neighbors. Make sure the apartment's parking areas are well-lit. You can also ask the management company to let tenants know about crime problems in the neighborhood. There are many helpful security devices that can be purchased at a retail security store that can help prevent crime. Devices such as door protectors, audible devices that make it sound like you have a large dog and other items can improve your security. Door protectors are placed inside your door, and when locked into place, can prevent your door from being kicked in. You can browse the latest security devices by searching online.
Improving home security requires being aware of potential threats. Understanding why intrusions happen can help you create your unique security plan. Most burglars occur because they are looking for items to sell to generate quick cash. Think of your home the way a burglar does to improve your home security. Make your home difficult to break into by identifying your home's weak points. You can hire a security auditor to help you accomplish this. An auditor is experienced with the latest methods that can prevent home invasion. Don't become a victim of crime when you can reduce your chances. Install surveillance cameras and minimize your risk of home invasion.