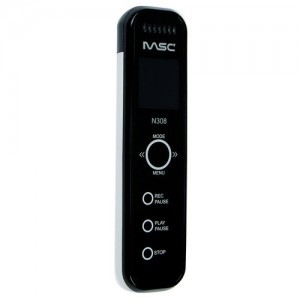 If you're looking for a covert or overt recording mechanism, mini voice recorders are the way to go.  Mini voice recorders often have a good range, clear crisp digital recording, and many other features.  In this article will explore some of the potential uses for mini voice recorders and some of the features of the mini voice recorders that Security Camera King has to offer.
However, before going any further it's important to read the warning that follows concerning audio recording that is performed without the consent of all individuals participating and their knowledge that they are being recorded.
WARNING:  There are state laws concerning the recording of conversations without all those participating in the conversation being aware of the recording.  Check with your own state laws to make sure you are complying with state, federal, and/or local laws if you are covertly recording conversations.  Oddly enough, there doesn't seem to be too many restrictions on video capture, but there are plenty that deal with audio recording.
For many states where a security camera with audio is used, a simple notice or sign posted in the area of the camera is sufficient enough. (For example, "These premises are protected by digital video cameras with audio.  Both video and audio is being recorded.)   Other states may have more elaborate requirements to be compliant.
Mini voice recorders, especially today's mini digital voice recorders have so many features and options that they are really quite versatile in use.  Security Camera King sells two 576 hour digital phone/room recorders; product# DPR-N88 and product# DPR-N308 (which comes with an aluminum case).  For example, the dimensions for product# DPR-N88 are 1.3 x 4.4 x.5 inches and the unit weighs approximately 3.20 ounces.
Some of the uses for these recorders may include:
Legal covert audio recording (for example, criminal investigations)
Recording birthday parties, anniversaries, retirement parties and other similar events
Recording school lectures
Recording telephone conversations (see Warning) especially if the calls are threatening, obnoxious, and/or unwanted
Recording children's band concerts
For bird watcher enthusiasts, recording bird sounds
Dictation, especially for medical dictation
Leaving notes for family members
Listening to the FM radio
Use as an alarm clock
Music editing and playing
There are just as many features, if not more, than there are uses for these mini voice recorders.  Here's an example of just some of the features of these small, light-weight mini voice recorders:
High capacity re-chargeable lithium battery that can be recharged using the USB port on your computer
Internal memory protection switch
Music playing in three different formats:  MP3, WMA, and OGG file types
Selectable recording rates:  SP, LP, HQ (Standard and Long Playing and High Quality)
Audio and Line-In inputs
High fidelity amplifier with high quality speaker
High speed USB 2.0 connection to your computer
Stereo recording with built in stereo microphone
Backlit LCD display
Ear protection function
Scrolling display
Includes built in tools such as a Calendar, Record Auto-timer, Stopwatch, and Alarm clock
3 default folders for storage
Voice activated recording
A-B Segment repetition
External Microphone connection
Ear microphone included for telephone and mobile phone recording
In addition, both mini voice recorders include the following accessories:
Earphone
Ear microphone
USB cable
Audio cable
Battery charger
User's manual
Product# DPR-N308 mini voice recorder has the same features and functions as product# DPR-N88 but also includes touch pad key layout and a rugged aluminum case.
You'll never need to concern yourself with storage capacity as both units will record up to 576 hours of audio in the LP mode.  Both recorders are excellent professional quality recorders designed to do the job without being large and bulky.
If you have any additional questions about these mini voice recorders, contact one of our security experts today via "Live Chat" or telephone at 866-573-8878 Monday through Friday from 9AM to 6PM EST.