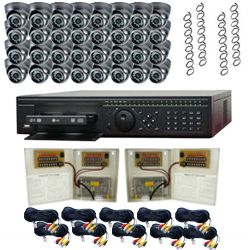 One of the fastest growing residential and commercial protection devices is digital security camera systems.  These systems have such great versatility that they can be used to perform a simple task such as baby monitoring to a more complex task of InfraRed (IR) imagery, Pan-Tilt-Zoom (PTZ), and automatic tracking of objects such as cars or people.
Most digital security camera systems consist of a Digital Video Recorder or DVR, digital video camera(s), and monitor(s).  Most dealers do not sell complete digital security camera systems like Security Camera King does because selling each component separately maximizes their own profit potential.  However, at Security Camera King, we offer several different systems that include everything but the monitor to get you up and running in no time and doing so with an economical price.  We even include the cable and connectors!
Security Camera King doesn't include a monitor because quite often customers have used personal computer monitors they can utilize (which saves them even more money) or they may hook their system up to the newer HD LCD flat screen TVs that contain multiple types of connections, including BNCs.  But if you need to purchase a monitor we have those too.
We offer digital security camera systems in 4, 8, 16, and 32 channel configurations.   We offer four main types of systems for each channel configuration, primarily based on the DVR.  They are the Elite-Mini Economy series, the Elite Mini DVR, the Elite DVR, and the Ultimate DVR.
When we say our systems are complete, we mean it.  For a typical 8 channel Elite-Mini HD digital security camera system this is what you get:
An 8 channel H.264 Elite-Mini HD Series DVR with 250 GB hard drive
8 indoor/outdoor weatherproof high resolution 420 TVL Infrared Vandal resistant dome security cameras
2 four-channel space saving power supplies
8 – 100 foot plug and play cables (the BNC connectors have already been installed on the cables for you)
A 1 year warranty on the cameras and accessories
A 3 year warranty on the DVR
The Elite-Mini Economy series is a great entry-level digital security camera system that can provide you with security without emptying your wallet to do so.  The Elite-Mini Economy has many of the same features the more expensive systems do except there is no Pan-Tilt-Zoom (PTZ) connection on the back of the DVR and there is no HDMI video output (however there is VGA and BNC video output).  Also, the Elite-Mini Economy DVR does not support a CD/DVD writer.
The Elite-Mini Economy DVR like all of our DVRs uses the latest CODEC (COmpression/DECompression) utility available the H.264.  This utility greatly reduces the size of the video image files to maximize storage capacity while maintaining high quality digital images.  This works well for the included 250 GB Hard Disk Drive (HDD) too.
The Elite Mini DVR HD digital security camera system is a step up from the Elite-Mini Economy system.  It offers High Definition output at 720p using the HDMI output.  For VGA output this system can produce and image 1280 x 1024 pixels.
The Elite series DVR is an Enterprise level H.264 real-time DVR.  This DVR supports multiple HDDs plus a CD/DVD burner for making back-up copies.  It has a variety of outputs such as HDMI, VGA, Display Resolution 1080p, 1 video matrix output and 8 channel video loop output.  The Elite is capable f recording CIF resolution on all channels at 30fps while one channel is capable of up to D1 resolution at 30 fps.   It can also record D1 resolution on all channels simultaneously at 7 fps.
The Ultimate series DVR wasn't given the name without thought.  The DVR and its entire system is definitely the ultimate in digital security camera systems.  This DVR has the capability of recording in real-time video at 4 times the resolution of any other standalone DVR available in the industry.  So considering the fact that this DVR can record D1 resolution on all channels simultaneously it's no wonder they came up with the name "Ultimate" DVR.
No matter what the situation or application is, one of these digital security camera systems is bound to meet your needs and your bankroll.  If you have any questions or would like to purchase one of our systems, please contact one of our security experts and the will be happy to help.  You can reach them via on-line "Live Chat" or telephone at 866-573-8878.