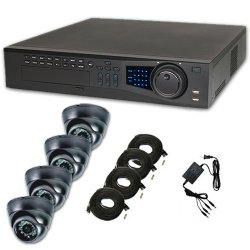 The best security camera systems will protect your business and all of its assets. With so many systems to choose from, it may seem an arduous task. Yet, many of the systems are relatively similar and should be viewed in terms of prices, perks, and compatibility with your office. This article will help you to examine the best systems available today, and ensure that you buy the one that suits you best.
Before delving into specific systems, it is important to plan accordingly for your business. Scout your location, and look for any areas that are compromised. Any weak and vulnerable points will benefit from the installation of a security camera. Outdoor areas and dimly lit rooms will need a camera with night vision capabilities. Also, depending upon the hours of operation, a motion sensor camera can cut down battery loss by only activating when needed.
If you are looking to secure your personal office there are many viable options. Wireless camera sets that activate through motion sensor will keep your cubicle under watch at all times. These sets are generally easy to setup and maintain.
The SVAT CV502-4CH-002 security camera system is renowned for its high-quality recordings. The set comes with four cameras plus an additional DVR. Each camera is built with durable aluminum for weather resistance. The cameras also come with infrared night vision that automatically activates at sunset. This allows your cameras to record perfectly in the dark or heavy rain. The battery life for each system is around one month.
You can buy additional cameras to add alongside your SVAT system. These are cameras are bullet style, and are generally quite visible. Bullet style cameras are beneficial in that they provide the longest range of visibility possible from a security camera. Being visible, they often deter criminals from ever entering. Potential robbers will be much more hesitant when they are aware of the security presence, making these cameras worth the extra size.
One of the most unique features of the SVAT system is the optional scheduling. This feature allows you to schedule when your camera will record. You can opt for 24/7 recording, or for specific hours of the night. Along with this, you can also search for footage by date and time. Simply type in the date and hour, and you will be sent immediately to the desired footage. This eliminates the hassle of searching for one minute of footage in a month long recording.
If you are looking to secure your personal office there are many viable options. Wireless camera sets that activate through motion sensor will keep your cubicle under watch at all times. These sets are generally easy to setup and maintain.
The Foscam FI8918W is perfect for singular office use. It has a retail price under $100 and is made of the highest quality. This camera can be placed upon any office desk or furniture without causing distraction. It is entirely wireless, and changes to infrared when the lights dim. If the motion sensore is alarmed, you will be sent a copy of the still-images through email. This camera also features a high quality microphone and lens.
An essential component of camera systems is the ability to transfer data wirelessly to a medium of your choice. With this feature, you will be capable of viewing live footage while anywhere in the world. Most modern cameras are equipped with wireless data transfer, but it is always important to ensure it is compatible with your device.
The Lorex security camera system allows live footage to be transfered to your iPad, laptop or cellular phone. This allows you to promptly notify the authorities and retain evidence. These cameras are perfect for mounting on ceilings, walls, and corners.
Lorex offers a bundle designed specifically for businesses. It contains six dome cameras and six bullet cameras. Each camera is vandal proof and weather resistent. The dome cameras are perfect for ceilings and corners. These miniature cameras will go undetected in your office, which can be both a positive and a negative. Less visible cameras may not deter potential criminals through their presence, but they will still catch any criminal activity.
If you have more experience with cameras and technology, the Wireless IP Network Camera CM-I12316GY is a must have system for any office or business. This camera has one of the most powerful night vision sensors on the market. It is ideal for outdoor use, and can be placed around all of the critical points of the building.
It takes some skill to setup, yet it features a fast IP-connection to any desired computer. This allows for live transmission of all footage. Its maximum revolution of 640 x 480 allows it to deliver a consistently high quality stream of footage.
The Four Channel H.264 Turn-Key Security Camera System is a great value for offices and small businesses. This security camera set is easy to setup and activate. It utilizes a wireless system that transmits to the included DVR.
The wireless transmission is encrypted to ensure privacy. The audio is synchronized perfectly and clearly. When the motion sensores are alarmed, the DVR will notify you via email. You can then view the footage on your smartphone or laptop.
The DVR features an improved compression rate at H.264. This means that footage will be recorded with HD quality without sacrificing storage space. In fact, this DVR uses 75% less memory per hour of footage recorded, when compared to other leading systems.
The cameras are wireless, and feature a resolution at 1280 x 1024. Each system is backed by an uninterruptible power supply, and is guaranteed to last when needed most. Installation is as easy as setting up a standard DVD player.
An Eight Channel Networkable Video Security System is commonly available for businesses. This item is available as a bundle on most security system websites. These systems usually come with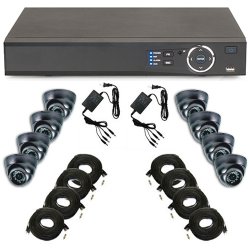 ceiling and wall mountable cameras. These are ideal of placing in long hallways or corridors. These domed cameras are perfect for capturing wide angles and sharp corners alike.
In order to properly secure your business, you should ensure that these camera bundles are created with the best technology available. Weatherproof dome cameras are ideal for offices, as the last thing you want is rain to hinder your footage. These cameras should be able to portray footage with up to a 50ft range at all times. Some bundles even include a 21.5 widescreen LCD monitor for optimal viewing. A two-TB hard drive is the bare minimum needed to ensure maximum security over files and data.
When ordering cameras for your business, you should ensure that the video is in full color. This will allow your evidence to be as concrete as possible. Black and white footage can make it difficult to for investigators to follow. You will want every detail available to ensure the person is caught.
Logitech makes highly innovative cameras that are perfect for businesses. The Logitech Alert 750n Indoor Master System with Night Vision is perfect for indoor offices. These cameras are small, discreet, and contain only the most recent advancements in technology.
This Logitech camera has night vision sensors which activate when the lights dim. The night vision is capable of seeing up to 100ft ahead, and is powered with infrared illumination. Infrared light can perceive details that are invisible to the naked eye. This camera also contains infrared light cut filter. This filter is used during daytime, and allows color images to be crystal clear. Other cameras are unable to properly filter the infrared lights during the daytime, and this can make for a drastic decrease in image quality.
One of the best features of the Logitech brand is the use of free cloud storage. Cloud storage is data that is stored entirely online. Logitech automatically saves all of your files into Dropbox. This saves you from losing all of your files due to an unexpected crash. You will still get an email alert, and the possibility to save on a DVR, whenever a file is sent your way.
You should always plan ahead before purchasing a security camera system for your business. You can save future hassel and potential costs by carefully choosing a system. Choosing a lesser system will lead to more problems in the future, and the increased potential of property damage at your business.
Search for vulnerable spots in your business or office, and use these as a guide when purchasing. Windows, long hallways, and other points of entry are great places for security cameras. Any place containing sensitive files should also be properly secured.
Selecting any of these security camera systems for your business will help to ensure years of safety. You will have proper recordings of all actions taking place inside your office, and will potentially thwart any crimes. Find the best system for your budget, and install it in all of the optimal areas. Make sure to pay a little extra if needed, as the price will eventually pay for itself. With the best security camera system for your business you are guaranteed the protection you deserve. Contact us today for more information.