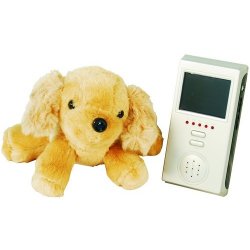 If you are a parent of a newborn baby or an infant you can finally get the peace of mind you deserve at an economical price by using a wireless baby monitor.  These devices are actually highly specialized digital video security and surveillance system components designed specifically for monitoring babies or young children.  They offer the flexibility of operating as a standalone device or being tied-in to a larger whole-house digital video security system.  Most wireless baby monitors also have the versatility to be used just about anywhere inside the home, not just in the nursery or baby's sleeping area.
A wireless baby monitor that is part of a larger whole-house digital video security system is usually a camera placed in the baby's room and aimed at such an attitude as to capture the baby while sleeping and/or awake.  The camera may be permanently mounted and connected to the system's Digital Video Recorder or DVR unit wirelessly by using a wireless receiver which is then connected to the DVR.
Although recording baby monitor footage is not necessary or usually desired, the DVR unit can record the digital data but is normally used to process the camera's digital video output and make the video available for live viewing on an attached monitor.
Standalone wireless baby monitors are probably more popular than typical system monitors.  By marketing standalone wireless baby monitor units, the user is not required to purchase an entire full-size system, thereby reducing the total cost tremendously.  In addition, the camera contains a built-in wireless transmitter that sends the digital video signal via radio waves to a corresponding wireless receiver built into an LCD monitor.
A wireless standalone baby monitor is one of the more versatile types, as it allows for easy repositioning of the camera from one place to another within a room or from one room to a different one.  In addition, the wireless LCD (Liquid Crystal Display) monitor provides the convenience of portability so that the parent can monitor the baby from the kitchen, living room, parent's bedroom or anywhere else in and around the house.
Most wireless baby monitors operate from power supplied by batteries, either one-time use or rechargeable, both in the camera and the monitoring devices.  Of course there are models available that can also utilize household power outlets as well.
Another option that comes with many wireless baby monitors is a night vision infrared camera.  The sensors used to convert the light images into electronic video images in digital video cameras are inherently sensitive to infrared light in the near infrared spectrum.  During the day, these cameras produce high quality color video images and at night or in darkness, they produce a high quality black and white or monochromatic video image.
The infrared cameras can produce images in total darkness because the camera illuminates the target area by using infrared Light Emitting Diodes or LEDs.  These LEDs are normally arranged in an array around the lens of the camera or off to the side, so as to direct their infrared light in the same direction as the camera's field of vision.
The night vision infrared wireless baby monitors with infrared LEDS are quite a blessing to parents and other caretakers because although the camera sensor can "see" the infrared illumination just like visible light, the illumination is invisible to the human eye.  This means the baby can be monitored in total darkness under infrared illumination without ever being disturbed by the light!
Generally, many infrared wireless baby monitors will require a house current outlet for a power supply, because the power demands are higher since the camera also must furnish the electricity for the LEDs.  These cameras are readily available in a variety of different types and styles for whole-house type digital video security systems, but may be a little more difficult to obtain in the standalone battery-operated design.
Finally, since today's technology allows for camera units to be manufactured in such small sizes, a wireless baby monitor camera can easily be disguised as something else so as not to frighten or disturb the baby or young child.  For example, check out Security Camera King's "2.4 GHz Wireless Dog Baby Monitor Camera" product number HC-BBMNT-GC under our "Wireless Hidden Cameras" section or by going to http://www.securitycameraking.com/2.4ghz-wireless-dog-baby-58756-prd1.html.  This camera even includes a microphone to record audio.
If you have any questions about a wireless baby monitor or are considering a purchase, contact one of our security experts today via "Live Chat" or toll free telephone at 866-573-8878.