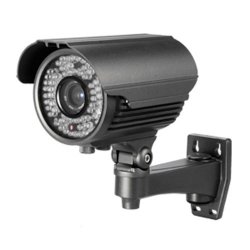 An autofocus CCTV or Closed Circuit Television camera is an ideal choice for surveillance and monitoring when the field of view encompasses large differences in distances of the target or the target is moving and often changes its distance to the camera. Most autofocus CCTV camera lenses are zoom lenses; a variation of this type of lens is a vari-focal lens which can vary its focal length by manual adjustment.
Let's take a look at some of the technology behind autofocus CCTV cameras to see how they work and to understand why an autofocus CCTV camera is unique.
A typical digital video CCTV camera produces an electronic image by using one of two light sensitive electronic chips called Charged Coupled Devices or CCDs or Complimentary Metal Oxide Semiconductors or CMOSs. The sensors create electronic energy from light energy and are often only ¼ to 1 inch in size. The electronic energy can be measured and utilized to make digital video images that can be viewed on a monitor or saved on a storage device.
However, in order for the sensor to produce the electronic image, the light emitted from the actual imaged must be precisely focused on the sensor. This is where the lens comes in to play. The lens works by clarifying and concentrating (focusing) the light image on the sensor chip.
Every lens has a focal length. For CCTV cameras, generally short focal length lenses have wide fields of view which are ideal for close ups or for seeing a large area, although objects will appear relatively small. Long focal length lenses have narrow fields of view but distant targets are easier seen with better definition.
Focal length measurements are not very long. In fact, focal lengths for CCTV cameras are measured in millimeters and range from about 3.5 to 16.0 millimeters in length with each lens having its own unique focal length. When purchasing a digital video CCTV camera with a fixed lens, the purpose or objective of the camera must be considered in order to select the proper lens.
For example, a small focal lengths lens can yield a fairly large field of view. For example, at 50 feet away from the camera, the field of view for a 3.6 mm focal length lens would provide a field of view of approximately 75 feet wide and 50 feet in height. Identification of people would be very difficult because they would appear very small. However, using a lens with a 16.0 mm focal length would create a field of view approximately 13 feet wide by 9.6 feet in height and would make recognition much easier.
However, if a camera needs to provide both a large field of view as well as a short field of view, an autofocus CCTV camera is the ideal choice. By using a combination of lenses that optimize the physical principles of the lenses these cameras can vary their focal length automatically, i.e. autofocus.
Autofocus CCTV cameras take the guess work out of determining which single lens to purchase for your camera. Autofocus zoom CCTV cameras can be used like the telephoto lens on a still image or video camera to "Zoom-in" or enlarge objects while maintaining the proper focus. Autofocus zoom CCTV cameras often have large focal length ranges, from as little as 3.6 mm to over 60 mm.
Autofocus CCTV cameras can be zoomed in or out to account for changes in the field of view. Normally, these cameras' zoom function is controlled electronically either by a control panel with sliders, levers, knobs, joysticks, or buttons or through the use of programming that is run through the processing unit or Digital Video Recorder (DVR).
Another type of "autofocus" camera lens is the vari-focal lens. Although this lens is not remotely controlled like the true autofocus lens mentioned above, it does have the ability to vary its focal length, making it an autofocus type of lens. The lens is actually adjusted manually allowing the lens to zoom in and out and focus at variable settings.
So if your security or monitoring system requires the camera to zoom in and out, or if you need to vary the size of your camera's field of view, an autofocus CCTV camera is the right choice for you. Also, for situations where the filed of view may need to change occasionally but not "on-the-fly" a more economical type of autofocus CCTV lens, the vari-focal lens, may be what you need.