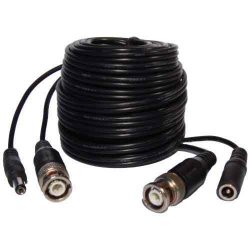 The BNC-100 CCTV Video and Power Cable is one item offered by Security Camera King (SCK) that combines two functions into one unit.  This cable provides the means for both video transmission from the digital video security camera to the Digital Video Recorder or DVR and the power supply from the power distribution box or plug-in transformer to the camera.
Video transmission signals are a special type of radio frequency signal.  These signals can be transported in many different ways.  For example, digital video cameras can send the video transmissions wirelessly using on-board transmitters and antennas to corresponding wireless receivers.  The other option involves using wires or cable.
There are many different types of wiring or cable that can be used as video transmission cable for digital video security cameras.  CAT5 Ethernet Twisted pair cable, for example, can be used to send video transmission signals depending on the strength of the signal and the length of the cable run.
The most popular type of cable however, is RG-59 Coaxial Cable.  This cable is advantageous for several reasons.  First it provides a prefect medium for which the signal can travel without excessive degradation of the signal.  Secondly, it is sheathed to prevent interference to the signal.  BNC-100 CCTV Video and Power Cable is RG-59 coaxial cable.
Our BNC-100 CCTV Video and Power cable is pre-cut to a length of exactly 100 feet.  Each end of the cable has a pre-installed female BNC type connector for connecting the camera end and the DVR end of the cable.  There is no need to mess with cutting or stripping wire and twisting or crimping connectors since that is already done for you.
In addition, our BNC-100 CCTV Video and Power Cable also contains a one pair (two wire) DC power supply cable.   This cable is terminated on each end with one male and one female PT-3 2.5mm power plug for easy connection to the camera and the power supply.
This video transmission cable is also shielded to prevent interference from the proximity tot he power cable and from any outside sources.  The impedance of the BNC-100 CCTV Video and Power Cable video transmission cable is 75 ohms.
The "BNC" in BNC-100 CCTV Video and Power cable doesn't refer to the cable as much as it does the connector type.  In fact, most cable used with BNC fittings is RG-59 coaxial cable (and not BNC cable).
The BNC is a radio frequency connector that is commonly used with coaxial cable for television, radio, and other radio-frequency related type equipment.  BNC is an acronym that is used when referring to these special connectors.  In fact, the "B" in BNC-100 CCTV Video and Power cable stands for bayonet mount, the actual locking mechanism used by these connectors.  When to connectors (a male and a female type) are joined together, they are pushed into one another and twisted by their "collar" to lock them together.  Just like the way a bayonet is mounted on a rifle.
The remaining two letters of BNC stand for its inventors, Paul Neill and Carl Councelman.  One must agree that BNC is a much easier way of referring to the connector than by saying "Bayonet, Neill, and Councelman" connector.
If you have any further questions about the BNC-100 CCTV Video and power cable or BNC connectors or would like to purchase the cable please contact one of our security experts either by on-line "Live Chat" or by telephone at 866-573-8878 Monday through Friday from 9AM to 6PM EST.