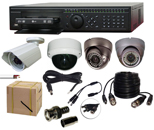 Commercial security cameras offer many benefits and can actually help save you money.  Some of these benefits are:
* It is reasonably priced and  affordable
* It eliminates the expense for additional personnel
* It can provide 24 hour 7 days a week coverage
* If real-time monitoring is desired, one individual can do it
* It can cover both the outdoor and the indoor environments of your business
* Real-time monitoring can also be done by a professional security guard monitoring service on contract basis versus hiring new employees
Modern technological advances in the security camera industry have made commercial security cameras incredibly versatile in application while at the same time maintaining reasonable prices.  In addition, commercial security systems are component systems, so as your business grows, your system can grow as well.
A basic business security system is a component system consisting of one to several commercial security cameras, a processor or capture board, a monitor, and a digital video recorder or DVR.  Since the system is a component system, each component can differ in application or type while maintaining the function of the entire system.  This means each component can differ to fit your particular application while still maintaining the function of the system.
Another advantage of a commercial security system is its broad application potential.  Not only can a commercial security cameras be designed to provide external or perimeter coverage, but the same system can provide internal office or store coverage as well.  Further, the system can be a stand alone system or it can incorporate one or more personal computers.  This means you can monitor your small business in a separate area at your business location or anywhere in the world where there is Internet access.
The following is a brief description of just some the additional features/options that are available on commercial security cameras:
Commercial security cameras can be indoor or outdoor cameras.  Outdoor cameras are basically the same as indoor types except they are protected from weather and other environmental elements by a case or enclosure.  Outdoor cameras usually are rated as to their degree of protection using an International Electrical code standard called an Ingress Protection (IP) rating.  Outdoor cameras should be at least an IP66 or IP67 rating which means they are completely "dust tight" and can withstand powerful jets of water, or in the case of an IP67 rating, can even be submerged in up to one meter of water.
Cameras normally use a coaxial cable that is run from each camera to the processor to transmit the video image.  If cabling is impractical or undesirable, wireless cameras are available.  A wireless commercial security camera usually takes advantage of the 2.4 or 5.8 GHz radio band technology to send its video data to a corresponding receiver.
Cameras can be purchased for special lighting conditions as well.  Day/night vision cameras can produce a high quality color video image in normal lighting conditions and in settings where there is very little visible light.  If you need coverage in rooms or areas of total darkness, a night vision infrared (IR) camera may be the solution.  These cameras use infrared illumination from IR Light Emitting Diodes or LEDs to "light up" the target area.  The IR light is seen by the camera but is invisible to the human eye.
Additional commercial security camera options include:
* Audio recording
* Pan, Tilt, and/or Zoom (PTZ) options
* Networking capable via the internet
* Hidden or disguised cameras
A small business security system needs a processor, monitor, and recorder.  Personal computers can be used for this purpose but standalone systems are also available.  A typical standalone system contains the processor and DVR in the same unit much like a desktop computer.  The security monitor, again much like a computer monitor, connects to the processing unit.  Files are saved on the DVR in standard digital video formats so they can usually be viewed by personal computers and most media devices or copied if necessary to give to police or used as evidence.
Custom designed commercial security cameras can provide you with big business security at a fraction of the cost.  The systems are not only affordable but versatile enough to be used for almost any application.
If you have any additional questions about commercial security cameras feel free to contact one of Security Camera King's security experts.  We love to help!