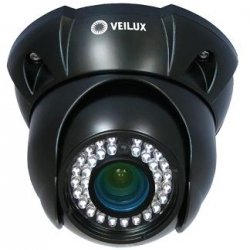 What is a GeoVision DVR Security camera? GeoVision is a manufacturer of Internet Protocol or IP security cameras. A DVR or Digital Video Recorder is a device similar to the hard disk drive on a personal computer, in this case used to store digital video files. A GeoVision DVR security camera is an IP digital video security camera that can either be connected to a personal computer using either a GeoVision DVR PC card or via the internet. Perhaps a little background information and a closer look at GeoVision products will help to describe this concept in detail.
GeoVision Inc. is an international security camera and accessories based company that was established in February 1998. It has subsidiaries in Japan, China, Brazil, the Czech Republic, and the United States. GeoVision sells GV-Series security camera system products such as DVR systems, IP cameras, video servers, compact standalone DVRs, PC-based DVR cards, and other accessories.
All of GeoVision's current security camera products are IP ready security cameras. An IP ready security camera can be connected and networked via the internet and often uses a personal computer to replace the monitor and DVR that would be used in standalone DVR systems. These cameras' physical connections are made usually with a CAT 5 type (or Ethernet) cable. The cameras have their own built-in servers and can communicate with a personal computer by either using proprietary software or simply using web browsers like Internet Explorer.
GeoVision DVR Security Cameras are personal computer based systems. The DVR portion of the system is a proprietary GeoVision PCI type card that is installed on a personal computer. GeoVision manufactures several different types of PCI DVR cards. The latest versions of these cards include the GV-DVR V8.3 and the GV-DVR V8.3 Hybrid. The GV-DVR V8.3 is designed for use with a variety of different manufacturers' digital video cameras. The GV-DVR V8.3 Hybrid is designed for use with a variety of different manufacturer's cameras as well, but can merge the use of digital video cameras with support for legacy analog cameras also.
A GeoVision DVR security camera system utilizes a personal computer as the DVR "system." For typical standalone digital video DVR camera systems, the components of the system consist of the cameras, a processor/DVR with a compression utility, and a monitor. The digital video camera sends a video transmission signal to the processor with analyzes it and creates a digital video file from it.
Digital video is created by taking several digital photos in a very short time (on average, 30 photographs called "frames" per second). The data from these files will get incredibly large in a very short period of time. Incredibly large digital video files consume large amounts of digital storage space quickly, are hard to manage, and can slow down even the fastest processors. For this reason a COmpression/DECompression or CODEC utility is used by the processor. This utility which may be in the form of a software program or an integrated circuit shrinks the size of the digital video file but maintains its superior quality.
GeoVision DVR Security Camera cards may contain several components of a standalone DVR system that can be utilized on a personal computer instead. For example, GeoVision DVR PCI cards usually provide the input connectors or the camera's output line, and they contain the processor and the CODEC utility. Sometimes they may even contain the DVR, although most cards utilize the PC's hard disk drive as the DVR. IF the system contains any special functions such as Pan-Tilt-Zoom (PTZ) control cameras the cards will often contain the circuitry needed to control these cameras through the computer.
One GeoVision DVR Security Camera specialty is the GV-LPR. The GV-LPR is GeoVision's proprietary parking lot security system that includes License Plate Recognition (LPR). In addition to reading and recognizing vehicle license plates this system is also contains advance motion detection features. Motion detection combined with PTZ cameras can actually track or follow moving objects such as automobiles.
A GeoVision DVR security camera then, is a security camera that can utilize the services of a personal computer by using a special PCI card to act as a standalone security camera system. Since GeoVision also manufactures a hybrid PCI card, a GeoVision DVR Security camera system can contain both contemporary digital video and legacy analog video cameras. In addition, GeoVision has a full line of DVR cards with additional features to fit just about any security system need.