As we leave 2015 the green rush continues as new Oregon and Alaska Marijuana Laws  are created and these states enter in the world of recreational marijuana sales. By now, it's no secret how successful the legalized marijuana industry has been to this point and there is every indication that this boom will continue to grow for the foreseeable future. After stumbling a bit initially, the money generated by the Washington State pot industry has increased dramatically over the last several months and all reports indicate that Colorado is going to make over a billion dollars in 2015 through its recreational and medical marijuana sales. This success is sure to draw other states into the industry and many of them are preparing votes on it in the near future. We (Techpro Security Products) are happy to be a part of this movement and I am proud of the small role that I play in helping to get these people licensed.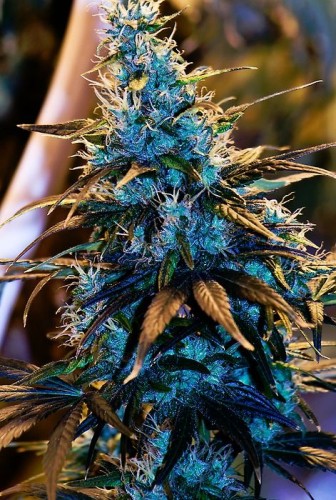 The change in attitude toward pot in these states has had an amazingly positive effect across the United States. The effect in the states where complete legalization has happened is fairly obvious but the benefits are not limited to them.
– Currently twenty three states have legalized medical marijuana, which is helping with several health conditions and major illnesses. This has led to a new level of testing for the medical applications of this plant.
– The industrial applications of the cannabis plant are finally starting to be utilized again. Hemp has many uses which humans have known about for thousands of years and now that our attitudes toward this plant are shifting, we are starting to be able to utilize it for this purpose again.
– This industry has also been a boost to the US economy. The money generated from sales and the taxes levied are not the only reason for this although it's a pretty big part of it. It is helping to stimulate many peripheral industries that don't seem to be connected in any way, like construction for example. These states no longer have to spend the substantial funds necessary for the judicial and correctional system associated with the marijuana ban.
Oregon and Alaska Marijuana Laws
Oregon and Alaska are going to be the next two states to get in on this green rush. They have already voted to legalize both the medical and the recreational industries. Both of these states are currently finalizing the requirements to become a licensed participant. Our company is working with these law makers in order to help refine these guidelines in order to get the video coverage and storage they are looking for, in a reasonable manner which can be realistically implemented. We are hoping that this process is going to go smoothly for everyone involved since we have experience with this after helping Washington State in the same way.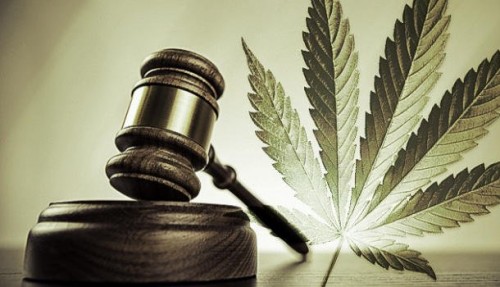 In Washington State, we have been very successful in helping members of the I-502 community to get set up with the camera system which will do the following–
– Meet the LCB requirements for an I-502 applicant.
– Meet the applicant's budget requirements.
– Meet or exceed the applicant's performance expectations.
I am pleased to report that we have been able to help dozens of I-502 participants get licensed through this program and have many more that are still making their way through the process. When a customer from this industry contacts us we set them up with a suggested camera layout and three quotes for different types of systems that we carry. Then we help them get the type of security camera system that best suits their situation, even combining the systems to create hybrids. We have a 100% success rate; every customer that has followed our suggested camera layout has passed their final LCB inspection. We are very much looking forward to doing our small part to help the fledgling industries get off the ground smoothly in the same manner.
We have also been able to show several of our customers how these camera systems can actually help make their business more profitable and help to protect their investment. The general idea is – if you are required to get the camera system then you might as well get something out of it as well.
It's obvious how these cameras can help with the security of the licensed premises, most people have seen security camera footage on the news which is used to help solve crimes of all types on a regular basis. We will be able to set you up with remote access to both your live and recorded footage, free of charge. This means that you will be able to remotely access your security camera system from any computer in the world, a smart phone (Android or Iphone) and/or a Tablet (based on those on the Android or apple operating system) as long as you have an internet connection.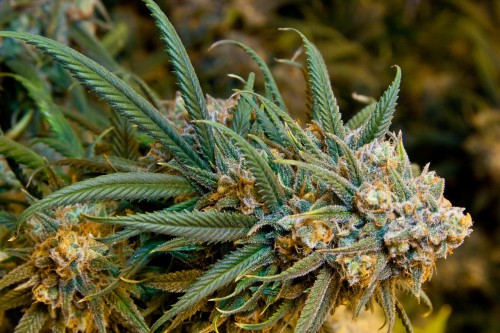 There are also less obvious benefits which this type of system can offer you. If our high definition cameras are located within approximately 15 feet of your plants then it can actually help to optimize the production/quality of your crops and help to protect them from the disaster. If you have a measuring stick near the plants and in the view of one of these cameras then it can help you collect data about the growing method being used. Typically this may be more difficult to understand while you are interacting with the plants on a daily basis. You will be able to review the recorded footage at the same time each day over a period of weeks to monitor the growth that happens under each set of cultivation circumstances that occur.
This type of camera set up can also give you high enough picture quality that you will be able to see enough detail like the warning signs of many of the harmful conditions which can affect your crop negatively. When you remotely access your camera system's live video feeds then you will be able to examine your plants from anywhere on the planet. Most of my I-502 customers are very reluctant to leave their operation but this feature means that you can go on vacation or leave for a family emergency and still keep an eye on things.
A large number of the most severe problems that a cannabis plant can experience have visible warning signs. You can limit the damaged caused by these potentially catastrophic issues if you catch them early enough. Even if you're far from the site then you can contact someone on site in order to get the issue handled promptly. Below several of these conditions and their visible signs are shown.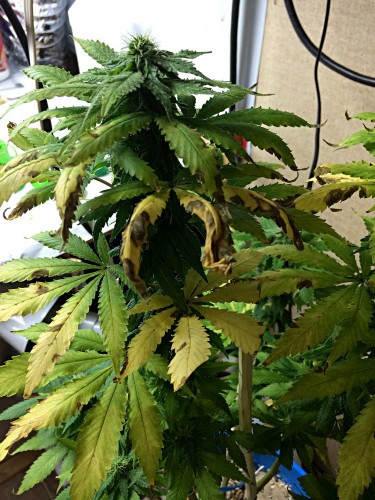 Fungus gnats.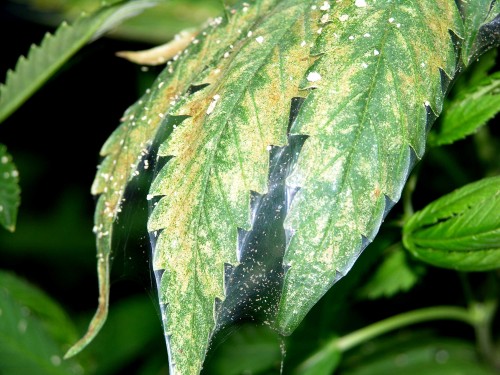 Spider mites.

White powdery mildew.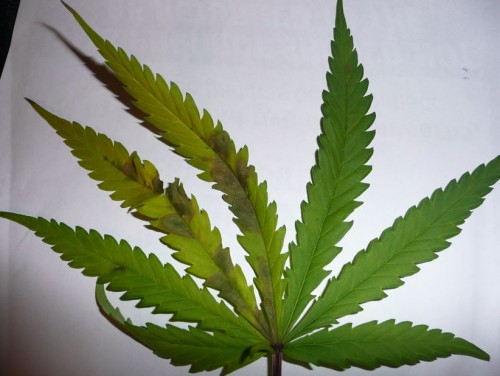 Nutrient Deficiency (Phosphorous deficiency symptoms pictured).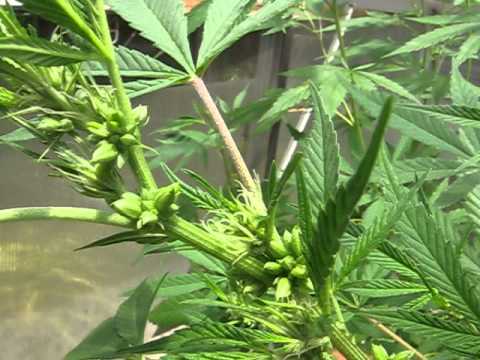 Sex change or hermaphrodite.