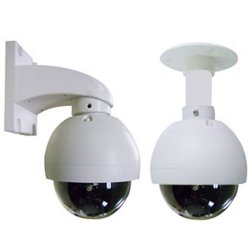 An outdoor wireless security camera 500 ft range is adequate for most commercial and residential applications. This type of camera is easy to install and easy to operate and can be purchased with many optional features that greatly increase its versatility. In the following article we'll talk a little about wireless security camera technology and some of the additional features that can be purchased for these cameras.
There are a few key factors that separates an outdoor wireless security camera 500ft range from other basic security cameras. First, as its name denotes, this camera is an outdoor camera. Outdoor security cameras are designed to withstand weather and other natural outdoor elements that can damage the camera or affect the working quality of the cameras.
When a security camera is specifically classed as an "outdoor" camera, it often has a rating in the camera specifications that indicates exactly how much protection is afforded to the camera from external objects. This rating, called an Ingress Protection rating or IP code, is an International Electrotechnical Commission (IEC) standard.
The code consists of the capital letters "IP" and two digits. The first digit indicates protection afforded against solids and the second digit indicates the protection afforded against liquids. The first digit's scale ranges from 0-6 with 6 being the best protection, and the second digit's scale ranges from 0-8 with 8 being the best protection. A good IP rating is IP65 or IP66.
IP65 means the camera is completely protected from dust and water jets from a nozzle coming from any direction. IP66 means the camera is completely protected from dust and water projected by powerful nets in any direction.
The other key feature of an outdoor wireless security camera 500ft range is that the camera uses wireless technology and has a maximum operating range of 500 feet. Non-wireless digital video security cameras work by creating a digital picture and transmitting the digital video data to a Digital Video Recorder (DVR) or monitor via a coaxial video transmission cable. This cable, usually an RG-59 coaxial cable must be run from each individual camera to the DVR or monitor. Wireless cameras eliminate this video transmission wire.
Outdoor wireless security cameras with a 500 foot range contain the internal circuitry to convert the digital data into a radio waveform that can be sent with out cabling. There are various radio technologies used to do this based on the manufacturer, but some of the more popular are the 900MHz an 2.4 or 5.8 GHz band radio technologies. These are the same sorts of technologies used by land line based wireless telephones.
One word about the camera radio technology. This technology is usually based on range which is defined as the maximum distance between the camera antenna and the receiver (or DVR) antenna based on Line Of Sight or LOS. LOS means this range should be attainable provided there is a clear line of sight between the two antennae, i.e. no objects can impede or block the LOS.
If there is not a clear LOS, it doesn't mean the camera will not work. Usually, depending on the object(s) such as glass, trees, or walls instead of the camera signal failing, the range is just reduced. How much the camera's signal is reduced is dependent on the material that the signal must penetrate. For example, it is not uncommon for an outdoor wireless security camera 500 ft range LOS to work at a 200 – 400 foot range through walls.
Digital video security cameras are powered by low voltage Direct Current (DC) electricity. This may occur as a small wire that is run from a power distribution center or a plug-in adapter that can be plugged into the nearest wall outlet. Since wireless cameras have already eliminated the need for a video transmission cable, some manufacturers make models that are totally wireless' the camera can run off of power from batteries or rechargeable batteries.
There are many cameras with optional features that can be purchased. A few of these features include:
• Audio Recording
• Infrared Night Vision
• Day/night low visible light operation
• Pan-Tilt-Zoom (PTZ) operation
• IP or Internet Protocol ready
This should give you enough working knowledge to help you decide if you need an outdoor wireless security camera 500 ft range. If you have any other questions or would like to make a purchase, contact one our Security Camera King's security experts today.