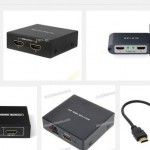 There are a multitude of reasons one might want to split a video signal from their Digital Video Recorder or Network Video Recorder: from being able to view it in multiple rooms in your house, to showing your camera view above a point of sale to alert customers of surveillance. Regardless of the reason, you may find that you run out of usable video ports on your DVR/NVR so when looking to view these multiple images, what are you real options? With the advances in technology, HDMI has become the premier format, as such it has become the main video output on most of our DVRs and NVRs. So what are your built in options with our products? What are your alternatives? What are the limitations? What can we recommend?
Spot Outs
So first there are a few options to consider. Are you looking to use this monitor for a point of sale or some place at your business where its viewable to the public. If you are making it viewable to the public then you may want to seriously consider a DVR/NVR with a spot out. A spot out is a monitor connection that shows cameras in sequence that differs from the main display in that it does not reveal all the cameras recording on DVR/NVR. This is extremely beneficial when we talk about privacy and security. If you wish to utilize one of these spot outs I recommend our full-size units which provides you with this option in addition a larger amount of inputs and extra SATA slots for potentially longer recording times. But what if you want to show this spot out to multiple points of sale or other locations around your business? This leads us to our alternative solutions.
(below I have linked a few of these models with spot outs for your convenience)
DVRS
http://www.securitycameraking.com/16-channel-hybrid-federal-series-60050-prd1.html
http://www.securitycameraking.com/16-channel-full-size-cvi-60020-prd1.html
http://www.securitycameraking.com/16-channel-tribrid-cvi-ip-60019-prd1.html
http://www.securitycameraking.com/32-channel-compact-series-hd-60059-prd1.html
http://www.securitycameraking.com/32-channel-elite-compact-series-59510-prd1.html
NVRS
http://www.securitycameraking.com/32-channel-elite-series-2u-60155-prd1.html
http://www.securitycameraking.com/NVR-ELE32-4K.html
http://www.securitycameraking.com/64-channel-4k-hot-swap-60136-prd1.html
Splitting Your HDMI Signal with HDMI Splitters
So what if you have one of these DVR's/NVR's and still need to split the signal to multiple locations? What if you are looking to split the regular video matrix to be viewed by multiple monitors/TVs around your home. What are your options then? Well that's where HDMI splitters can come in handy.  They allow you the unique ability to split the signal to two different cables or more depending on the splitter. There are two main kinds of splitters, passive and active.  Passive splitters will work fine for a small split like 1 to 2 way splitter but if your runs between different locations are significant distances 25-50 feet or more it is recommended that you go with an active solution as this allows for greater distance between each location. Additionally, you can use active splitters to split your signal to even more than just two locations allowing you greater distances and the option of running an HDMI anywhere in your home or business.
Unfortunately there are some limitations to this and they are worth noting and considering depending on what situation you're likely to encounter. For example, the viability, performance, and compatibility can vary from manufacturer to manufacturer and unfortunately as we do not currently carry any of these units I cannot particularly recommend any specifics but I can show you a video of a passive splitter I tested to provide an example of just how beneficial this technology can be. Moreover, you can see just how simple a passive HDMI splitter is to use. There is however one additional thing you should consider and that is that you cannot split them over and over, that is to say they cannot be daisy chained like other devices often are. Lastly, among the most important limitations is that the aspect ratios and capabilities of the splitter need to match the settings you've chose on your DVR/NVR and the television or monitor. The primary concern is the television and monitor, just as the DVR/NVR, is somewhat flexible. For example, if you are looking to use one of our 4k NVRs or DVRs you should also utilize a splitter capable of handling this on a TV or monitor capable of viewing this resolution or it will be somewhat counterproductive.
In closing, I would like to leave you with a few recommendations. First is that a full size unit and a spot out are always preferred when in a sales or business environment. This is to protect assets with the knowledge that information is a key part of security and providing a potential vulnerability to the public is almost never beneficial. Second that you carefully weigh the risk reward of passive and active HDMI splitters before finalizing your decision because it's frustrating when you find a part doesn't work the way you want it to. The third and final recommendation is that you make sure to check the capabilities of the device you purchase against your monitors and TVs to make sure they are compatible.
So what can you take away from all this? Well, hopefully that an HDMI splitter is a worthwhile piece of equipment that can be utilized in a variety of situations to help you take full advantage of our surveillance equipment and expand your camera layout to be viewable throughout your home or business, offering you an even more customized security solution. If you have any questions about our DVRs or NVRs and video outputs please give our knowledgeable sales staff a call at 866-573-8878. And if you've already purchased and are seeking support for your system remember all our products come with a lifetime supply of tech support and our experienced staff is as always here for you.
For your convenience here is the aforementioned video. Please bear in mind this is only one option when utilizing an HDMI splitter and there are a variety of products for various situations. Hopefully I've helped you get better insight into the possibilities and capabilities of both HDMI splitters and our systems in general. Please feel free to like and share this video with friends or coworkers.