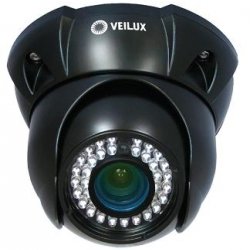 Wireless security cameras for homes are becoming an incredibly popular and affordable option for security and surveillance monitoring. Wireless security cameras for homes offer several benefits and uses over conventional "wired" security cameras, and recent advances in technology have made them an affordable option for the average residential consumer.
Wireless security cameras for homes work basically in the same manner as "wired:" security cameras except they+ transmit their video images via radio waves in place of coaxial cables that are run from the security cameras to the processing unit. Although there are some wireless cameras that use rechargeable batteries as power supplies, most wireless cameras still require that a wire from the power source be connected to the camera.
Wireless cameras are available in many types and sizes with a variety of functions. Wireless security cameras for homes can be separated into two major categories based on where they are used. Outdoor cameras are usually weatherproof and may be installed just about anywhere outside of the home. They are often used for perimeter monitoring, monitoring driveways, gates, and other entries and exits as well as stand alone buildings like sheds, garages, and barns. Indoor security cameras do not offer the same protection from the elements as outdoor security cameras and are designed for use within the home. Wireless security cameras for homes that are used indoors are often used as security monitoring devices for each room; night or daytime surveillance cameras such as baby monitors or for providing monitoring care for non-ambulatory individuals,
Wireless security cameras for homes have several standard and optional features. Security cameras can be night/day type cameras or day/night vision cameras. Wireless cameras that are called day/night cameras have a very sensitive electronic imaging chip called a Charged Coupled Device or CCD. These cameras can produce very vivid, high quality video in full daylight conditions and in environments with very little available light (such as moonlit nights). They must have some visible light in order to produce an image.
As an alternative to day/night wireless security cameras for homes, wireless night vision cameras can be used. These cameras are able to see infrared (IR) light, which is invisible to the human eye. These cameras produce very vivid, high quality colored video with visible light present and very vivid, high quality monochromatic or black and white video under infrared conditions. Wireless IR cameras have an array of IR Light Emitting Diodes or LEDs that surround the camera lens. These LEDs emit IR light that is invisible to the human eye but lights up the desired target area much like a spotlight for the IR camera. These cameras are particularly useful for monitoring outdoors at night or indoors in dark rooms.
Wireless security cameras for homes have several other features available as well. Cameras can utilize pan, tilt, and zoom features both manually and automatically to move the camera in order to track movement or change the field of view. Most wireless cameras also come with sound monitoring so that audio may be recorded as well as video.
Another useful feature for wireless security cameras for homes is the ability to utilize IP networking. IP networking or Internet Protocol networking allows the cameras' images to be viewed over the internet, making monitoring accessibility available anywhere internet is available. This is incredibly convenient for individuals that may want to check on their homes while at work or when on travel. In addition, IP networking provides a method for easy networking to security monitoring companies should you the home owner desire to have their video monitored by a 24/7 monitoring service.
A typical home wireless security camera system includes the wireless cameras, the receiver unit and processor, monitor and digital video recorder or DVR. Many wireless security camera systems can also be utilized using a personal computer in place of the processor, and DVR making the system even more affordable.
Wireless security cameras for homes can provide you with comfort and piece of mind of knowing what is occurring at your residence at anytime, anywhere, and on any day. Their wide variety of features makes them useful for just about any residential application.