Alaska's Marijuana Initiative Measure 2 | Cannabis Security eBook
Video Surveillance for Marijuana Growers – Processors – Retailers and Medical
Alaska has released final regulations as adopted and amended by the marijuana control board. We look forward to working with Alaska Marijuana business as they roll out recreational marijuana provisions. We provide affordable security solutions for the Marijuana Industry and are offering Free Layout and planning services as well as a Free Alaska Cannabis Security Compliance eBook. Our cannabis security experts have been helping cannabis businesses set up compliant systems nationwide since 2012. We are offering affordable security solutions and free technical support services for the life time of our equipment; meaning that when you choose our services we will continue to support you well beyond the initial system setup.
Call 800-901-2091 to speak to an expert about your Custom Free Layout! We have designed systems for marijuana dispensaries, processors, producers and business nationwide.
Alaska's Security Camera System equipment requirements
The basic construction a compliant surveillance system include cameras (enough to secure the premise to state requirements) and secondly the recording device. There are two main type of technology that we can use when constructing your security system. IP network technology or HD over coaxial cable technology. Whether you use a Network Video Recorder (NVR) or a Digital Video Recorder DVR, each of these types of technology will be able to provide your business with secure high definition video recording. We also highly recommended installing a sufficient battery backup system to support the system in times of a power failure.
Alaska Security Camera Layouts:
Alaska laws require specific camera coverage depending on activity: That is why it is the layout and planning step is so important. Each build and each business is unique so each layout must be carefully customized to your unique business security goals as well as to the states requirements.
Alaska requires camera coverage in the following ways, Security camera coverage in restricted access areas and at each entry point to restricted access areas. Camera must be placed to view the exit points to the outside of the building, as well as each area where point of sale is made. Security cameras must produce clear images to identify individuals inside the premises or within 20 feet of each entrance in both directions. Also, cameras must be placed in areas where marijuana is grown, cured manufactured or where waste is destroyed.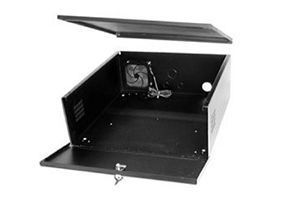 Securing your recordings: Lockboxes
It is also required by Alaska law that recording equipment such as the DVR or NVR be secured in a locked or secured area, or secured within a security lock box, that is only accessible to an authorized employee and/or law enforcement. Click here to view our Lock Boxes
Recording Times
Recordings must be preserved for 24/7 for 40 days at 720p resolution
Take Our Customers Word For It

I went with SecurityCameraKing.com because they were the only ones who knew what they were talking about. They know i-502 and had spoken with inspectors during final inspections and could give me the complex configuration I wanted. I have and do recommended them for your I-502 and other video needs

I was Impressed with Security Camera Kings knowledge on on state rules on regulations. They were upbeat and friendly and always available to help. Working with them was a pleasure. I am happy with my equipment, Tech support have been a great help. The whole team was really great to work with

I wanted to thank Security Camera King for getting me the right cameras an assuring me that they would pass. My LCB field agent was happy to see everything was operating properly and I had a flawless inspection. I am now running my own Marijuana retail store! Thank you for all your help!