Description
Description
The latest addition to our Sibell line of network IP recorders is this 16 channel, 4K capable (8MP) NVR with 16 ports of PoE (power over ethernet) built right into the back of this unit. This NVR has features that we have not previously offered and is sure to meet the needs of home and commercial users alike.
One of the most exciting capabilities to mention is the new AI (artificial intelligence) features these recorders have such as the Facial detection which is something you can do directly through the NVR itself and has a built in database that has 16 libraries and can store up to 10,000 face pictures and can process up to 240 pictures per minute for the computing performance of this machine.
You can add pictures of a person's face through the remote viewing App or using the Web interface or via the local PC giving you flexibility in using this AI feature. You can run statistics by day, week, month, quarter or even by a period of your choosing.
This 4K NVR supports up to 4 hard drives internally which are sold separately up to at least 8TB for each drive. Thanks to the high h.265 compression you can achieve high quality data at a lower bit rate which can add to the amount of time that you store your recorded footage depending on the resolution of the cameras being used and the frequency of recording such as 24/7 or based off of motion only.
You can playback 16 channels simultaneously and can search by time, time slice, different events or by a tag type search along with the facial picture search.
For the most information on this NVR please scroll down to the specification sheet below which is available in PDF format.
This supports the NAT function and QR Code scanning via cellular phones and tablets that support the App stores for Android or Apple.
We back this NVR with a 2 year warranty and provide Free remote viewing Apps for Android and Apple devices along with Free U.S. based technical support available for the life of your product and is available from 9am EST until 8pm EST Monday through Friday.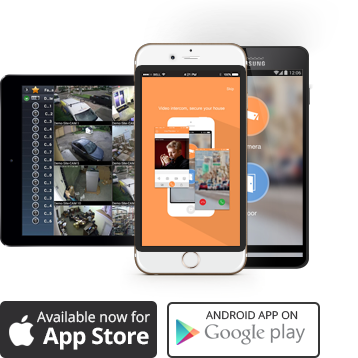 Free Remote Viewing Capability
All of our DVR's & NVR's have remote viewing capabilities. Free Apps & Software are for PC, Mac, iPhone, iPad, Android and Tablets
Specifications
Recorder
| | |
| --- | --- |
| Number Of Cameras | 16 |
| Number Of SATA Connections | 4 |
| Has Alarm Inputs / Outputs | Yes |
| Video Output Types | HDMI, VGA |
| Video Output Resolutions: | (3840 × 2160) / (1920 × 1080) / (1280 × 1024) / (1024 × 768) |
| Size | 1.5U |
| Resolutions Capable | 8MP / 5MP / 4MP / 3MP / 1080P / 960P / 720P |
| Max Bandwidth | 160Mbps |
| Compression of Video | H.265, H.264 |
| Connection Apps | Super Live +, Sibell Mobile |
Downloads
NVR-SB16-16P-AI Document Downloads
Sibell Series DVR, NVR, IP Camera Downloads