Description
Description
Sibell is our newest line of products and as such, this 4 channel Mini 4K NVR is perfect for small residences and businesses. The recorder is capable of handling resolutions of up to 8MP and through the use of a built in PoE (Power Over Ethernet) can provide power to a regular PoE camera without the use of a separate switch. This gives the additional benefit of keeping the camera traffic off your local network when recording to the NVR so with just a single CAT5 or CAT6 cable you can transmit both power and video between the camera and recorder.
Easy to use, our Sibell NVRs are considered plug and play with our Sibell IP cameras! The system uses an embedded Linux OS and has an easy to use graphic user interface (GUI) that makes it ideal for most end users. This unit supports a full 40Mbps of throughput allowing you a wide breadth of options with your cameras without slowing this machine! This unit also allows for H.265 compression for optimizing your recording space. As with most NVRs today you have a variety of recording settings including motion detect and lots of other options you can change as you prefer.
You can connect a monitor by either the HDMI or VGA connections on the back for the initial installation, or to view your cameras and edit your settings. This unit has room for 1 hard drive to save and store data and you can use up to a 6TB drive to do so. If you happen to be looking for a drive, we carry those as well and to save you time and convenience, we can install and test the hard drive with the recorder prior to shipping making it ready to use right away! Even if that isn't enough storage you also have the option of backing up footage to your USB device.
You'll get a full 2 year warranty free with the purchase of the recorder as well as a free lifetime supply of tech support and service!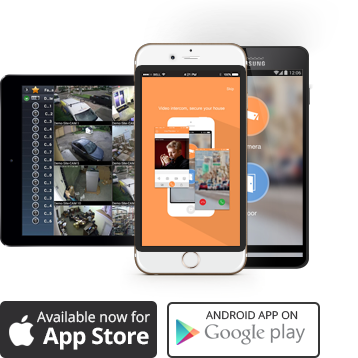 Free Remote Viewing Capability
All of our DVR's & NVR's have remote viewing capabilities. Free Apps & Software are for PC, Mac, iPhone, iPad, Android and Tablets
Specifications
Recorder
| | |
| --- | --- |
| Number Of Cameras | 4 |
| Number Of SATA Connections | 1 |
| Has Alarm Inputs / Outputs | Yes |
| Video Output Types | HDMI, VGA |
| Video Output Resolutions: | 4K, 4MP, 2MP, 1.3MP |
| Size | 1U |
| Resolutions Capable | 8MP, 5MP, 4MP, 3MP, 1080P, 960, 720P |
| Max Bandwidth | 40Mbps |
| ONVIF Version | ONVIF S |
| Compression of Video | H.265 |
| Connection Apps | Super Live +, Sibell mobile |
Downloads
NVR-SB4ME-4P Document Downloads
Sibell Series DVR, NVR, IP Camera Downloads