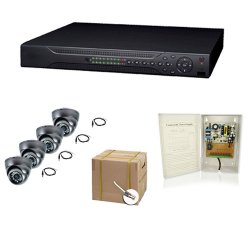 If you are looking for a high-quality dependable 4 channel video recorder, look no more. Security Camera King has three different models of 4 channel video recorders to choose from that can handle your every need.
We offer three different levels of digital video security recording with our Elite Mini HD, our Elite Series, and our Ultimate Series 4 channel video recorders. Each of our featured 4 Channel Video Recorders or Digital Video Recorders (DVRs) offers the following:
• H.264 CODEC. CODEC is an acronym for COmpression/DECompression utility. The CODEC shrinks digital video files size while maintaining a high quality image. The H.264 CODEC is the latest most efficient yet high-quality CODEC ever.
• Linux Operating System (OS). Each of our 4 Channel Video Recorders features an embedded Linux OS. This offers standalone versatility with stable dependability.
• HDMI, VGA, and 720P display options. Talk about versatility; our DVRs allow you to operate several monitors at the same time. Plus, our DVRs also provide HDMA, VGA, and BNC outputs.
• Easy setup and operation. Each 4 channel video recorder model uses an easy, intuitive Graphical User Interface and On-Screen Display. In addition 4 channels can be played back through the DVR and Internet simultaneously.
• IP ready. Our DVRs are Internet Protocol or IP ready with a built-in webserver. Not only can you view and control your system (including the cameras) via the Internet, but our DVRS also have the ability to automatically send you an e-mail based on a variety of triggers you choose. Further, our DVRs are fully accessible using 3G and 4G smartphones and we even offer FREE apps downloading.
• Easy PTZ (Pan-Tilt-Zoom) control. These 4 channel video recorders have state-of-the-art 3D mouse operated PTZ control. Just click and point and the camera follows your directions.
• Full 3 year warranty. The Elite Mini, Elite Series, and Ultimate Series DVRs carry a full 3 year warranty.
The Elite Mini HD 4 Channel Video Recorder
As noted above the Elite Mini DVR comes with many of the advanced features as the full sized Elite and Ultimate DVRs but at a more economical price. The Elite Mini cannot utilize an internal CD/DVD burner.
The Elite Series DVR 4 Channel Video Recorder
If an enterprise level recorder is what you're looking for this can "fit the bill." Our Elite series DVR not only has all the great features above, but this full-size DVR also supports multiple hard disk drives for extended storage capacity and can even accept an internal CD/DVD burner.
The Ultimate Series 4 Channel Video Recorder
This recorder is so named because it offers the ultimate in digital video security system recording. This unit not only has the features mentioned above but it records live at four times the quality or resolution of any other standalone DVR in the digital video security industry.
In addition to offering these three 4 channel video recorders, Security Camera King also has put together a total of six different complete digital video security camera systems at discounted prices. These systems consist of one of the three featured DVRs above plus your choice of four high-quality digital video security cameras, connectors, wiring, and power supplies all at one great low price. If that's not enough, we allow you to mix and match cameras and other system devices in order to receive the discounted price of a system while having the ability to tailor-design it to fit your specific needs. (Some item changes may require a price adjustment).
Finally, Security Camera King will be there to assist you should you need it, when installing and setting up your system. Any one of our systems can be professionally installed but are also easy do-it-your-self projects.
If you have any additional questions or wish to make a purchase contact one of our online security experts via "Live Chat" or telephone at 866-573-8878 Monday through Friday from 9AM to 6PM EST. Security Camera King offers free shipping on every order over $500.