Planning your security system whether it is commercial or residential can be a daunting task. How much will it cost? What brand of equipment? What type of camera . . . bullet, dome, PTZ? Do you have existing cable in place and is it Cat 5e rated at 1GB or Cat 6 rated at 10GB (limited to 164 feet)? What kind of storage options will you use . . . hard drives, USB storage, cloud storage, onsite servers, etc. Do you have enough bandwidth available to handle HD and Ultra HD cameras? All valid questions and with High Definition 1080p cameras as well as the fast growing Ultra High Definition 4K products, these become relevant questions when planning your security camera setup. Let's go ahead and look at 4K more closely, because honestly, that's the future!
Why 4K . .
4K Security Systems are quickly becoming commonplace as businesses and homeowners are willing to invest a little extra money to reap the benefits of 4K video. I've heard excuse after excuse for not buying 4K products with cost being the biggest factor. That, however, is quickly becoming irrelevant as prices continue to drop. 4K cameras and NVRs are priced competitively with 2MP and you can pick up a 40 inch 4K monitor for as little as $500. If you think about it though, monitoring your video in 4K shouldn't be your ultimate goal. 4K technology can be most useful to those seeking the highest quality video with the most detail. While 4K is available to everyone, there are users who have the potential to benefit the most from the Ultra High Definition of 4K. When securing a potentially high-risk facility such as a Casino, Medical and Retail Marijuana Facilities, Banks, Schools, Hospitals, etc., the ability to zoom seamlessly to capture fine details like tattoos, jewelry, scars and license plates can prove more valuable than your initial cost.
In the past, the ability to digitally zoom in to view high levels of detail has been a problem due to a loss of quality created by pixelization. Consider the fact that 4K cameras can provide four times the evidentiary detail of a 1080p camera! With 4K, you have the ability to zoom in further on an image before experiencing issues with degradation. Up until recently, these critical facilities were using the same 720p and 1080p quality available to everyone. But now, end users can benefit from superior image quality through 4K cameras while not being affected by budget restraints.
Quality and Quantity . .
Now, you know that the quality will be beyond what you ever dreamed of having access to. But, isn't it going to be considerably more expensive to purchase the same number of cameras? Yes, about double what a similar 2MP/1080p camera would cost. DON'T let that scare you though because you don't need as many cameras with the 4K products. Take a look at the image below and you can see that images in 4K cover 4 times the area of 1080p. So, take that parking area where you have four analog cameras and replace them with two! You'll have even more coverage and when you review and zoom in, you'll be able to see detail like never before.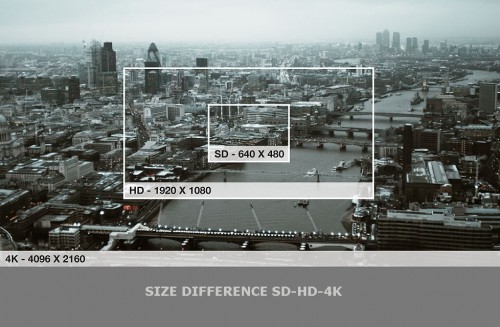 So, less cameras. Better images. Same cost. Why wouldn't you take a look at a 4K security solution?
Better Quality Needs More Bandwidth . .
With better image quality comes the need for more bandwidth.  Let's use our 8 Channel 4K NVR as an example, the NVR-ELE8M-4K has a maximum of 192 Mbps bandwidth available for recording. That gives you 24 Mbps for each camera. This is where things would get challenging for use of 4K for security since 4K is four times 1080p or 3840×2140. Since many end-users need security applications to be "real time" or close to 30fps, the total bandwidth required for a single 4K camera would be 373 Mbps. That would be an impossible number for a network to handle, but when you apply the current standard compression method of H.264 (generally 50:1) 4K bandwidth is reduced to 8Mbps per camera. Using the H.264 compression, that's more than enough to deliver 4K at real-time 30 frames per second.  Fortunately, manufacturers realize the strain that multiple high bandwidth cameras have the potential to put on a network. They are quickly working to introduce new compression standards such as H.265 HVEC that will almost half that current compression technology! Still, at current capabilities of most networks running Cat6. Cat5E and even short Cat5 runs, you should have plenty of bandwidth to meet your needs. Consider the user who's running 4K cameras at 30 fps and figure that they can operate the cameras at about 8Mbps without causing any lag on the network or their workstation.
The Need for More Storage  . .
You would think that your increase in bandwidth would drastically increase your need for storage and increase storage costs at the same time. Not necessarily true! You have multiple ways to either reduce your need or increase your storage space inexpensively.  Until H.265 compression is more widely adopted, you can do some things to reduce the need for additional storage space. One way to do this is to reduce your frames per second (fps) rate. The most direct way to reduce storage is to use a lower bit rate stream for each camera with lower frame rates or you can set it to record only when motion occurs. This can dramatically reduce the amount of storage space used or needed. There are also tons of inexpensive storage options since companies like Western Digital and Seagate are offering personal cloud solutions that give you Network Attached Storage starting as low as $250.00 for 5TB of storage.
What Are You Waiting For  . .
If you're new to security camera surveillance or if you are testing the waters in regards to IP cameras, you should consider our 4K NVR's and 4K Cameras. I know from experience that it can be frustrating trying to keep up with constant changes in technology but I am confident that 4K is going to be around for quite some time to come. It's time to make that move out of analog and into IP and if you're going to do it . . . you might as well do it right! Check us out at securitycameraking.com or call us at 866-573-8878 and our sales staff can help with all of your security surveillance needs including installations!