Camera Quality and Resolution
Hey everyone, Joe from SCK here with another article and video, today we're covering the topic of Camera quality. More specifically, we will be answering the question "How can I determine camera quality before I buy?" Well, we have with us here today three different tiers of units, with three different camera quality standards. These are 2, 4, and 8 Megapixels, though we are going to use the 2MP camera at 1MP as well during the example. Check out the video below!
Outside of their image sharpness, these units are functionally the same and none of them feature an additional image enhancement that is used to alter the images. If you check out the video, it will be set to a 4k standard so you can get a solid idea of the image quality differences between these units. To be clear, the video is uploaded as a 4k standard, but only the portion in which you see a megapixels camera will actually be 4k. Most of the video will be filmed in 1080p, and we will be briefly showing 4 resolution choices. These will be 1 MegaPixel, 2 MegaPixel, 4MP, and 8 Mega Pixel. For the article, we're going to show you the same images 4xs at each quality standard so you can get an idea of how Camera quality affects the image!
So, your camera quality essentially boils down to 2 factors, Resolution and Bitrate. Now the bitrate is a setting you can change on any camera, while that same camera's resolution will be limited by its technology. We're going to be covering bitrate and resolution in far more detail here pretty soon in an upcoming article. For now what you basically need to know is that resolution is the quality of the image itself, whereas bitrate determines the maximum filesize any recording can fit into. If your bitrate is set too low, your image quality will suffer because the file your recording to isn't large enough to hold all the resolution data. if your bitrate is too high, your resolution will come in perfect but you'll burn through HD space.
When looking at displays like TVs or monitors today, you'll see a pixel rating like 1080p, or 1440p. This is because all displays today are standardized to 16:9 aspect ratio, meaning the displays all have the same ratio of length, to height. However in cameras, since aspect ratios vary, it's better to determine their resolution quality with a megapixel rating- a more general rating of the number of pixels. Use the guide below to get a rough idea of the quality comparisons, and, what kind of display you'd need to fully take advantage of the recording at each quality.
1MP – 720p display (also known as HD, mostly discontinued and considered obselete)
2MP – 1080p display (also known as FHD)
4MP – 1440p display (also known as 2k)
8mp – 2160p display (also known as 4k, or UHD)
We have 3 different Dome units here with us today, we're gonna take a look at each so you can see the quality comparisons Then we'll show you them in succession.
The first is our 2MP Series Cameras.  You take a look at the image in the video to see this camera running at its native 1080p. We're gonna knock that down a peg to 720p, or 1 Megapixel to show you how big of a quality jump you can expect on this unit. such a difference in camera quality, 1 MP cameras are generally not available anymore, and currently, 1080p or 2MP is considered the universal standard.
Next up is our 4MP cameras. We're gonna show you that image next, watch as the quality ticks up slightly. Many of us consider 4MP to be the sweet spot in today's CCTV world for camera quality. That's because 4MP sit sits between 8MP's quality and 2MP'ss storage tradeoff.
Lastly, our 4k- or 8MP Cameras, are the kinds of raw camera quality. In terms of sheer image sharpness, nothing beats these if you have a 4k display. however, repair to have the storage to back it up! 4k is a data-hog!
If you're just reading the article, and not watching the video, take a look at the 4 copies of this image below. The first is an 8 MP image, the second is 4, the third is 2Mp, and the last is 1MP. Compare all 4 and see how much larger the image is able to get and maintain quality using the higher resolutions. Try to zoom in on the low-resolution options and see how fuzzy they gate as they become larger!
8 Megapixel Example, Click here or below to enlarge!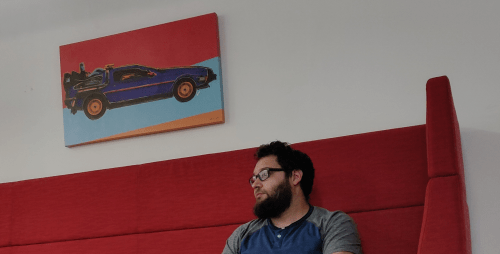 Now which camera quality is right for you, or your location? Well higher quality is always better, but you will also have to ensure you have the HDD space, and a solid network if you go with IP cameras. These kinds of things can be really difficult to decide on your own, that's why we employ a team of highly trained sales pros ready to help you determine what equipment is best for your needs. For more information on our 2MP, 4MP, 8MP IP cameras or any of our amazing Security products, call 561-288-5258 today!
Related: What's the difference between DVR and NVR?
Related: What's the difference between H264 and H265?
Related: IP PTZ Security Cameras – All There is to Know
Related: Resolution, and why does it matter?
Related: What are active deterrence cameras?
Find Us On: Facebook | Twitter | YouTube