When choosing to use IP network cameras for your residential or commercial security camera system there are a few things to take into account. This article will focus on clearing up some common questions regarding Network IP Cameras and NVRs (Network Video Recorders). In order to clarify some of the topics covered, I will often refer to "Techpro Security Products" brand of NVRs and cameras.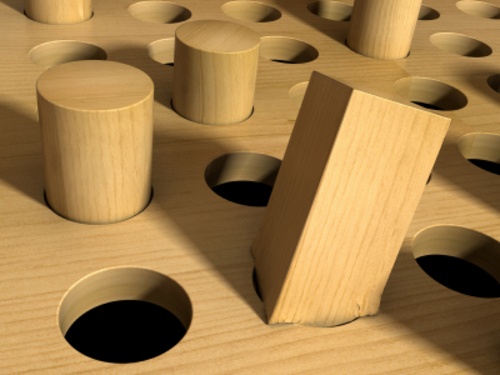 Analog Cameras & DVRs
First, it is important to understand some differences between IP cameras and analog cameras. In most cases, an analog camera simply sends the video signal back to the DVR over a coax cable. The DVR is where the encoding and recording is done. It also contains the software for managing the camera settings and camera options. You can access and modify each camera's settings through the DVR itself. The DVR also provides the ability to view the cameras in real-time and review recorded footage. Without a DVR you would not be able to record or view recorded video.  Essentially the DVR is the brains of an analog security system. Usually, analog cameras are powered with a 12 or 24 volt power source.
IP Cameras
Network IP cameras, on the other hand, are standalone units that can be accessed via the camera IP address. All of the software and settings (the brains) are embedded in the camera itself. Many IP cameras also have an SD card for storing recorded video. IP cameras are just like any other computer or smart device that is accessible on your network. IP cameras use CAT5 or CAT6 to transfer the video, and in most cases can be powered over the same cable when use in conjunction with a POE (Power Over Ethernet) switch.
Essentially this means that you can have 1 IP camera on your network or several if you choose. Each IP camera would have its own user interface and specific settings that can be viewed or managed individually by going to the IP address of each camera and logging in to it.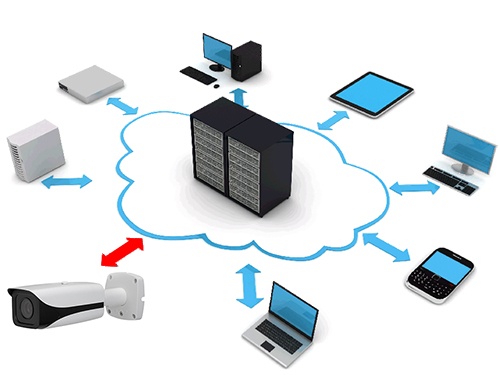 Viewing Multiple IP Cameras Simultaneously
As you might guess, if you have multiple IP cameras, it quickly becomes a hassle to have to go to different IP addresses and log into each camera individually in order to view in real-time or re-view recorded video.
So, what do you need to view all of your IP cameras in one place? The answer is an NVR (Network Video Recorder). You can think of an NVR as a hub with a single IP where you can view all of your cameras simultaneously. The NVR can also house a hard drive(s) to store the recordings of all your IP cameras and dramatically increase your storage capacity.
IP camera compatibility
Because each IP camera has its own user interface and camera options built into the camera itself, not all IP cameras are completely compatible with all NVRs. Next I will talk about the various IP camera compatibility options.
Compatible Network IP cameras and NVRs
Your best option is to buy network IP cameras that have a compatible NVR. This means that the manufacturer of the cameras specifically designed the NVR to be compatible with the user interface, software, and options that are embedded in the camera itself.
For purposes of this example we will talk about the "ELITE" line and "PRIME network IP lines by Techpro Security Products. If you were to buy Elite IP cameras along with an Elite NVR, you can expect that the cameras will work seamlessly with the NVR. This means that all of the camera options and functionality are directly accessible and configurable through the NVR itself. There is no need to log into each camera individually for the initial setup or to access the camera's functionality thereafter.
The same can be said for the PRIME IP line. If you were to buy Prime IP cameras with a Prime NVR you are guaranteed to have full functionality directly through the NVR.  Buying IP cameras that are fully compatible with the NVR can make for a fast and convenient setup as well as streamline the maintenance and usability of your new security camera system.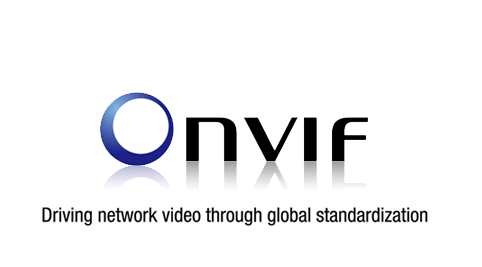 The ONVIF Protocol
What if you already have IP cameras and just want to replace your NVR or vice versa, you have an NVR but you want to add new IP cameras?
All cameras use a specific protocol for communication between the NVR and the camera itself. One of the most common protocols is ONVIF. In most cases, if the camera is ONVIF compatible it will be able to communicate with an NVR that is also ONVIF compatible. This means that you are guaranteed to get video output from each camera to the NVR. But in many cases, not all of the cameras functionality will be available directly through the NVR.
TechPro Security Products also has a TP line of IP network cameras. The TP line uses the ONVIF protocol and can be used in conjunction with the Elite NVRs, Prime NVRs or any ONVIF compatible recorder.
When using ONVIF, it is recommended that you log into each camera individually to configure the settings at the camera level prior to installing or mounting it.  Once all of your cameras are configured the way you like, you are ready to install them and video will be transferred back to the ONVIF compatible NVR.
Some common things you will want to set up on your ONVIF cameras include but are not limited to the following:
The Camera IP address – If the cameras you are using do not have a DHCP option you will want to manually assign each camera a unique IP address to avoid IP conflicts on your network.
Main Stream Resolution
Extra Stream Resolution
Date & Time Format
Camera Label
Motion Detection
Motion Masking
Color and Contrast settings
IR Configurations
It is also recommended that you update the camera firmware at the time of setup as it may not be able to be updated through the NVR.